Welcome to a weekly feature on my blog – Ben's Zone. Written by husband… Ben. A foodie, coffee obsessed, ex-smoking, ex-drinking and Ridgeback loving Dad. Who is also seriously into his fitness.  You can find him on the blog (mostly) on Sundays. Enjoy!
Billy Oh 8×6 Summerhouse Review
Like a lot of people we've been trying to make the best use of our time in lockdown by doing projects around the house and garden. The main one for us has been renovating a disused corner of the garden and making it into a nice play area for the kids. Once we'd cleared the weeds and rubbish out and lined the area with sand and bark chips it became clear that it would be perfect if we could put in a little play house for the kids.
Obviously I had imagined some kind of small plastic effort that would be unobtrusive to look at and quick to erect, of course this was not what my dear wife had in mind and I soon found myself looking at playhouses larger and more impressive than some of my early student flats. One thing that became apparent was that a playhouse is a bit of a waste of money. Because a lot of them were nearly too short for my oldest son. A summer house is about the same price, for some reason for a bigger structure and would serve them past the younger ages and be a nice place for them to hang out as they got older.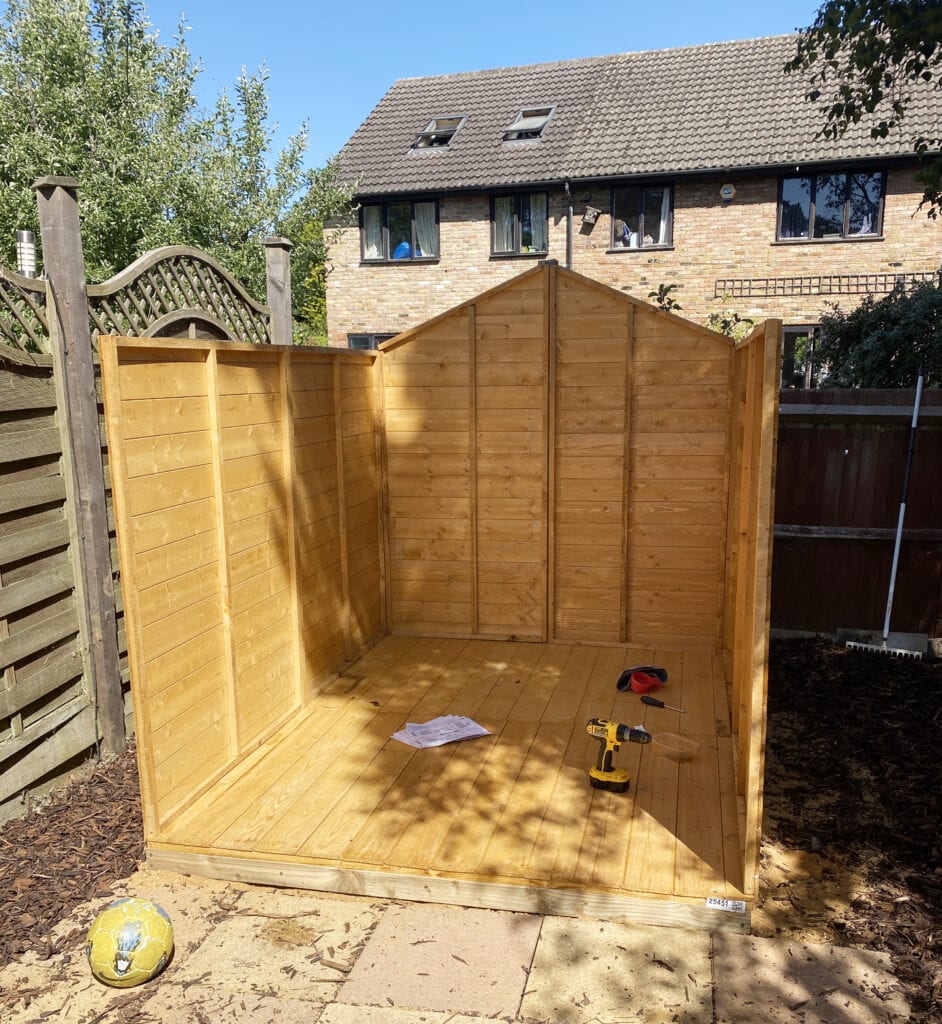 We settled upon a 8×6′ Billy Oh wooden Summerhouse (we bought ours from Garden Buildings Direct). I wasn't particular about the size but I did want Billy Oh as I have built a shed from them before and it impressed me with the quality of construction and ease of assembly. We did also pay extra for a base to be included with the house, I did this with the shed before and I would recommend doing so. Usually, wooden buildings can be made to fit if there are slight inaccuracies but if the base is not firm and level you get all manner of pain like doors that won't close properly and the like. The supplied EZ base is, essentially, a rough wooden frame that can be staked down to the ground. I did find it a bit irritating that, though the summerhouse instructions were really easy to find, the base instructions weren't and I had to dig about over YouTube to find out what it would look like and how to build it. It was also annoying that though the kit came with literally everything I needed to build the summerhouse, the nails etc that were required for the base were not supplied and it's not like I can just pop down the hardware shop very easily at the moment.
That's a relatively minor gripe though. I found some massive screws and managed to get the base put together and located in relatively short order.
Past that I would say the installation was logical and straightforward. The instructions were clear and the panels and pieces of the summerhouse were well cut and finished. I managed to do the whole job without a single splinter which is impressive. The building is modular in that the basic unit is a 6 x 4′ summerhouse to which you can add one or two extensions to give extra depth. With that in mind the first task was to attach an extra floor piece to give the required depth. Then came one of the few areas where two people were necessary for construction, attaching the walls to each other. This might sound like a big job and it did create significant visual progress but in reality glazing the windows and doors took far longer.
The rear eave pieces and walls were simple to attach and relatively quick to do, even when done carefully. One thing I liked was that there were ample fixtures supplied from here on in and they were all of decent quality (so no rounded off screws when using a cordless drill to screw in). I also liked that standard diameters were used so I only needed one drill bit to do all of the pre-drilling.
With the walls up it was then a breeze to glaze and then attach the front windows and screw the whole lot to the base. Once the superstructure was up the next job was to build the roof bracing and fit the roof sheets. Again this was straightforward but it did require two people.
One job that was probably more fiddly than it needed to be was the fitting of the Georgian bars to the windows. This does give a nice look but the plans said to use tacks to fit the bars. I did try this once, it went badly and so I decided to use small screws instead which worked just fine.
The real test of the build came when we hung the doors. Again this was much less hassle than I imagined it would be and it went pretty well. I did have to plane the threshold a little bit to get a nice smooth swing on the door but I did expect a little bit of that sort of thing.
After that it was a simple case of finishing up on cosmetics and smaller items like door bolts and felting the roof. The roof felt was the one job I felt I really messed up. I'd decided to use adhesive for the first time rather than tacks and I have to be honest I did it wrong. What I did was paint on the adhesive and then roll the felt over and what I should have done was painted a bit, then rolled a bit, smoothing as I went. I ended up with some ripples in the roof that, although not terrible or a problem in terms of waterproofing do look a bit rough. I did have tacks supplied with the kit but I thought I could do better with the adhesive and managed to out smart myself a bit.
All in all I was really pleased with the kit overall. It was logical and straightforward to build and even in some pretty high heat I did it over 2 days including treating the wood. I actually had a lot of fun doing the build which I think is the mark of a kit well designed and prepared. There were, obviously, bits that had to be made to fit but in my experience this is always the case with wood and so I was not surprised at that. I would say that things had to be tweaked here and there rather than any major modificationa.
If you're thinking about getting a garden building I really would recommend Billy Oh kits as they are priced well, simple and well designed in terms of assembly and in previous experience (a 10×8′ metal shed in our last house) they are super sturdy when built.
In this particular kit I would suggest borrowing a second cordless drill from a friend (thanks Geoff) as it makes a big difference to have one for drilling and one for screwing when putting up walls etc. I would also have a plane to hand if you can to assist with anything that needs a bit of shaping. If I had to do this build again, the one thing I would do is to paint the cuprinol on before assembly as it would have made doing the fiddly bits round the windows a load easier. The wood does come pre-treated but if you want it to last you need to get some proper preservative on there. Incidentally, the colour was supposed to be 'Silver Copse' and was all I could get during lockdown. I'm not sure whether I quite like the colour or whether it's an irony given the current situation but it is more 'Prison Camp' than 'Silver Copse'.
Still, no time to look back as I already have the jobs for this weekend lined up, well, lined up for me.