Welcome to a weekly feature on my blog – Ben's Zone. Written by husband… Ben. A foodie, coffee obsessed, ex-smoking, ex-drinking and Ridgeback loving Dad. Who is also seriously into his fitness.  You can find him on the blog (mostly) on Sundays. Enjoy!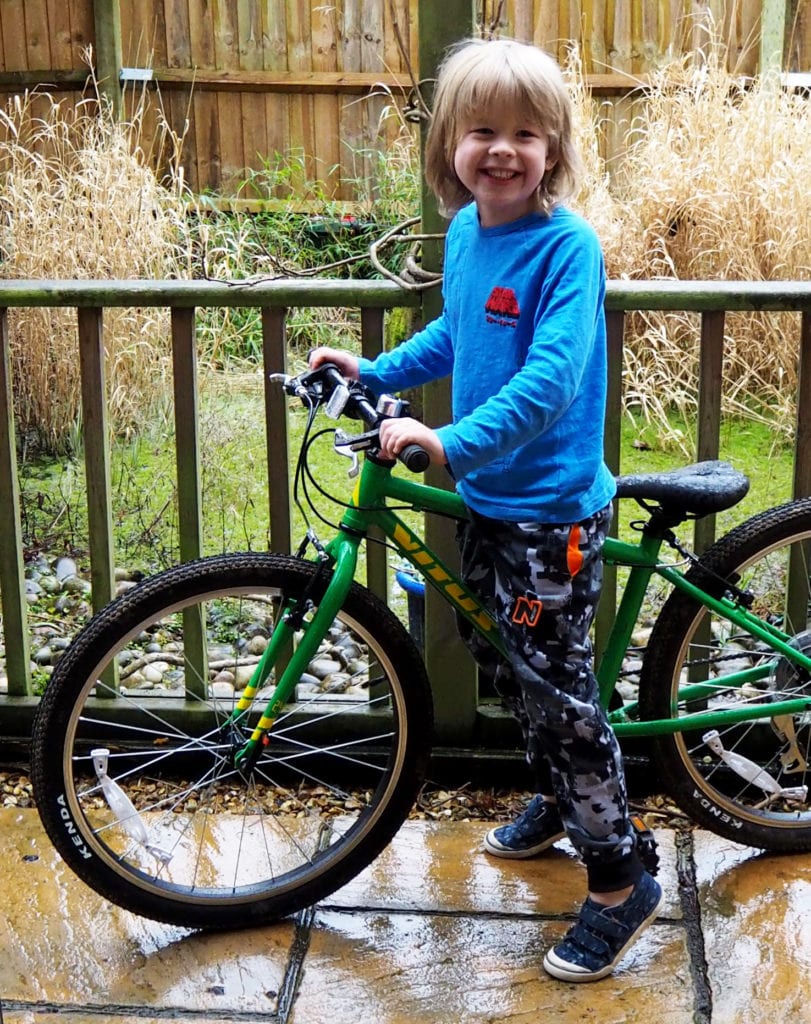 Vitus 24 Bike Review
Logan is a difficult kid to buy bikes for. He's born in October and so by the time his birthday rolls round summer has long gone, so when it's summer and the kids are riding their bikes we either get him a really early present or we have to try and estimate how big he'll be in 6 months time and buy a bike accordingly. The first bike we got him was a BMX. I figured that a bulletproof frame and single speed would be well specced to deal with beginner crashes. I was right, but quickly we found that the heaviness and the lack of gears proved a big obstacle on the kind of trail riding he wanted to do (we're lucky to have excellent trails on our doorstep). I was sad to replace the bright orange 'Bomber' but stoked to go looking for something he'd love.
Kids bikes are a pain really, on one hand I wanted to get something usable, so no super heavy bikes with nasty gears and bad suspension, on the other hand kids grow all the time, so spending a ton on a bike he might grow out of in a year is just pointless. You can get a kids bike with proper gears and forks, if you want to spend £700. Another consideration is that Logan's main thing is his music and so investing a ton into a super good bike just isn't appropriate.
The first challenge is to size the bike (we bought the bike for his 8th birthday). We knew his 16″ BMX was getting too small but weren't sure whether to play it safe and go for 20″ or to gamble on a 24″ fitting well by next summer. We went with the bigger bike simply as we're not likely to be out much until next summer and he was right on the cusp.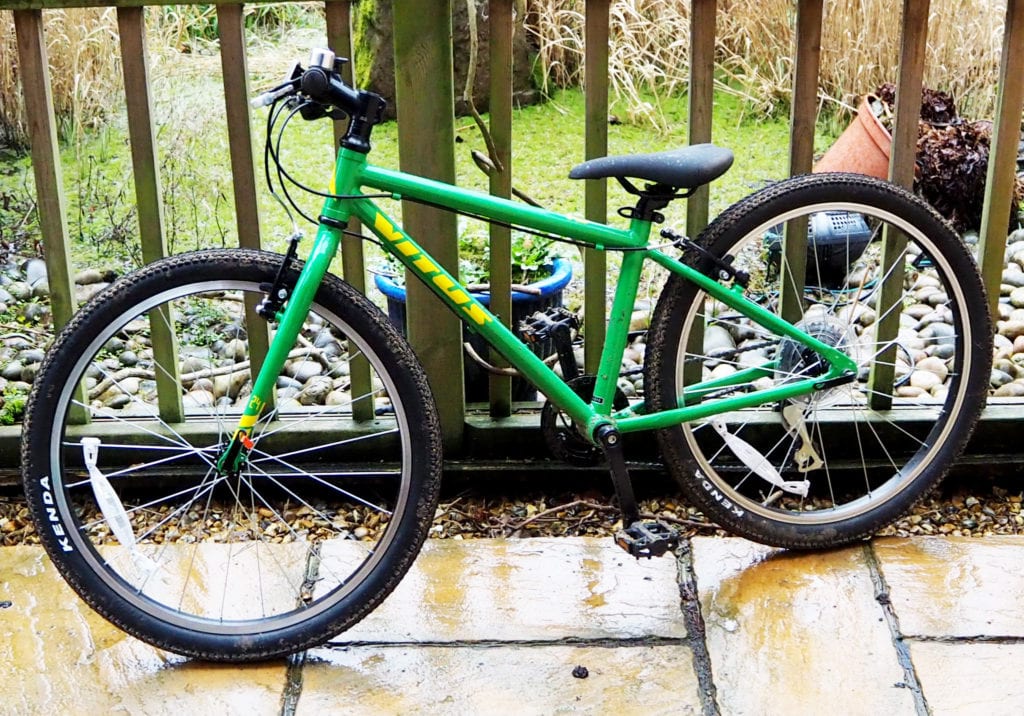 The bike we chose was a Vitus 24″ and I thought I'd do a little review to give other parents an idea of how we found the bike. I bought the bike, it was not supplied for the purpose of review. Vitus is the in-house brand of the Wiggle / ChainReaction Cycle group and has built a relatively strong reputation in recent years for no-frills but effective kit. I've not had a Vitus myself but I've dealt with Wiggle / CRC a ton and found them to be well priced and highly reputable.
We got the bike on sale for £199. There is a specific junior mountain bike but it is over £150 more than what we paid and that gets you disc brakes not V brakes, wider tyres and a lighter frame. If I was looking at the bike at full price (£299) I would have probably gone for the mountain bike version but for an extra £150 I couldn't see the worth. Another point is that if I were spending £350 there are a lot of other, also good, options to look at. In reality, the discount on the Vitus 24″ (for last year's model) meant the difference between a new or second hand bike. I've often had significant discounts on 'last year's model' with bikes and in so many situations it amounts to little more than a different paint job, so if you know you want to buy your kid a bike, keep an eye out year round and buy up the old model.
What attracted me to the bike was that the kit it had was good quality and no money has been wasted on tat. A lot of kiddie bikes have front (and even rear) suspension so that they look good. My experience of cheap suspension is that it makes for a horrible ride, it's usually just a rubber bumper inside the shock with no damping. This makes for an uncomfortable, sketchy ride and adds a ton of weight. I like the fact that the Vitus has a nice steel rigid fork. Bikes had rigid forks for years and people rode trails on them just fine. Yes, a good fork can really help on trails but it's not essential and it's no bad thing to learn to absorb bumps and keep control using your elbows, knees and body position. The £700 bike I looked at had a great fork and that would have accounted for at least half the cost of the bike.
The gears are basic (8 speed) and shift well. The derailleur is bottom end Shimano but bottom end of proper not unusable, equally the shifters have a nice positive action. The biggest danger to the gears is a whack to the rear mech and there's little that can be done on that front other than fix it when it happens.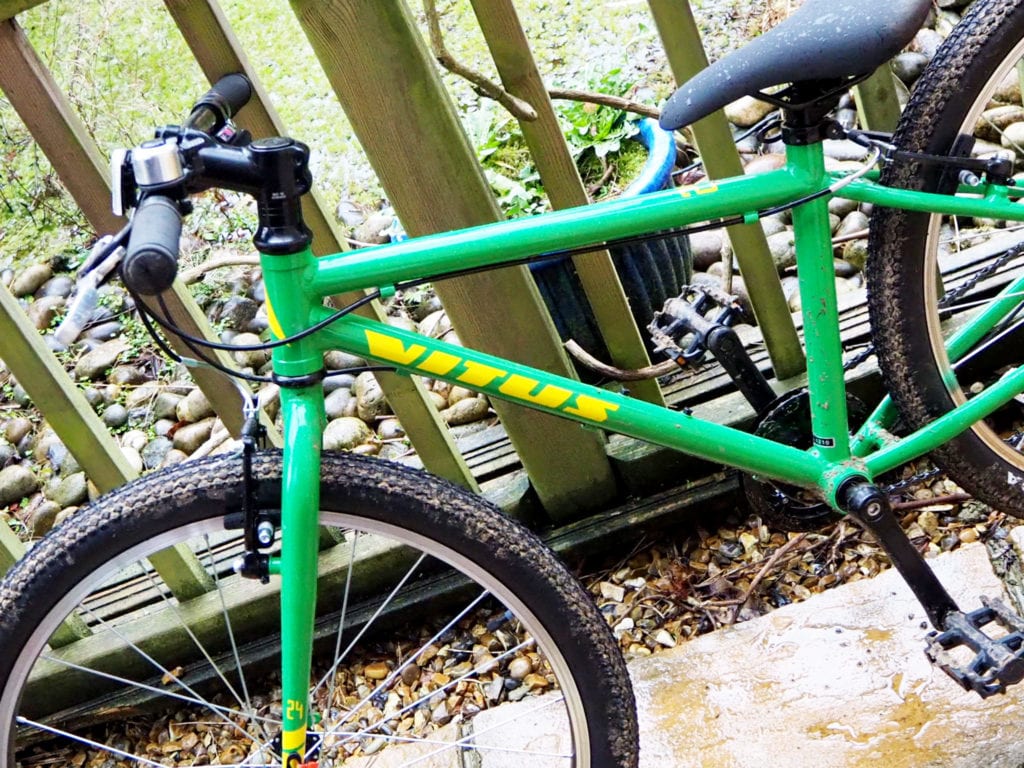 The brakes are a mixed bag. V brakes are ok and were a defacto standard on mountain bikes for years, the maintenance on them is simple and they stop well enough but having had disc brakes for years now I do wish the bike had them. It won't hurt to use V brakes but it's also evident on longer downhills that he has more difficulty controlling speed than he would with discs. What is very good about the brakes are the child sized levers which fit him well and allow him to apply enough pressure in a controlled way.
The rest of the bike is good, saddle and bars are decent, the paint is lovely, thick and lustrous (the sort of snot green young boys love) and the tyres are Kenda Small Block 8s which are a nice balance between some off road ability and on-road usability.
In general I'd recommend the bike. If you want to take your kid out to do some trail work but you're not a full on weekend warrior it's a nice balance. I don't see why a child's bike should be a compromise in terms of functionality but by the same token I haven't got hundreds to spend on something we don't use all that often.
I'm not 100% sure if I would be as pleased if we had paid RRP for the Vitus but we didn't and so for £199 there's literally nothing I can find wrong with it. My advice, if you're looking a semi-serious bike for your kid, the Vitus is an excellent choice.