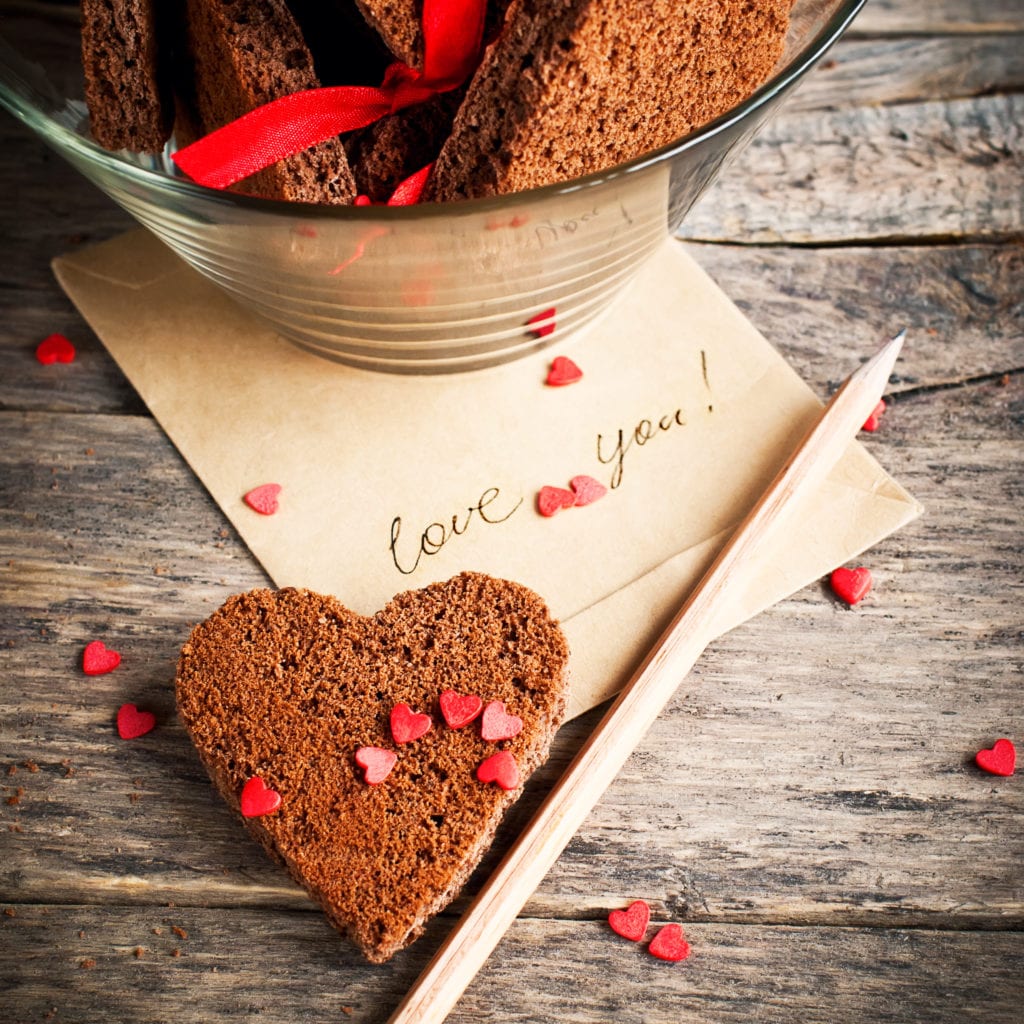 Valentine's Day is often synonymous with commercialism, red roses, expensive gifts and marriage proposals. But what if you have young children, little money and you're already married? What can you do for your partner that shows you care for them? Well here are some relatively low cost suggestions, that are more about the gesture, than an extravagant gift. But still never the less will show you care.
1. Cook a Dinner
Who doesn't love having their favourite dinner cooked for them? If you're not a great cook, why not get a meal deal to help you out? It really is the thought that counts and also a nice opportunity to sit and spend some time together.
2. Bake a Cake
Who does not like cake? Or if they seriously don't like cake make them something more up their street – homemade crisps, sausage rolls, you get the idea. It's about the thought and effort of setting out to make something you know they will really enjoy.
3. Arrange an Evening of Childcare
Now this can be for them to have a night or even a day out, so that they can do just something totally for themselves. Catch up with friends, go for a run, go shopping, read their book or go to the cinema. Whatever is their thing, sort it so they can go. Even better book tickets for them to go an do that thing.
4. Have a Games Night
A bottle of wine, some board games, or a pack of cards have a no phones or tech rule and settle down for some old fashioned fun. Make it more interesting with some fun wagers and just focus on enjoying each other's company.

5. Organise a Lie in and Breakfast in Bed
In my house lie-ins are rare (although not unheard of), but I actually cannot tell you the last time I had breakfast in bed. Definitely pre-children. Croissants and orange juice don't cost a lot from the supermarket, but delivered with love and a pot of tea and the children quickly taken downstairs for peace and quiet will be hugely appreciated.
6. Leave Little Notes for Them to Find
This is something my husband used to do for me before we were married and didn't live together. It's been a while, but I found one of the old notes in my drawer the other week and I sat and looked at it and it just made me smile. He'd just leave me random notes in little places to let me know he was thinking of me. I'd open a bag, or a drawer or a notebook or something like that and out one would pop. Guaranteed romance factor.
7. Make Them Something
Everyone has a little hidden talent. Whether it's music, wood work, making cards, knitting, photography, great at gardening. There will be something you can do. So take that talent and make or grow a little something for your partner. It doesn't have to be perfect or spectacular, it really is totally about the thought that counts on this one. But it will be appreciated trust me.
8. Do one of their Chores for Them
Chores, a necessary part of life, but often something we all hate. Take changing the beds for an example or polishing shoes. Two jobs I particularly hate. Or keeping the house tidy I job I find particularly frustrating. If I were to come home one day and find clean sheets on all the beds, my shoes polished and the placed clean and tidy I would honestly think I had died and gone to heaven. No exaggeration.