Welcome to a weekly feature on my blog – Ben's Zone. Written by husband… Ben. A foodie, coffee obsessed, ex-smoking, ex-drinking and Ridgeback loving Dad. Who is also seriously into his fitness.  You can find him on the blog (mostly) on Sundays. Enjoy!
Pressure King Pro Review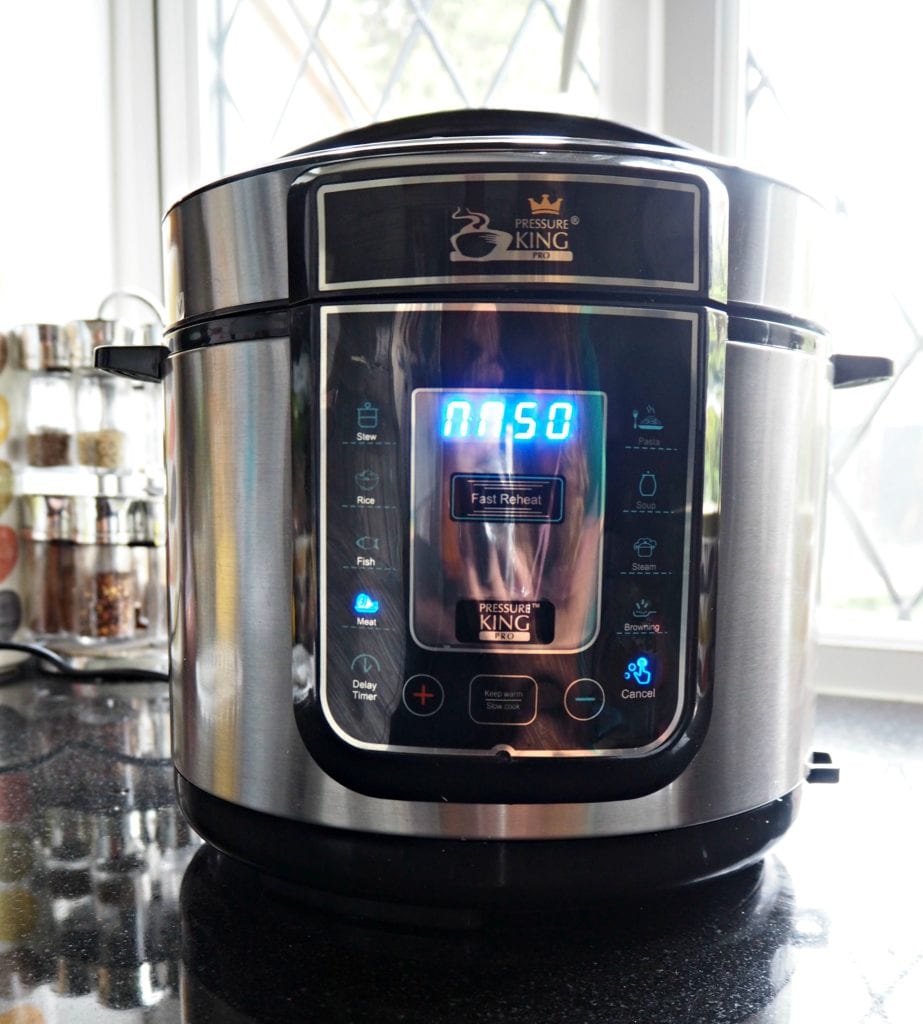 It's no secret to anyone that knows me that I rather like kitchen gadgets and my latest is a Pressure King Pro (affiliate link) instant pressure cooker.  I've had a normal pressure cooker for some time and I do use it a lot but it's a pain. When cooking with it, the fiddling that's required to get enough heat in to maintain pressure while at the same time not boiling off all the liquid is just annoying. 
Another qualm I have is that I'm accident prone and it's a lot like having a bomb in your kitchen.  That being said, for stews and other stuff you'd slow cook, a pressure cooker is quicker and you get better flavour.  I find slow cookers impart a homogenised taste to food that I just can't get on with whereas the pressure cooker the meat gets nicely cooked but the flavours stay nicely defined.
So, armed with a certain amount of spousal forbearance I went off hunting for an electrical pressure cooker.  The advantage to the electrical item is that it varies the temperature of the hot plate at the bottom on a feedback loop, so it gets hot enough to maintain pressure and temperature and that's that, no worries about boiling off all the liquid and fusing French onion soup to the bottom or explosions in the kitchen. 
There are a number to choose from at varying price points but I ended up going for the Pressure King Pro 12 in 1 with a 5 litre capacity.  The 'Instant Pot' brand is very well spoken of but they come in at a much higher price point and, to be honest I could not see why this was.  Ultimately you just want an automatic pressure cooker.  The 12 in 1 part refers to a number of preset programmes that the cooker has but these just give you a basic combination of temperature, pressure and time variance.  For example, Soup setting is from 1 to 40 minutes at 0.05 Mpa and 150C whereas Stew setting is exactly the same other than that it will go to 120 minutes.  So I didn't think there was a lot of point in spending more on functions that I didn't think I'd use.  For all of the cookers I looked at you could probably do away with the '15 in 1′ guff and just allow fully manual control of temperature and pressure.  I suppose one of the selling points here is convenience and having presets does add to the convenience.  But, back on point, Instant Pots are over £100 and I got a big Pressure King Pro for £40 on an Amazon Warehouse deal (people genuinely send stuff back if the box is damaged, which is fine as it means I get bargains).
So, given that I bought it for increased convenience and it sells on that, is it convenient?  Yes, it's absurdly easy to use. I'm really pleased actually as it means Laura can do nice stews and stuff for the kids in minimal time when I'm travelling. With 3 monsters to look after and a business to run, anything that helps her out has to be good.  As I said, I can live without any number of programmes however the fact that once it's finished it sets itself into an automatic keep warm function is superb. It means you don't have to be there ready to take action once it's done cooking. So I can start it cooking mid afternoon, let it cook and then just leave it keeping warm until we're ready for dinner.  I really like that. 
Making my favourite 'Cuban Beef Stew' was as simple as setting the cooker to 'Browning' function to sear the meat, pouring in the chopped vegetables, herbs and stock and then cooking on the 'Stew' setting for an hour.  When it was done the meat came out falling apart soft and the flavour was great.  I also tried a really simple bolognese and again the results were superb.  Browning mince and onions and then cooking under pressure for 25 minutes produced a bolognese as good as my best efforts.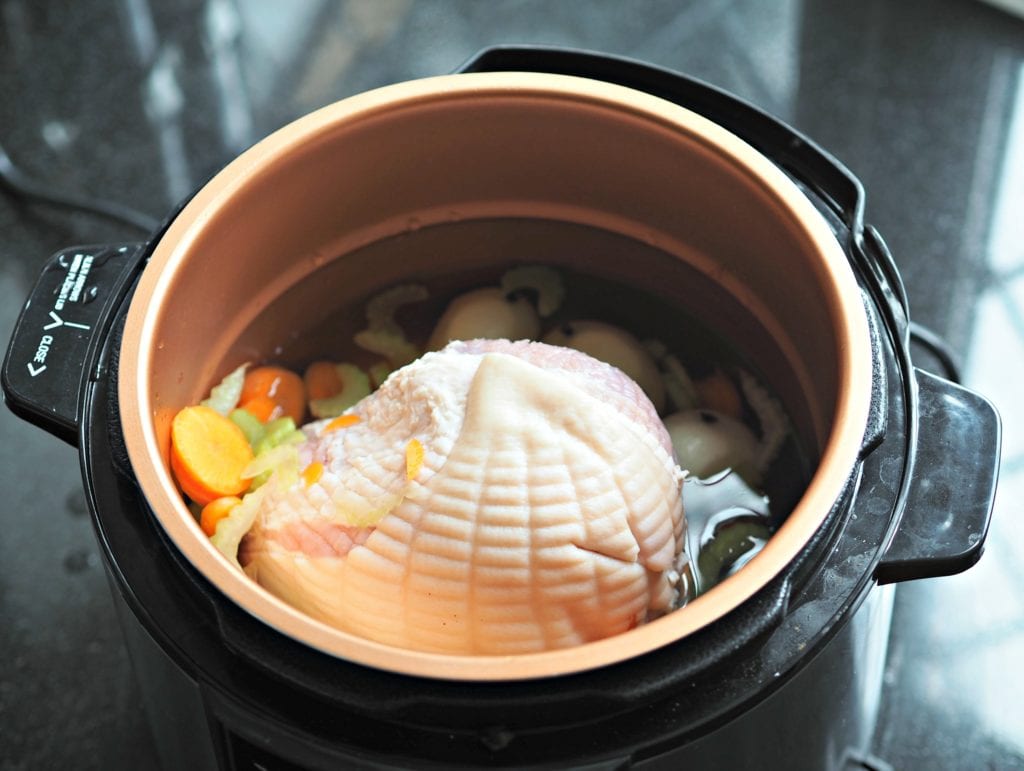 I would not normally thing to cook a roast type thing in a pressure or slow cooker but, as I knew I'd be writing the article I thought I'd give our Sunday roast a turn in the cooker and it did really well. Roast gammon with a honey glaze came out really well and provided a good amount of stock to use for soup in the week. If I were being picky I could say that it would have been just as easy to apply the glaze in a normal pan than with the 'Browning' function on the pressure king, but it saved on some washing up. The result was well cooked and well flavoured gammon that the family enjoyed. I do think that it is worth going for a bigger pot with a bigger family. I cut the gammon joint in half but I could have quite easily fit a whole joint in. All in all, this is just really excellent for batch cooking for a family. There are, if you want, functions such as rapid reheat and even a slow cooker function but I'm not sure, at this stage, how useful they'll prove to be. Why would I slow cook something for a day when I can get a nicer result by pressure cooking for an hour or so?
So, what is not so good?  Well, overall I'm really pleased but if I had to pick fault I would say that it's an inherently bulky item so you have to consider that when buying.  All electric pressure cookers will be like this, so it is not a criticism of the Pressure King Pro.  Some reviews I read indicated that the spares are tough to get hold of but this is not the case as far as I could see, the gasket and float valve (which I imagine are the parts likely to fail) are both easy to find on Amazon.  Another relatively minor gripe is the cooking times in the recipe book.  Anything quoted will be the time taken when the device is at pressure and the time it takes to come to pressure will vary dependant on the amount of liquid and temperature involved.  These are small things though. 
If I am honest, I would not be spending over £100 on an electric pressure cooker as I would not use it enough. That being said, if you shop around you can find some very good deals.  All in all I am very pleased with the one I have and will definitely be using it a fair bit.  I'm probably not going to use this for more esoteric stuff like jam and the like but I will get tons of use out of it for stews, casseroles and for pot roasting. I would definitely recommend the Pressure King Pro if you have space in your kitchen.