*Advertisement Feature
Treads School Shoes with a 12 Month Guarantee Review
How many times have you looked at your children's shoes in dismay knowing that there is no way they are going to last until the end of the school year, and it's not because they have grown out of them.
My son's year in reception I was naive enough to think that they would last the year, only to find that by Easter he had worn holes in his shoes and they were letting in water. Multiple pairs of school shoes a year becomes quite an expensive business. I would feel better if they were too small, but buying the same size again feels a little frustrating to say the least. My sister in particular has problems with son who plays football every break time and is always wearing out his shoes.
There is only one brand I have found that can last the year, but they are incredibly expensive (over £60 per pair). However, enter Treads, school shoes that come with a 12 month guarantee and at a reasonable price too.
About Treads Shoes
Treads are a shoe brand that specialise in children's school shoes. But above all of that they have been created to last. As I mentioned above they come with a 12 month indestructible guarantee which means if your child wears them out, you can send them back for a new pair. Within reason if your child is using their shoe instead of a brake on a bike maybe not, but everyday wear and tear and school life is covered. So while Treads can't you stop your children from growing out of them, it can prevent that frustration of having to buy a new pair of shoes in exactly the same size.
What makes them different? Treads are constructed using a 'strobel' technique where the upper is placed into a mould and the sole is then injected around it creating one unit without the need for any gluing. This not only creates a really strong bond but offers additional flexibility.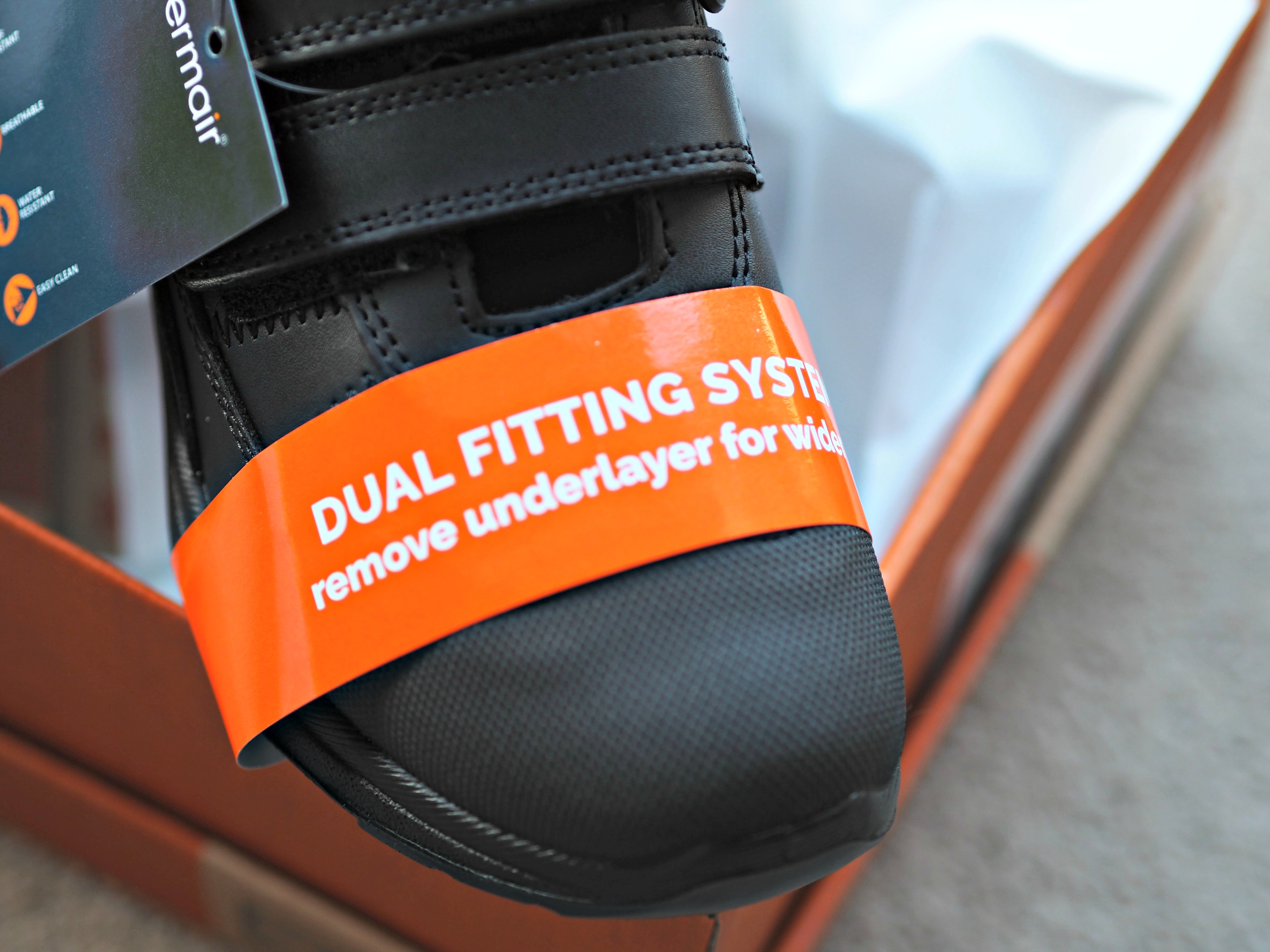 They are made from Permair leather which is breathable and water resistant, they have reinforced seams and reinforced heels.
The shoes also have a dual fitting system, which means they come with a removable inner sole. Simply by removing the base under sock layer, you change the shoe from a standard to a wide fitting, which is rather clever.
Treads offer both boys and girls shoes and they also have a touch fastening system to help children who have not quite mastered laces yet. To find out what size to order, you have two methods. You can order a fitting gauge to measure at home or use their printable paper fitting guide.
My Thoughts on Treads Shoes
I wasn't really quite sure what to expect when we were sent the Treads shoes to review. I think with the 12 month guarantee I was expecting them to be really hard shoes. But they're not, the leather is quite soft, although the sole is pretty solid, however, despite this they're not heavy at all.
I would say they do seem to come up big. I ordered a pair in the same size my son is currently wearing for school and the Treads shoes are definitely roomier. So much so (because he's not always good at fastening his shoes as tight as he should) he got a very small blister the first time he wore them. But they have been fine ever since that initial blip and he has now worn them everyday for 3 weeks now and I didn't get him to wear them in at home first like I would normally with a new pair of shoes.
My son really likes the styling of them and has declared them cool. Always a win. But how have they worn? We've only had them for 3 weeks, but after three weeks, other than a few creases across the toes the shoes don't look like they have been worn.
I did miss going to a shop to be able to have the shoes fitted. But, I am very impressed with the 12 month guarantee. To have a pair of shoes that is guaranteed to last the year is pretty amazing. But for those shoes to also be good quality and made of soft leather is a real win. Treads are definitely worth checking out if you have children that wear their shoes out every term, or in some cases even sooner. It could certainly save you a lot of money!
Wear after three weeks