Welcome to a weekly feature on my blog – Ben's Zone. Written by husband… Ben. A foodie, coffee obsessed, ex-smoking, ex-drinking and Ridgeback loving Dad. Who is also seriously into his fitness.  You can find him on the blog (most) Sundays. Enjoy 🙂
---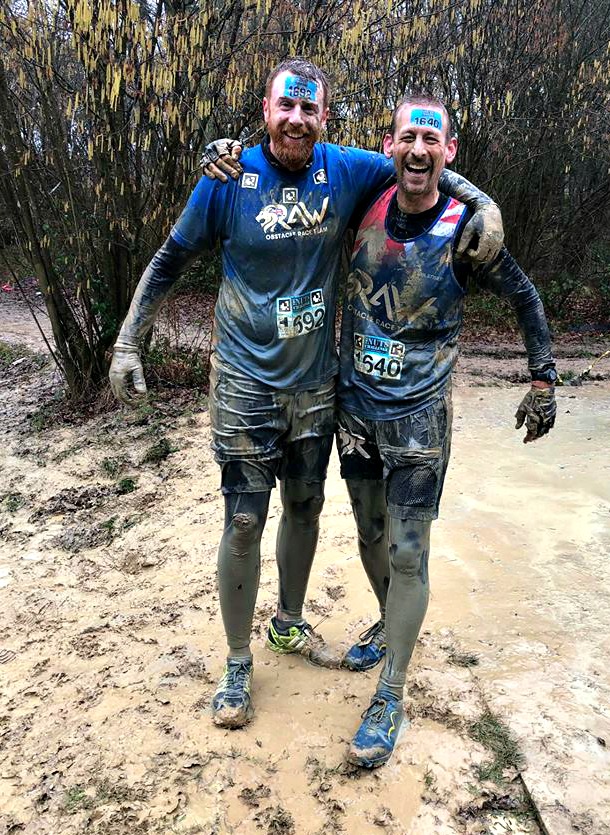 Winter Nuts 2019 Review
So, I wasn't 100% sure how I found myself back at Winter Nuts. I mean, I know the individual events that lead up to it but quite why I was there again escaped me. I'd emerged from the event last year a thoroughly broken man, physically incapable of completing a fourth lap even if I had not missed the cut off by a country mile. But there I was anyway, last weekend with my friend, RAW comrade and all round good egg, Andy C for company. This year we opted for an altogether more reasonable 2 laps of the 7km course and so while I wasn't expecting a walk in the park, given that this year I'm fitter, faster, better prepared and, most importantly had not spend the previous week in America, I thought it should be eminently doable. Well, it was doable, eminently, perhaps not, because even over 2 laps (about three and a half hours) it was very, very hard.
The course did not seem to have changed at all since last year and there was no reason for it to do so. I really liked the obstacles last year, minimal tarting about with metal rigs like a drunken ninja, lots of great use of natural terrain and naturally built obstacles. The big difference I saw to last year was that the full submersion water obstacles were open. Last year, the beast from the East had dropped water temperatures so low that the race directors made the choice to close out the full submersion stuff. I can't argue with that call, given how ruined I was anyway it made little difference. Well, there was no snow on the ground this year but intermittent rain and a razor sharp wind meant it stayed very very cold. The water obstacles were great though. I got the pleasure of going down a massive slide into a water pool which was, without question, my favourite obstacle. There were also sections involving fording across small lakes (ponds really but let's call them lakes) and a phenomenally tough obstacle that involved pulling yourself over a series of linked rubber rings floating on water. It did not look like much but the degree to which it sapped your whole body had to be experienced to be believed. Throughout the course though, the obstacles were really well constructed and marshalled, which is nice when you're in a hard race.
As usual at Nuts, the RAW team were out in force with most people doing 3 or 4 laps as opposed to the 2 laps we did (even though it felt far from a Sunday stroll). Nuts is a qualifier for the world championships and there were people attempting this on 4 or even 5 lap runs, which is a truly impressive feat. For me, though it was very hard, I had a great fun race for the whole time. There was a spell towards the end of lap 1 where my will to continue faded, I find it weird that, like last year, it manifested as a feeling of boredom, even though I was not bored at all and enjoyed my second lap more than my first.
I think in 2 laps I have found the right distance for me, it's possible I could have pushed on and done a third but that would have taken the experience from something that I enjoyed throughout into altogether more gruelling territory. After my soul searching around what I want from OCR last year, I know now that being with friends and working hard supersedes arbitrary targets. What I did enjoy was the companionship and camaraderie of being at Nuts with the team and running the whole race with a good mate. I don't even really feel like it was a soft option given how broken I felt the next day.
I'd come away from Nuts last year saying all the right things about going back but knowing deep down that there would be lots of excuses when the time came. By finding the right amount of laps for me I had a totally different and much more enjoyable experience. Last year I could see the potential of the course but the sheer scale of the event had overwhelmed me and that's what remained. I really feel like I got the best out what is a super enjoyable course this time around. I'd already be signed up for summer (where I would imagine this transforms into even more fun) if I were not away at that time.
So, I am definitely going back to Winter Nuts next year, it's a cracking race and I will have a cracking time. I will also be making sure to run with a mate throughout the race as that made a huge difference, I will probably be doing 2 laps again, unless I do 3 of course.