Attending the Zoggs Event at Coral Reef – Bracknell
A couple of weeks ago, Logan and I were very lucky to be invited to an event with Zoggs at Coral Reef in Bracknell. Despite living really close to to it and my daughter having her pre-school swimming lessons there last year, Logan and I haven't had a chance to check out the new improvements that they've made since re-opening in September of last year.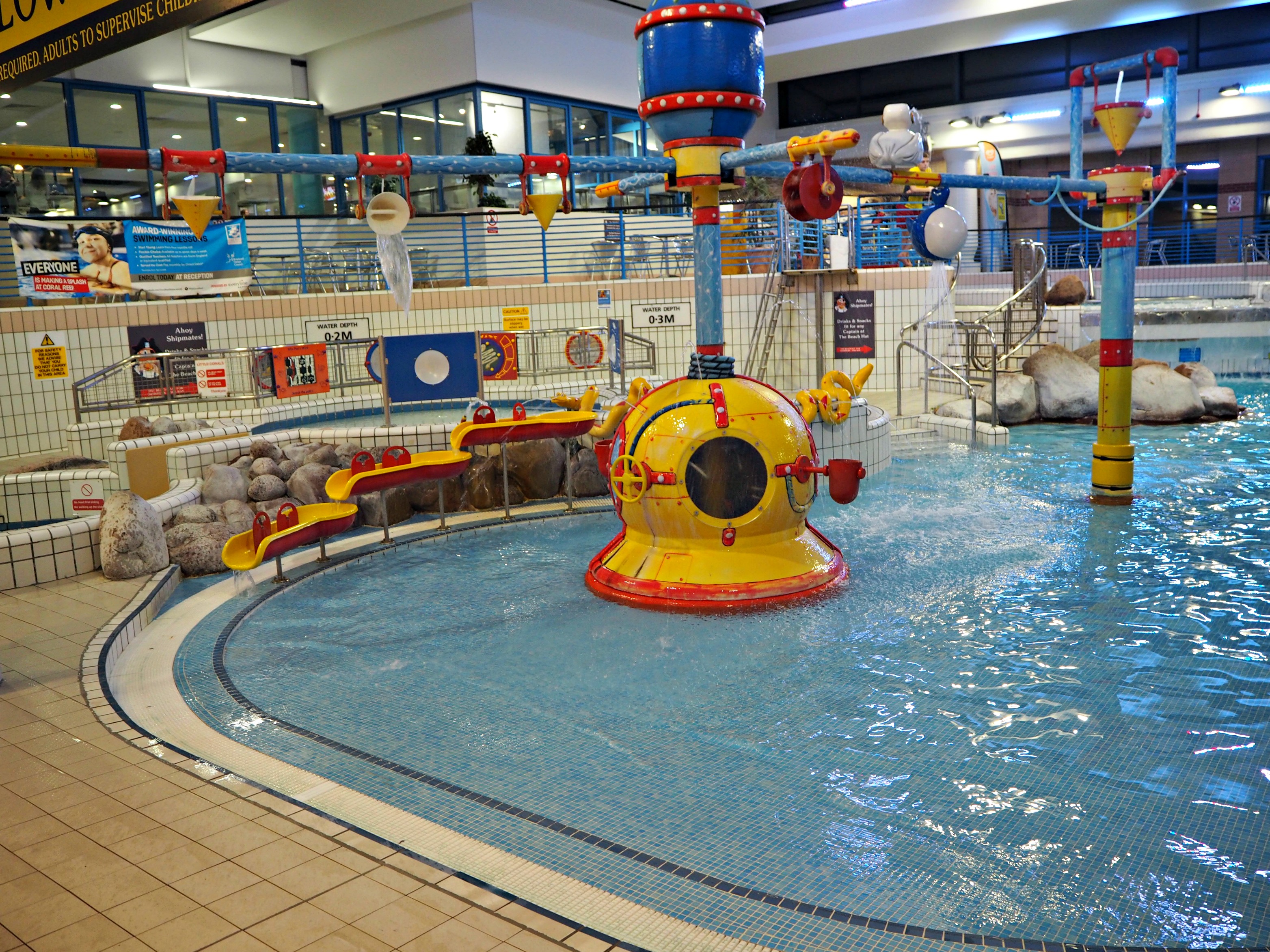 We were invited to do there by Zoggs, who make everything you could possibly need to go swimming. From swimming costumes, swimming shorts and goggles to swimming hats, floating devices and swimming aids. If you're looking for something to swim or help you to swim, you can pretty much guarantee that they sell it.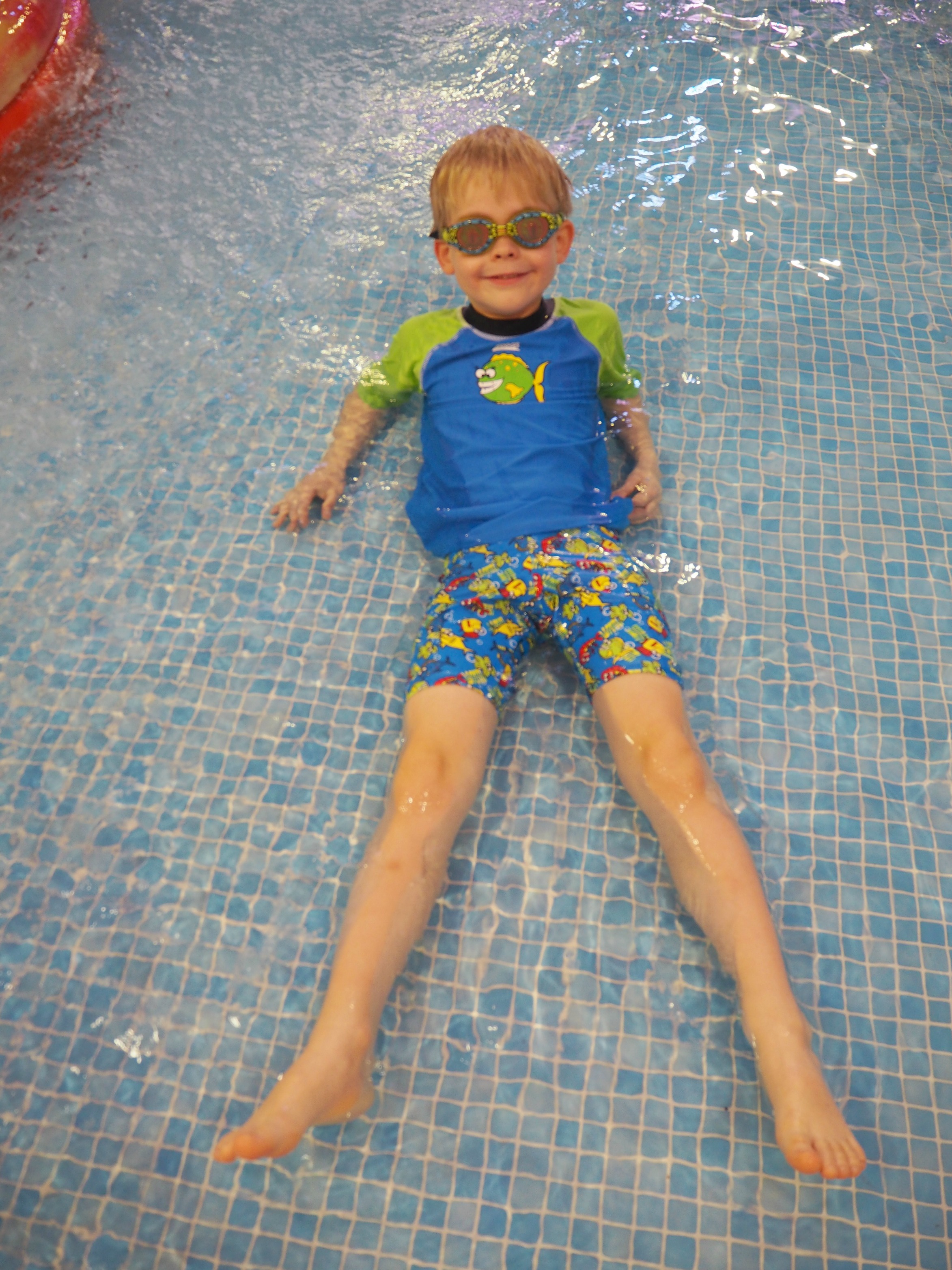 Logan and I were also kitted out in some fab new swimming clothes courtesy of Zoggs, here's Logan in his new shorts and top, but the part he was most impressed with is his demon goggles which he has since taken to his swimming lessons and was excitedly showing them to everyone in his class. Zoggs also have a new DC Superheroes clothing range out if you have a wannabe Batman, Wonder Woman or Superman in your house. They they have children and adult ranges. I wore a swimsuit for their Swimshapes collection which is designed to flatter your bodyshape – with tummy support and inbuilt foam cups. I definitely felt more comfortable with added support, particularly for my bust given that I'm still breastfeeding.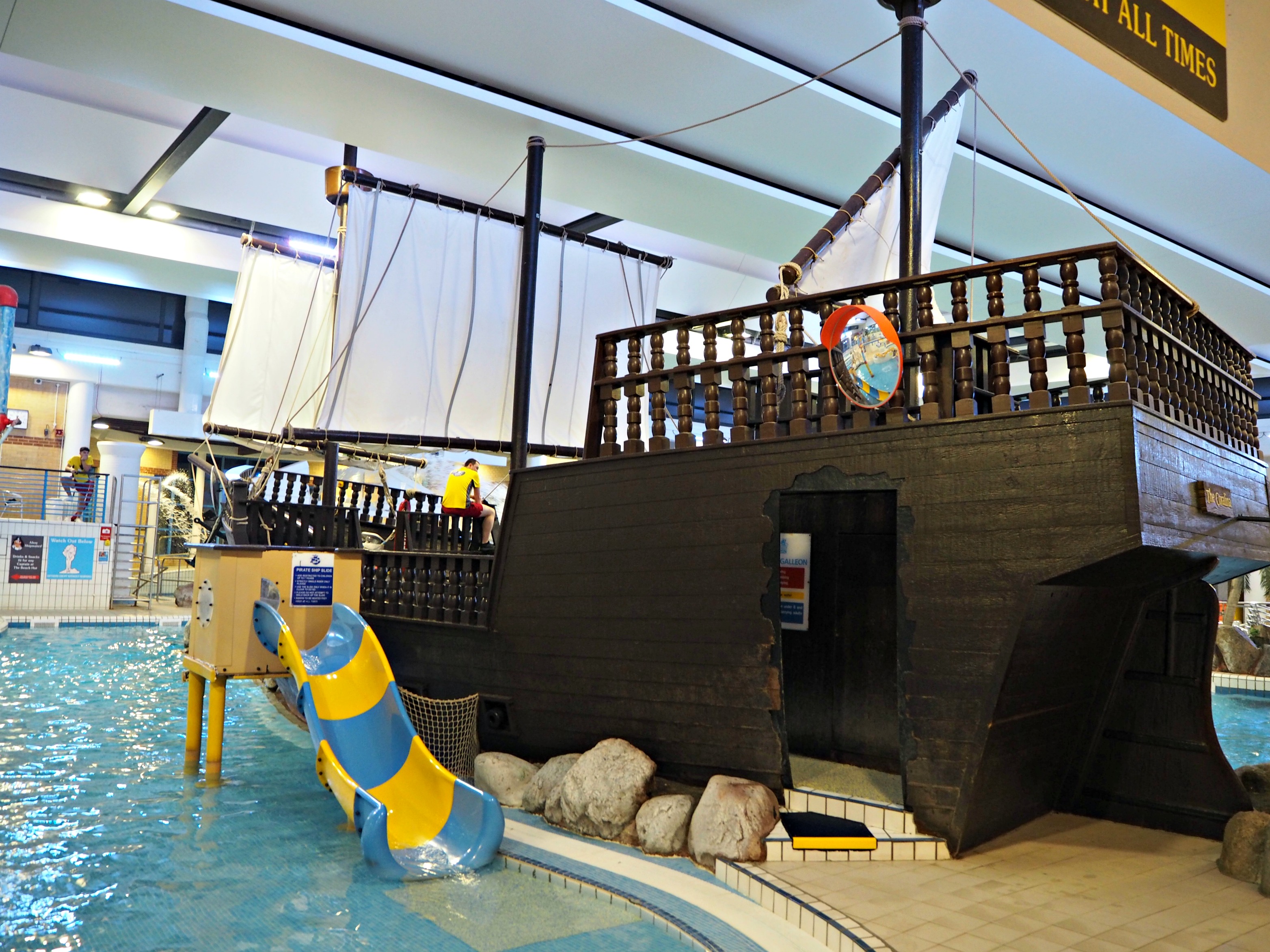 If you don't know much about Coral Reef, a year ago the pool underwent a serious £13m renovation. The renovations included 5 new interactive slides, which my son was particularly excited about trying!
Of the slides two were unfortunately closed on the night and of the three open one was for over 8s only, so Logan and I have the choice of two – The Aqua Splash or The Storm Chaser – never fear we did both of them…. a lot! For all of the slides you have to be over 1.2m tall. You can see more about the slides including some videos on Everyone Active's website.
Now it is worth saying, despite loving them as a girl, I have since found that I am rather chicken about going on slides! So the Aqua Splash, the tamer of the two was my favourite. The Storm Chaser requires you to ride in a rubber ring – they also do double ones so you can go on one with your child if you want to. I may have screamed going down them a little bit… Also let me tell you there is no way to get out of those rings gracefully! But they were lots of fun.
The interactive slides are really cool, you can choose what sort of music you listen to, on the Aqua Splash you can also play a game and see how many flashing buttons you can press on the way down. This was Logan's favourite part. There is a scoreboard at the end so you can see how many you hit and also how fast you managed to go down the slides. There are also flashing lights, a rather spooky part where it goes dark and you can't see where the slide is going.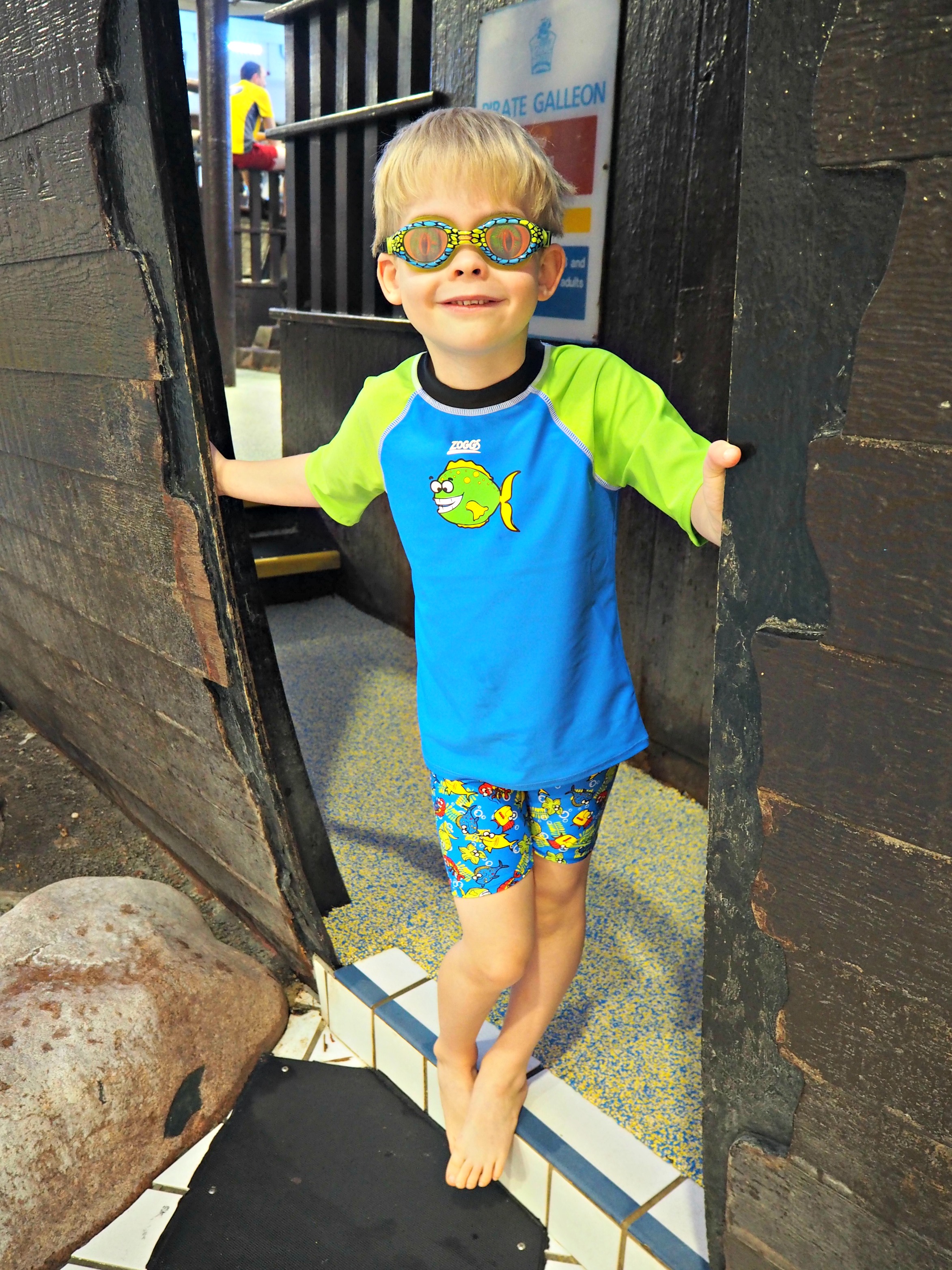 Other attractions at the swimming pool is a splash area and mini slide perfect for toddlers, a pirate ship where you can shoot the water cannons at people below (another hit with Logan), lots of water sprays, rapids, a bubble pool and for the grown ups there is also a spa.
We had a fantastic evening at Coral Reef, it was so nice to have some one on one time with Logan, to be invited to the pool as a guest when there was hardly anyone there too was a privilege. The shoots are really good fun and my son had the best time, we'd definitely recommend them. We are also both loved our new Zoggs swimwear.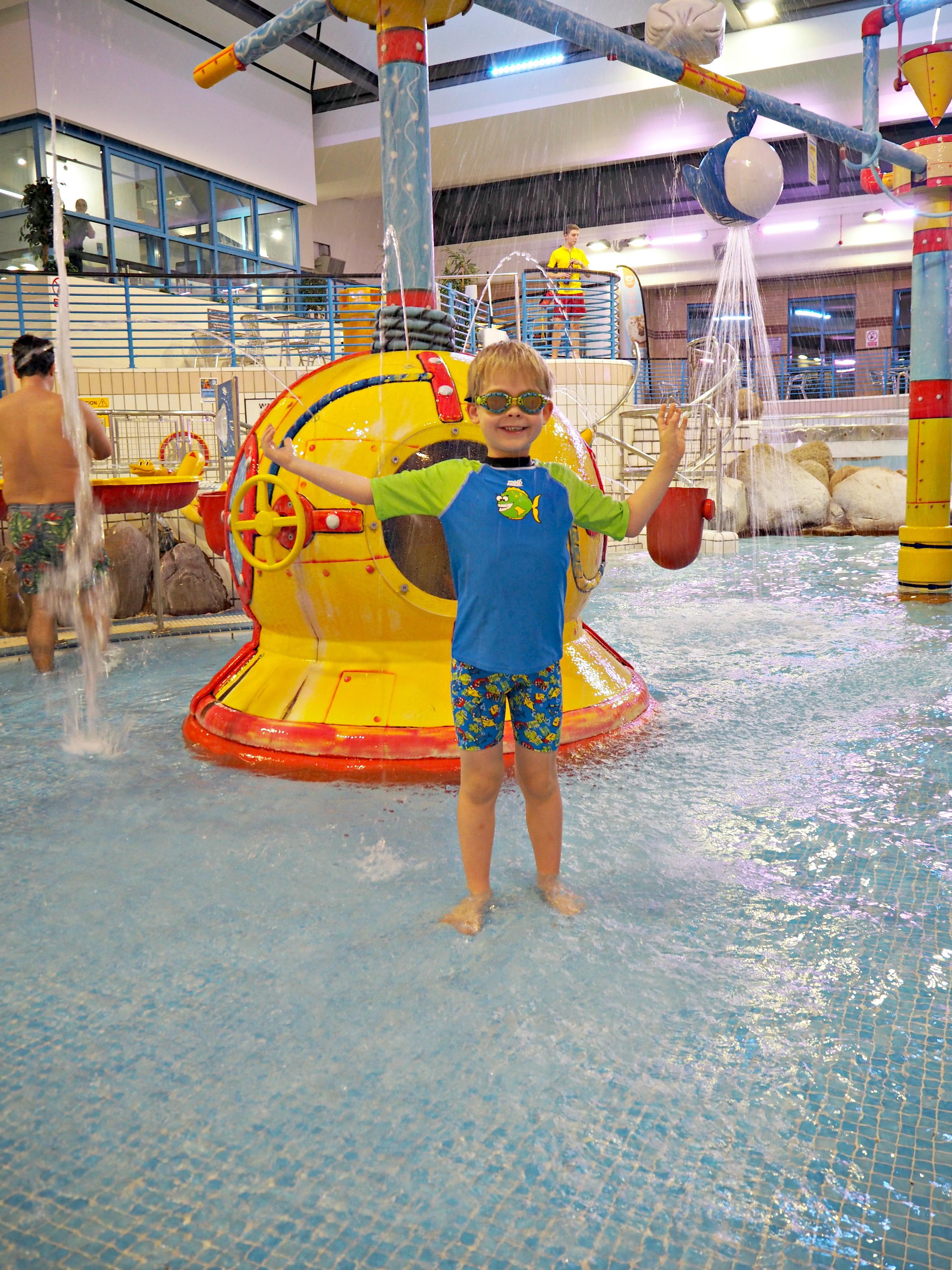 Zoggs products are available to buy at zoggs.com as well as in all Everyone Active leisure centres.
*Disclosure: We were invited to Coral Reef and gifted our swimming outfits for the purpose of this review, however, all opinions are my own.