*Please note this feature contains affiliate links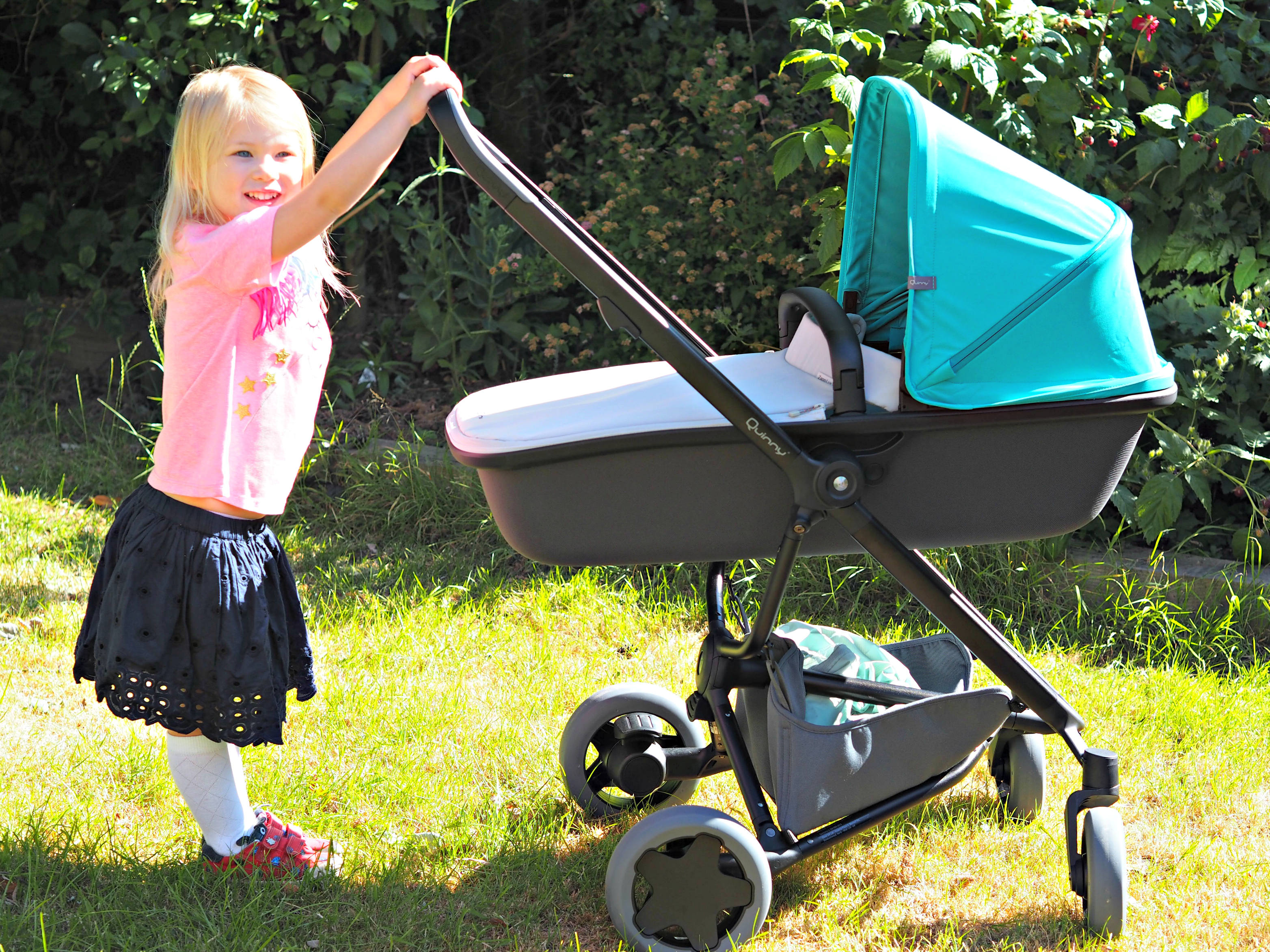 Quinny Zapp Flex Plus Carrycot Review
When I was pregnant with my first child we went to various shops hunting for the perfect pram or travel system. We ended up choosing the Quinny Buzz which has happily seen me through two babies. Which meant with the arrival of Bodhi I was excited to be working with Quinny and trying out one of their newer prams – the Quinny Zapp Flex Plus.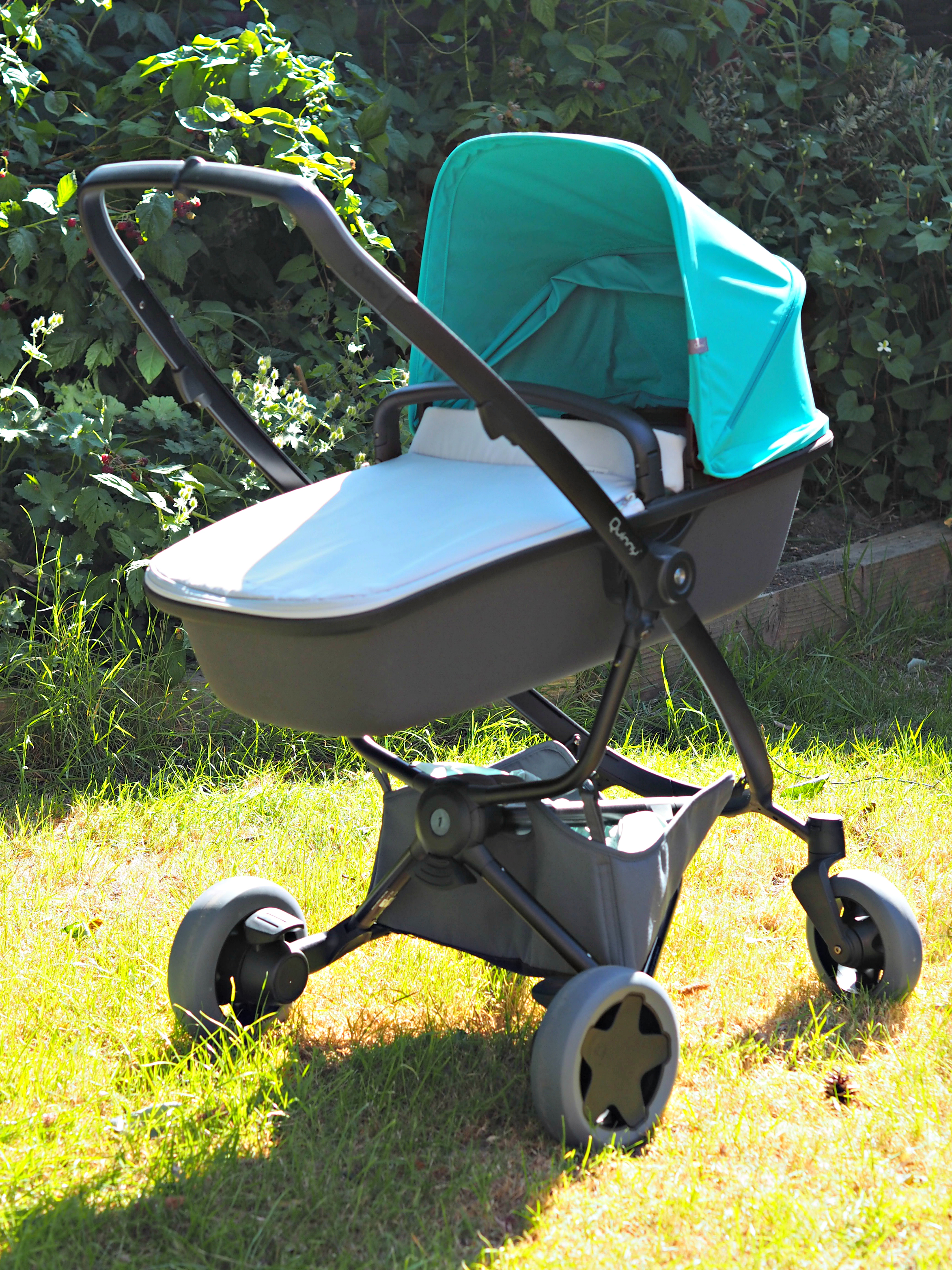 The Quinny Zapp Flex Plus is a more lighter weight and compact pram to the Buzz, but still packs plenty of punch. If you wish to use the pram with a newborn you will additionally need to purchase the carrycot or a carseat to use with it, as the main seat itself is not newborn compatible. We were also sent the carrycot as part of the review, but the Maxi Cosi Pebble carseat we already had also fits perfectly with it too. Carseat adaptors are included with the pram.
The Carrycot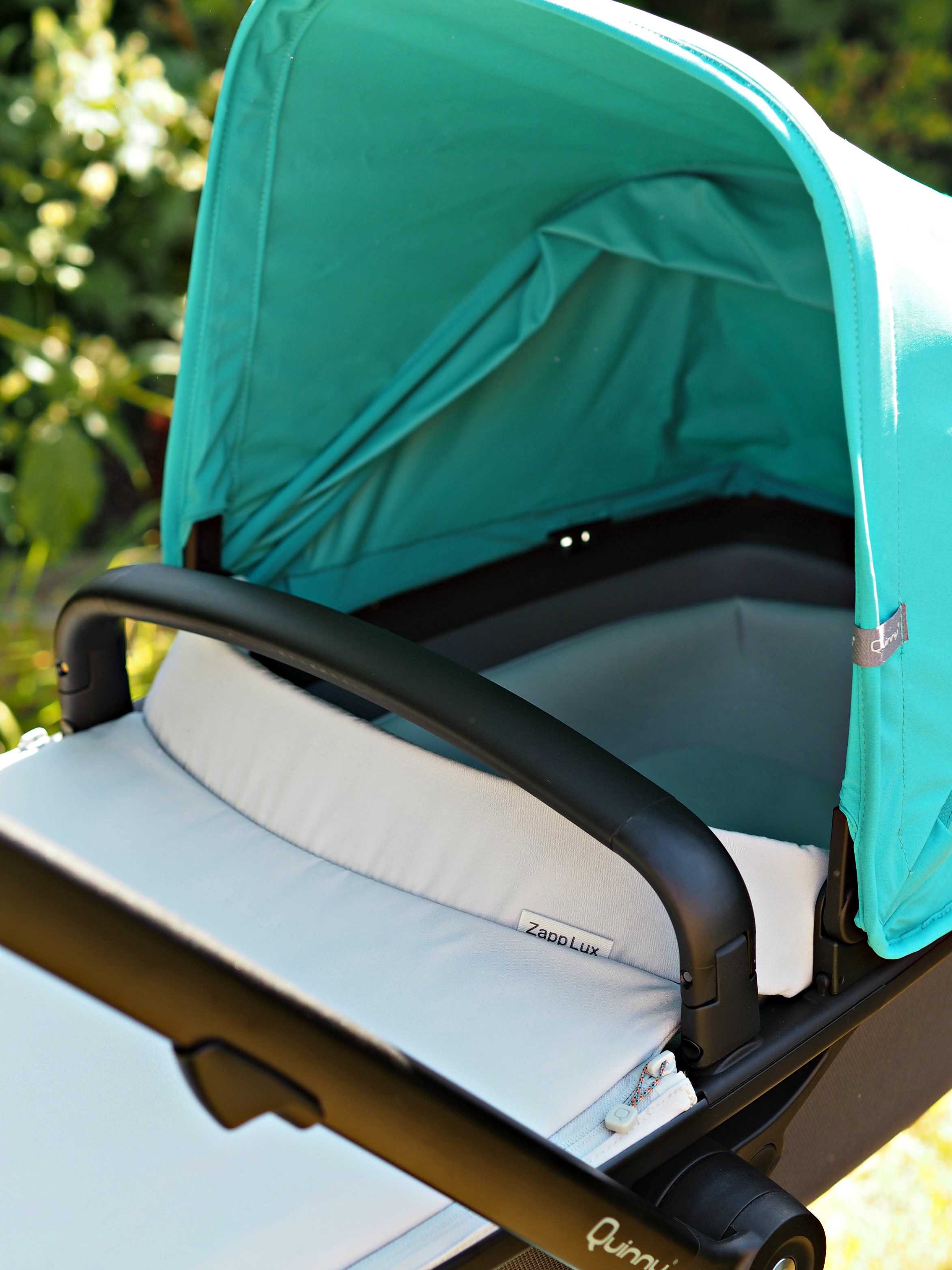 The carrycot is really lightweight, even recovering from a c-section I had no problem lifting it on and off of the pram base (it weighs only 3kg). It clicks on easily and has two buttons either side in order to lift it off. You do have to be careful to get it at the right angle when clicking it on though as I have had a couple of occasions when I didn't put it on quite right, so make sure you check it's clicked in. There is a bar that goes across the pram that you can use to lift it. We use the carrycot a lot in the house for nap times and for this I found the bar got in the way a bit, but you can simply click it on and off.
You use the hood from the main seat to go onto the carrier, which zipped on. The hood has a separate section that can be zipped to make it larger or smaller and cover the pram more in the sun and also offers UV protection up to factor 50. However, especially with the current heatwave we have been experiencing I have found that I needed to purchase the sun umbrella which can be purchased as an additional accessory. The umbrella while good is a bit fussy and I find that I have to move it whenever I change directions when walking. Quinny also offer a sun canopy which looks really good and much more practical, but I will be honest and say at £59 I was a bit put off by the price tag, but I think in hindsight it would have been a better choice.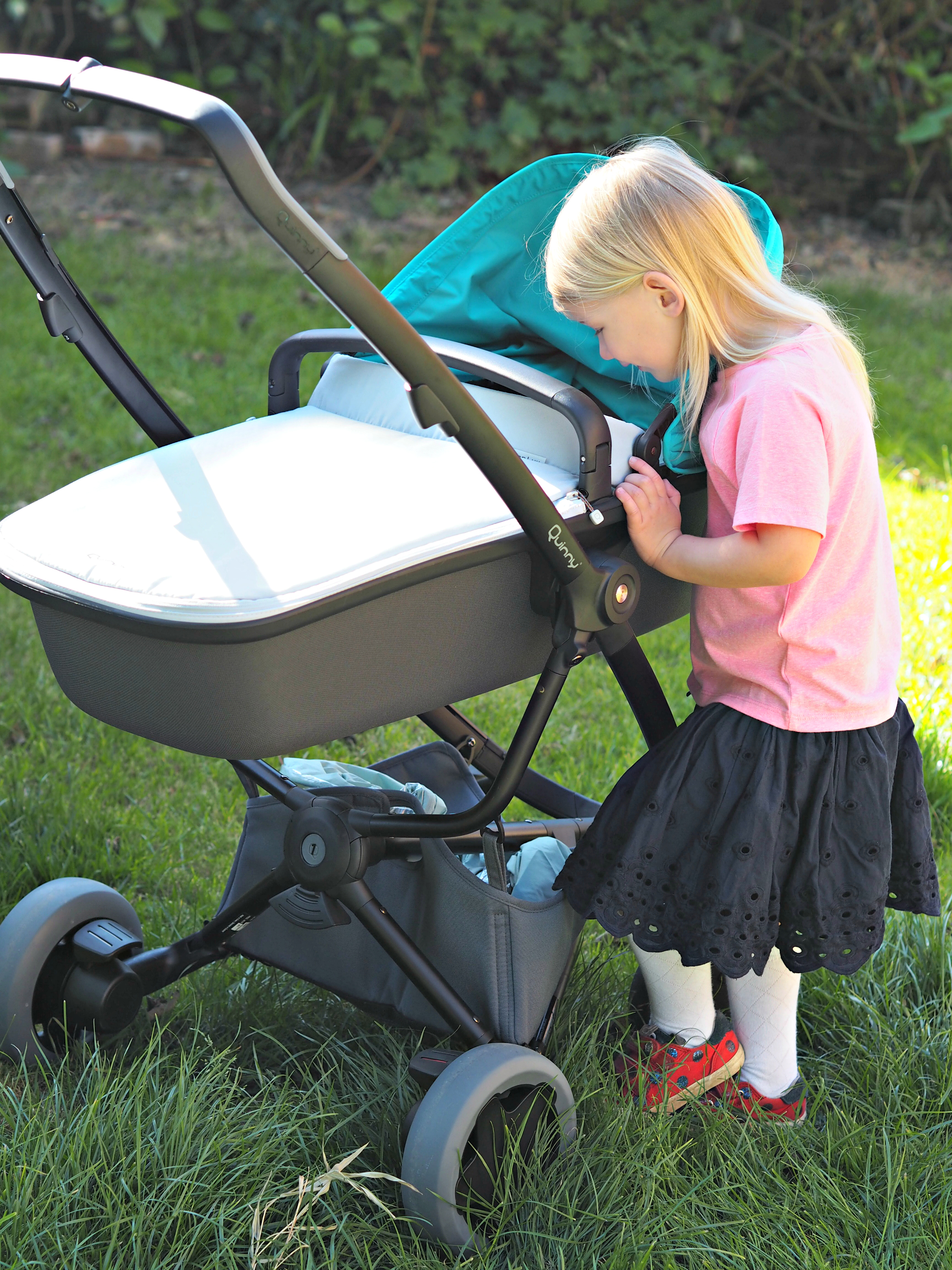 The carrycot also comes with a cover which zips on and a rain cover. With the crazy weather we've been having, I've not really had the opportunity to try out either but given that we live in England I am sure that will happen soon enough!
The Pram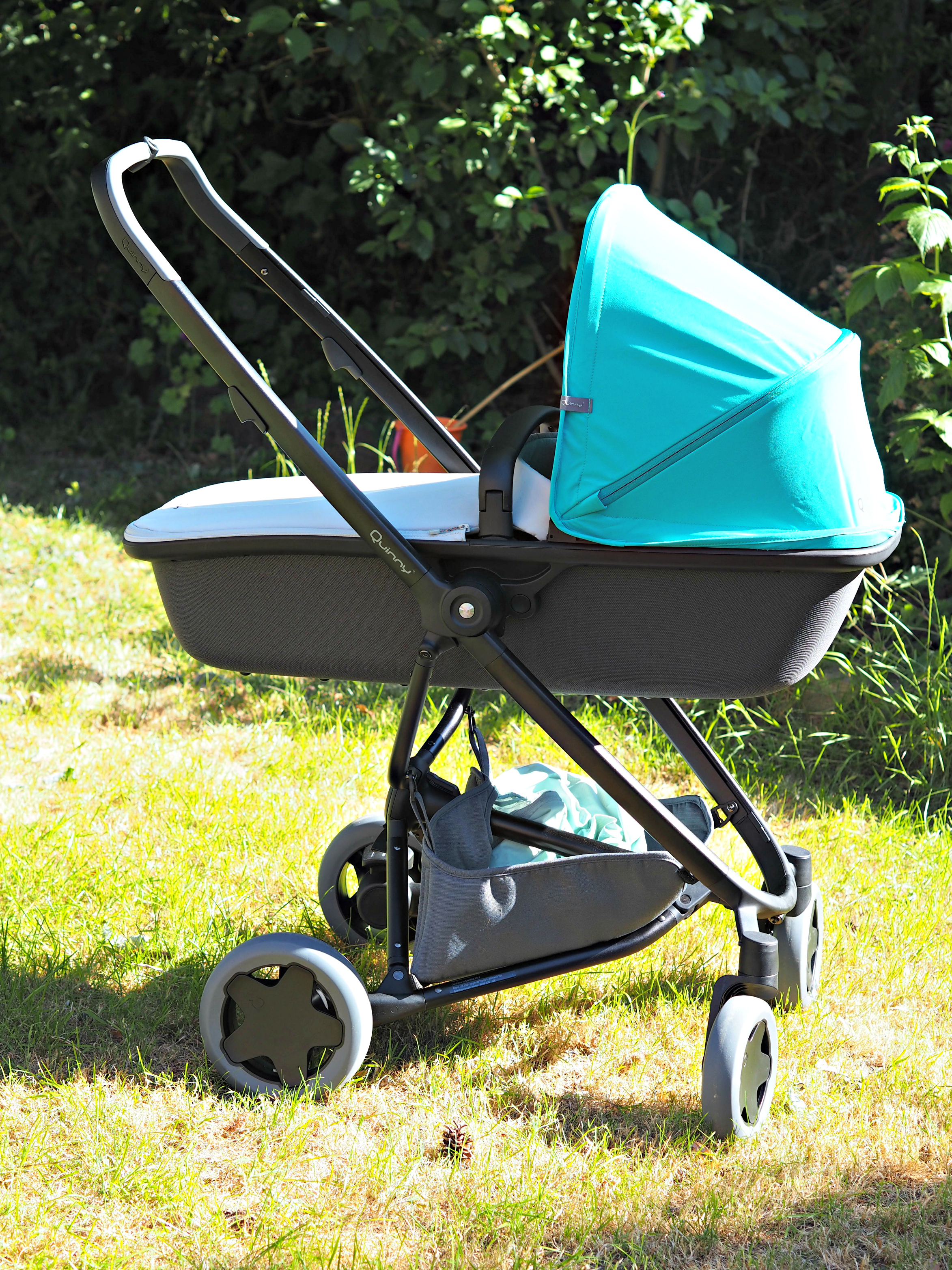 The base of the pram folds in just two actions. There are two levers you have to push forward on the handle in order to flip it over, then a button on the base to fold the whole thing down. If you need to make the base even smaller you can also remove the wheels. But as you can see it folds really small and should fit into most car boots. We have an estate car, but it fitted easily into my mother-in-law's Honda Jazz with space to spare.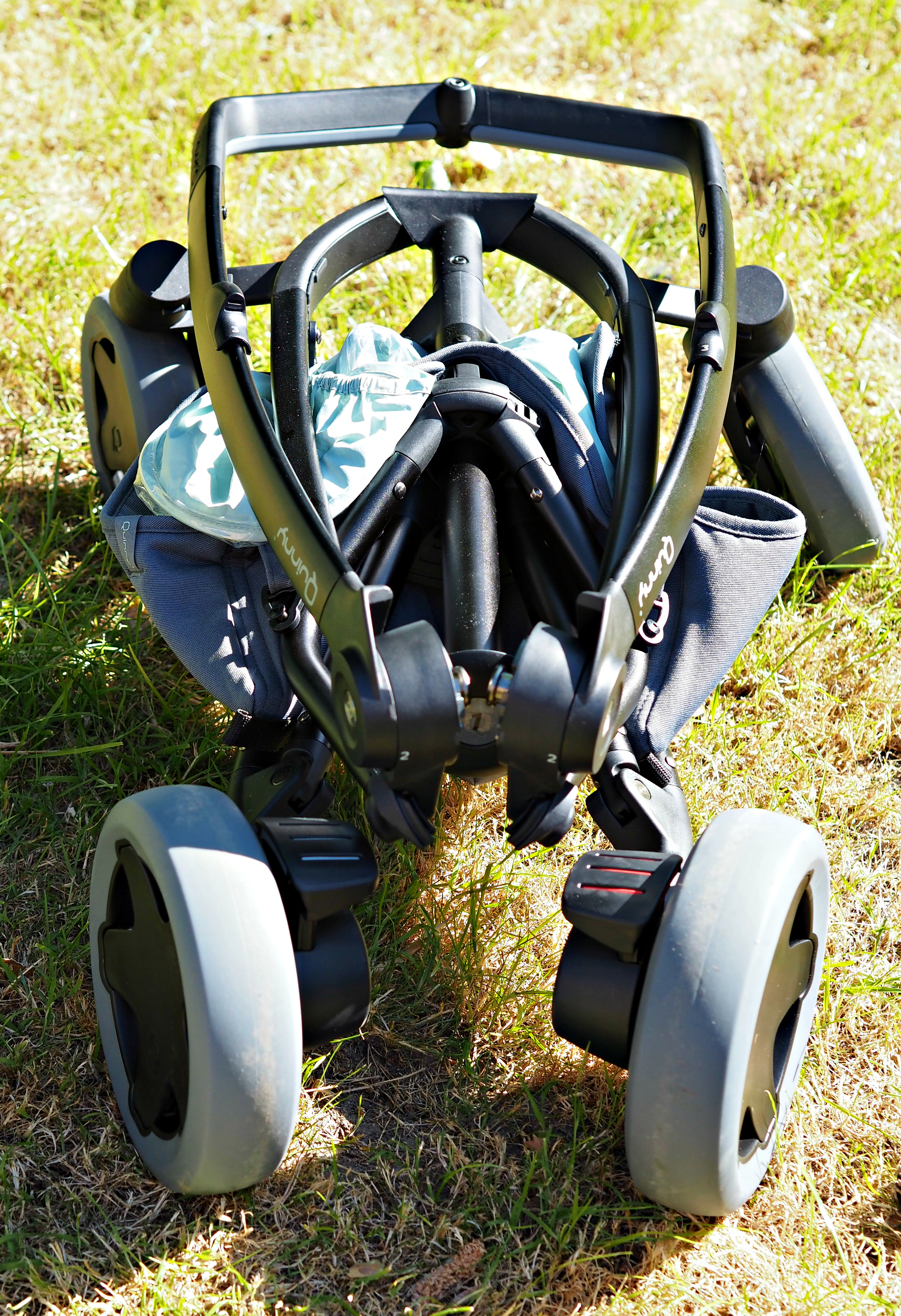 The big thing I love about this is the one handled steering. I actually think all prams should have one handled steering as it's just so much more practical, especially if you have other children and need to grab one of their hands, while pushing at the same time. Or things like grabbing a shopping bag or being able to open a door and pul the pram through, it makes life so much easier.
The pram has four wheels and the front two swivel making it really manoeuvrable. This is important as it makes it easier to get it in and out of small spaces, and particularly useful when you're out and about in the shops for example. It has two pedals one to stop and one to go.
One thing I would love is a slightly bigger shopping basket underneath, It doesn't really hold that much and with books bags, water bottles and sometimes PE Kits on the school runs, bigger is always better. Although I should add you can buy an extra bag to go on the back of the pram, which I am very tempted to get.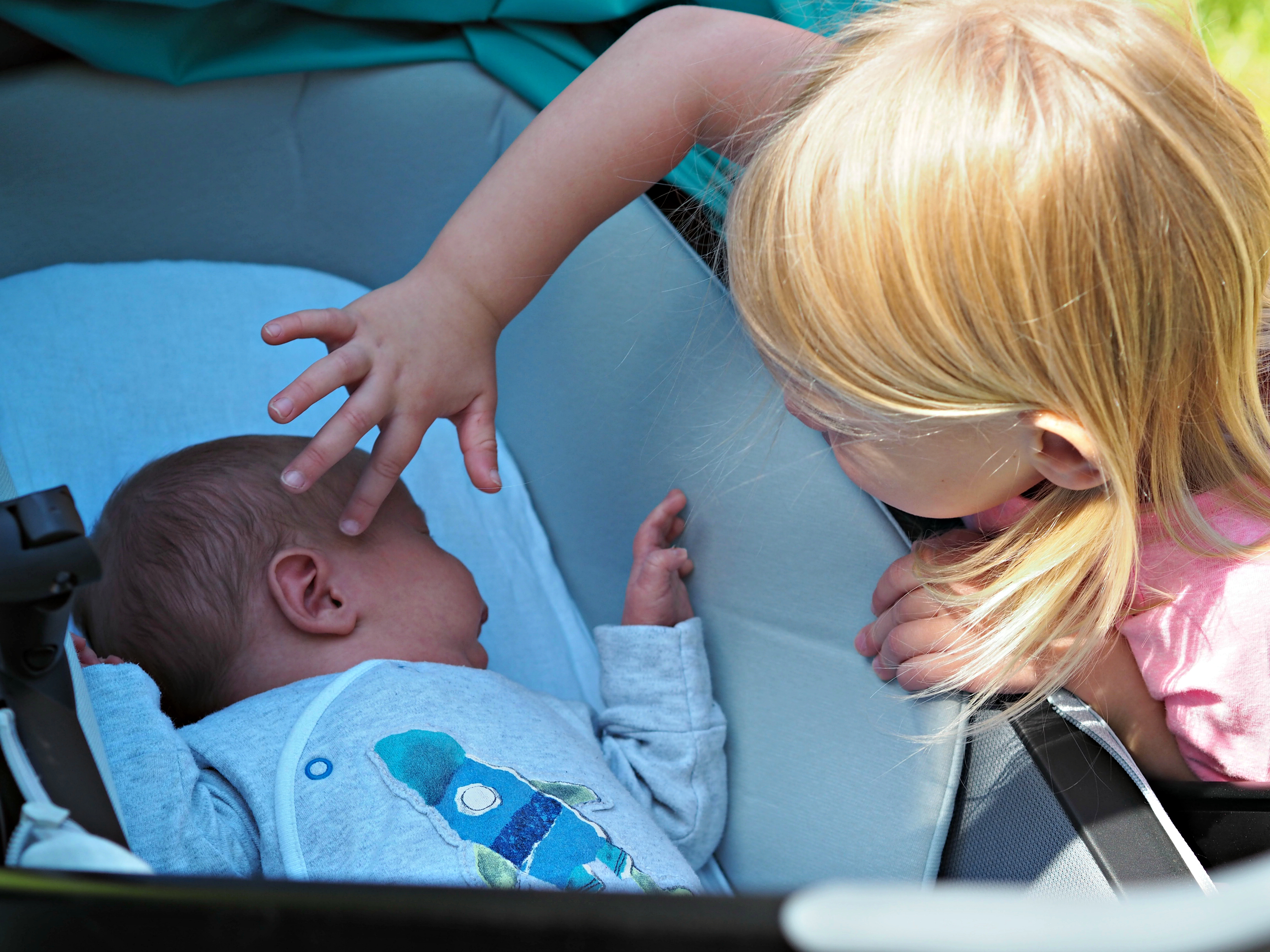 In terms of colourways I chose the green on graphite, but there are over 12 colour combinations to choose from. From pink, red, blue, black and sky there is something for every taste. If you love to match then you can also purchase a Maxi-Cosi car seat in the exact same colourway as your pram.
Conclusion
This is a really great pram, lightweight and adaptable. I love the colours, I am a firm believer in that children's things should be fun and colourful, which makes the Quinny Zapp Flex great in that respect. To improve it I would make it the storage a bit better and would love the sun canopy to be included as standard. But other than that so far I really love it, I love how light, manoeuvrable and easy to use it is.
I will be doing a follow up review on this pram when Bo is a little older using the main seat, so watch this space to see how we get on.
Buy the Quinny Zapp Flex Plus RRP £335.00
Buy the Lux Carrycot RRP £185.00 
*Disclosure: I was sent the above items for the purpose of this review, however, all opinions are my own.