Aria's Unicorn Bedroom Makeover with Stickerscape
When we first moved house, we decided that we would decorate the children's rooms first. Starting with Logan's room simply because it was painted brown and quite frankly who wants a brown bedroom? The idea was that it would also help them settle into their new home more easily too. Time ran away with us a little bit if I'm honest and we ended up doing a mini makeover of our front room in January, before looking to the children's rooms. We did do Logan's room first (blog post to come on that soon). But Aria's room actually ended up being finished first.
Her room ended up being a bigger project that we originally envisioned, she had some fitted wardrobes in that we really didn't like and were slightly crooked, so we decided to rip them out. However, we probably should have considered that there was no carpet or indeed and skirting board where the wardrobes has been fitted. Which meant we needed to fit new skirting boards and order new carpet for the room.
There were also two spotlights on the back wall which really didn't suit a child's room. I found some butterfly ones we really loved but they would have been £80 for the pair, a cost I couldn't justify. So I was very excited to discover them for half the price on eBay!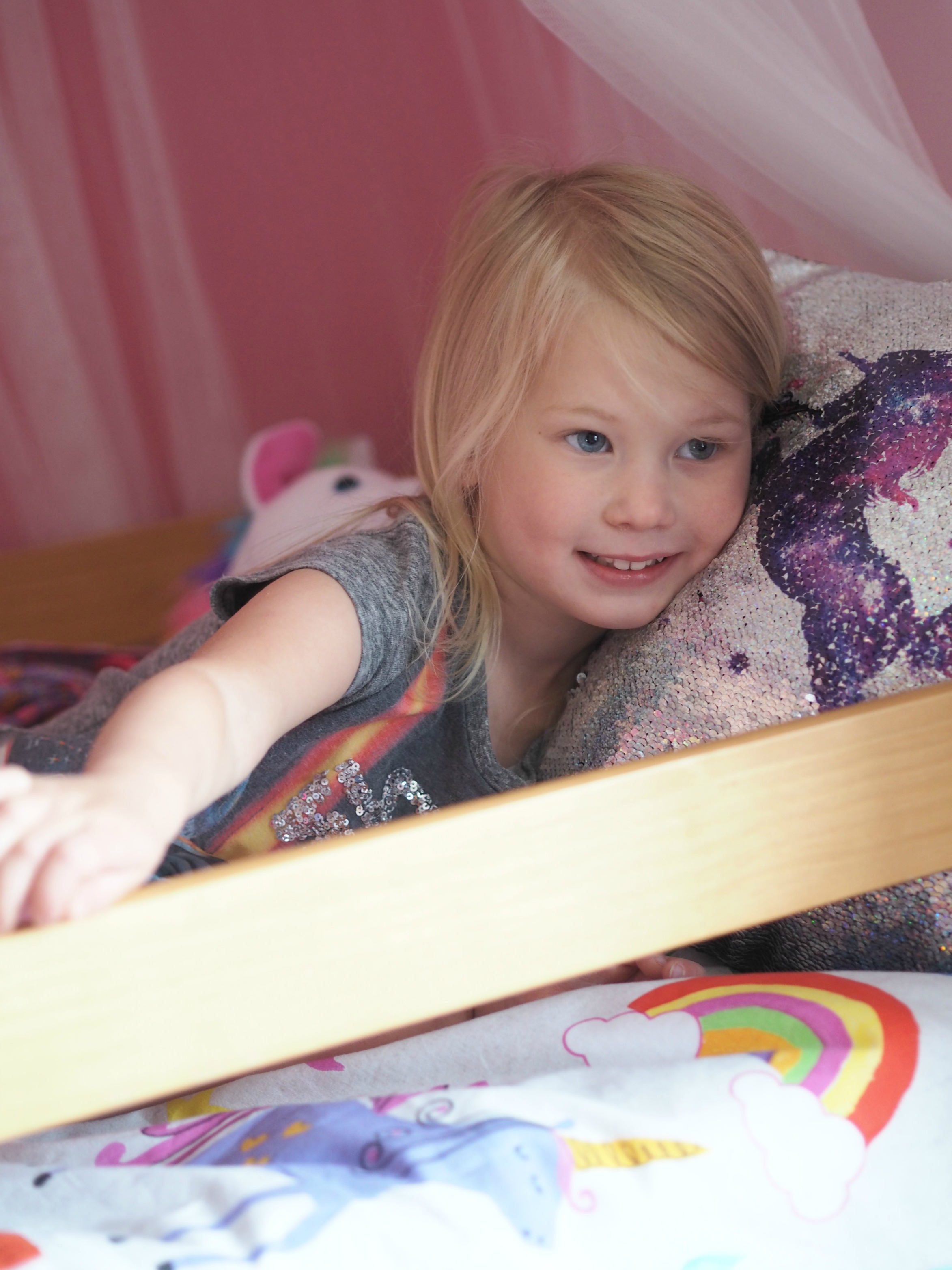 Aria was very clear on the fact she wanted a pink bedroom. So we decided on one dark pink feature wall and the rest of the walls a paler pink. Aria tried to convince me that pink carpet would be a winner, but we opted for a neutral grey, so that if she decides pink is no longer her thing the room can be easily changed.
We had brought her old bedroom furniture and wardrobe with us from our old house and as Aria was still in a toddler bed decided now was the time to get her a big girl bed. Aria has been desperate to have a cabin bed like her brother for ages.
The Before Photos
This is what Aria's room looked like before we started the decorating process. When we bought the house the room was occupied my a couple and had a double bed with fitted wardrobes surrounding it.
As you can see, the room also needed a serious de-clutter. It also has a sink and vanity unit built in. While Aria doesn't really have a use for it at present, I can imagine when she hits her teenage years she's going to love it. And while the carpet was an unexpected expense, the old carpet was pretty grotty anyway.
The After Photos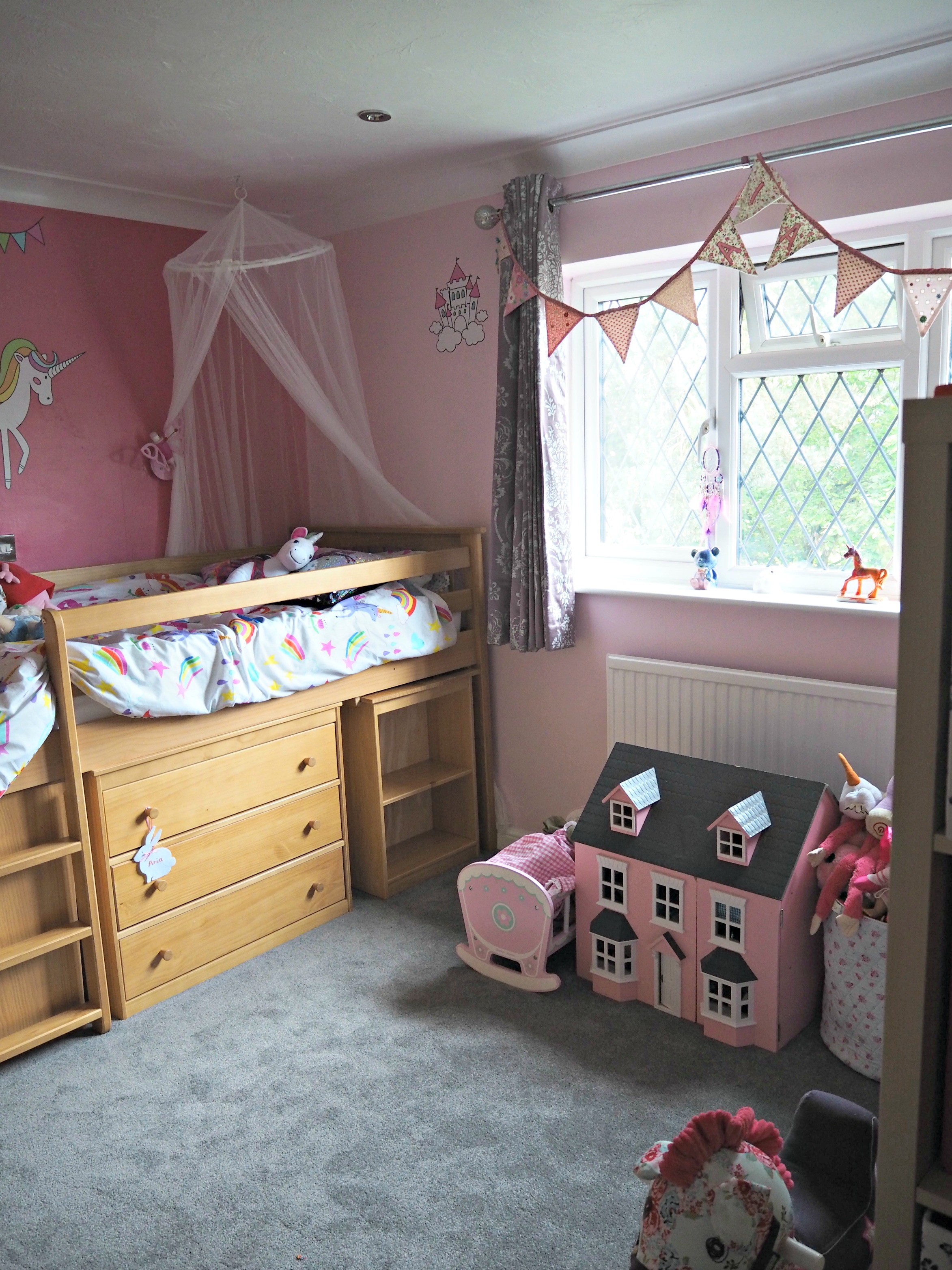 I'm really pleased with how the room has turned out. Love the new carpet and while when my husband was painting I was a little worried it was pink overkill, Aria is absolutely delighted with it. The wall stickers add a really fun edge to the design.
Her toys are much more ordered and it is a fun and colourful space for a four year old little girl. The cabin bed has given us much more storage too and Aria loves having a grown up bed like her brother.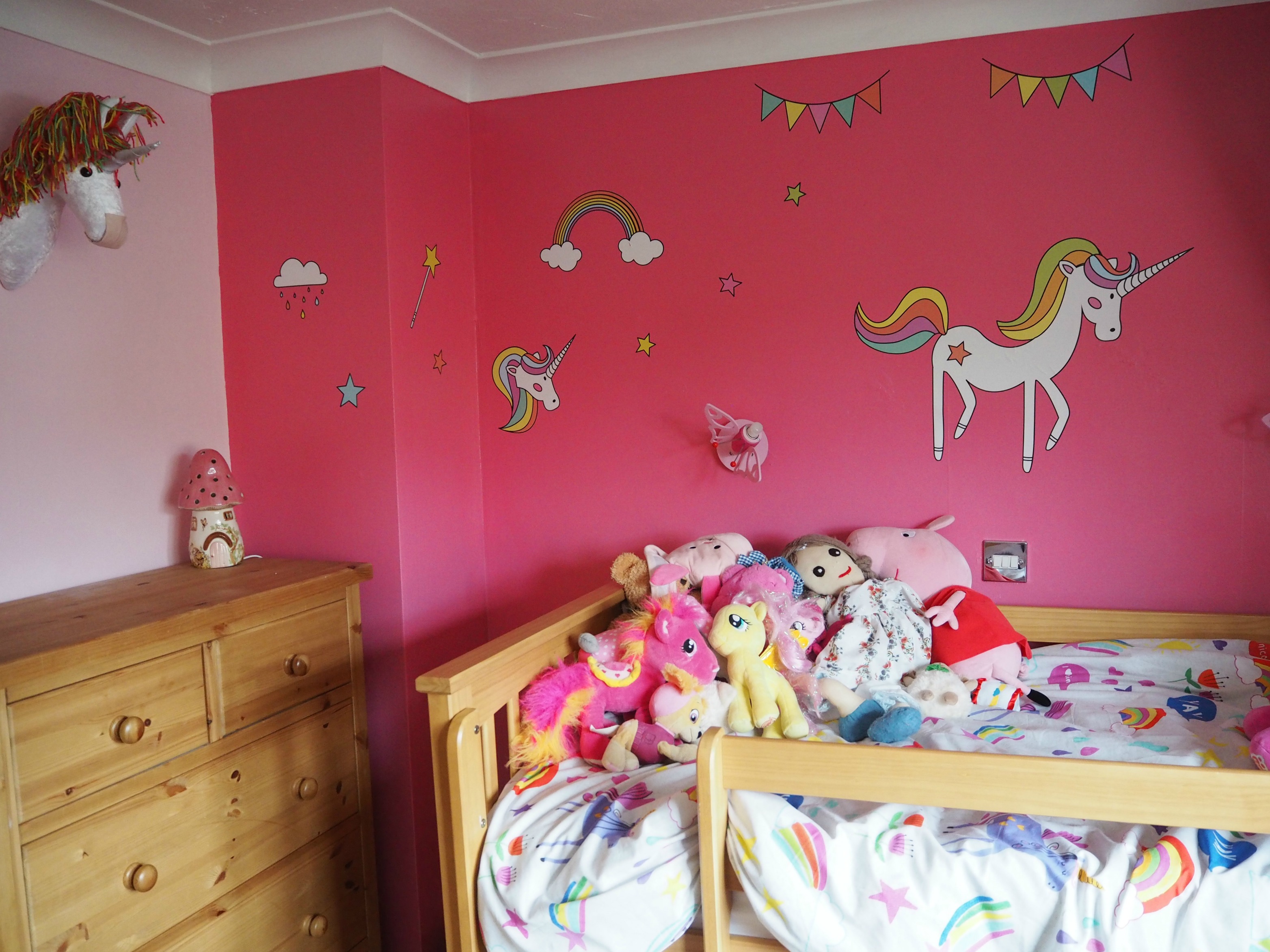 StickerScape Wall Stickers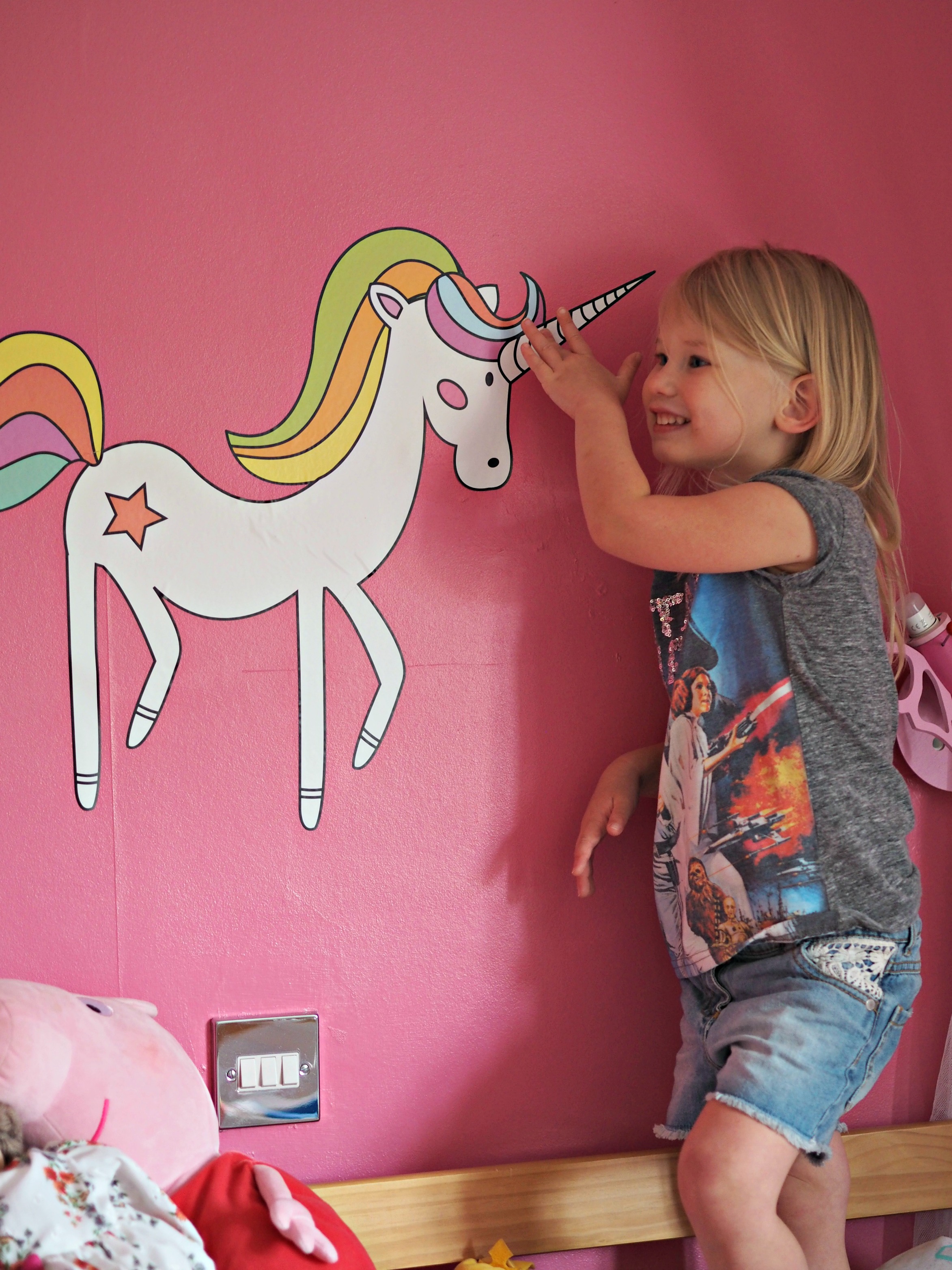 I first discovered wall stickers when I was decorating Logan's nursery for the first time nearly 7 years ago. I think they are such a lovely and easy idea to add character to a child's room, that can also be easily removed. If your child grows out of the theme and suddenly the characters all over their walls are no longer cool, it is so easy to just remove them and put some new ones up, refreshing the design.
Stickerscape sent us two packs to try out in Aria's room. The first was their unicorns and rainbows pack in large which costs £28 and contains lots of stickers and plenty to decorate a whole bedroom with really, so is pretty good value. The second was a personalised rainbows and hearts wall sticker in regular which costs £12.
They were really easy to apply and went up without me having any huge concern about air bubbles. The stickers are a really nice quality. The only issue I did have was for the wall sticker above I ended up having to stick all of the dashes and hearts on by hand as they didn't come off the backing paper easily, but this was the only sticker I had this problem with, and it really wasn't the end of the world.
Overall I think the room looks great and I'm really pleased with the design.
Giveaway
If you would like to give a room in your house a unicorn makeover, then why not enter my giveaway, I have one unicorns and rainbows wall sticker pack to give away which was used in Aria's bedroom makeover and contains a really lovely selection of stickers in. To enter simply enter your details below.
*Terms and conditions: Entries are open to UK and Ireland residents. The competition closes on the the 20th July 2018. Winners will be announced on social media and contacted via email. If the winner does not respond to the email in two weeks, a new winner will be randomly chosen. Competition entires are collected using Rafflecopter, for information on what data Rafflecopter record and how it's used and stored, please read their privacy policy. Emails will not be used for marketing purposes and only used for the purpose of contacting the winner and organising their prize.
**Disclosure: We were sent the above wall stickers for the purpose of this review, and provided a prize for the giveaway, however, all opinions are my own.