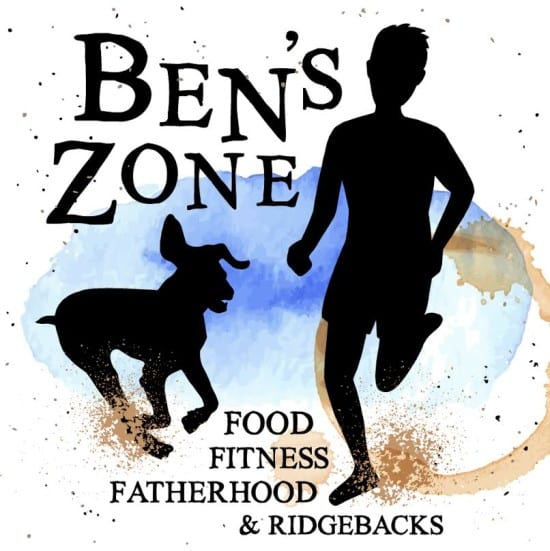 Welcome to a weekly feature on my blog – Ben's Zone. Written by husband… Ben. A foodie, coffee obsessed, ex-smoking, ex-drinking and Ridgeback loving Dad. Who is also seriously into his fitness.  You can find him on the blog (most) Sundays. Enjoy 🙂
---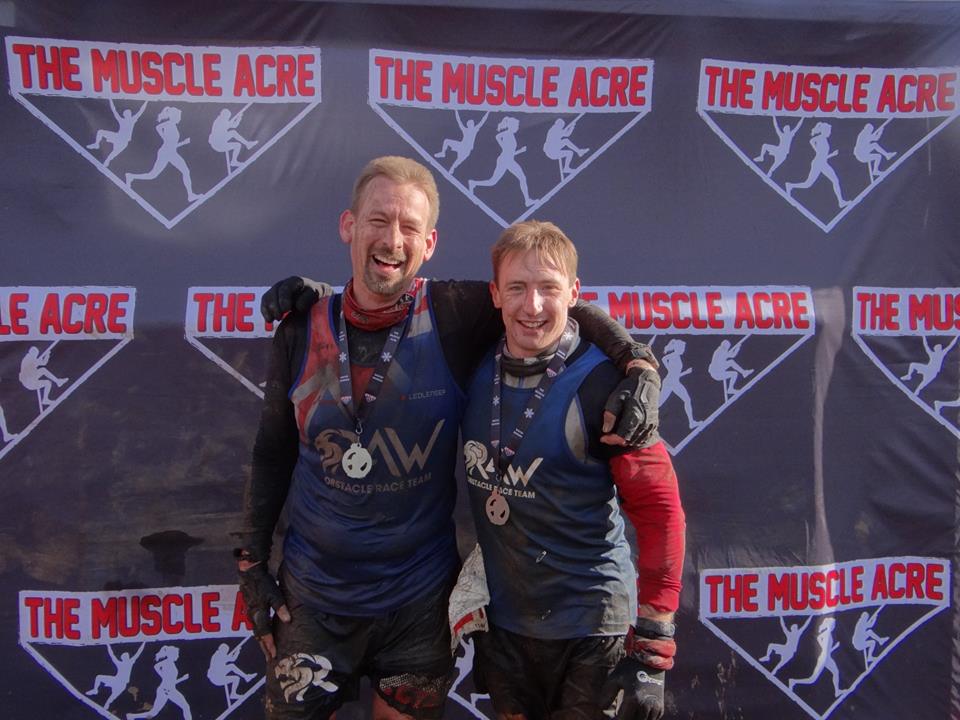 Muscle Acre Winter Warmer Review – February 2018
Full disclosure, normally I write my blog piece mid week, so if I am reviewing a race I'm doing it a few days later. This means a number of things, I'm warm, dry, reasonably clean and either the injuries have stopped hurting or I'm full of paracetamol. Not today. I'm going on holiday tomorrow and so I'm writing this review about 3 hours after finishing my 3rd Muscle Acre Winter Warmer. Anyone who knows this blog will know I love this event and up front, nothing has changed on that score. I had a brilliant time. What is not the same is the course and the event itself.
Muscle Acre runs three times a year and each event has a distinct character. Summer Madness in July is a mid summer party with waterslides, the November's Mud Slog is all about huge muddy ditches and the January Winter Warmer, well, it's brutal. This year it was early February rather than January but the weather is pretty similar, if anything it's a little colder than it was last month and so it was always going to be a tough race.
What has made Muscle Acre special for me is the way the race has continued to evolve. Having started out as quite a small event with obstacles that could be easily constructed or found on the horse farm that hosts the race, has grown with obstacles being added at a steady pace to increase the level of technicality and difficulty. I do a few races regularly and I think it's great that between events (not years) there will often be two new obstacles added. Distances also change, the introductory distance is 6km but the main race has now gone from 10km to 12km. I think this may well be down to the fact that there are too many obstacles to pump in to a 10km distance and still include the cross country running sections that make the Muscle Acre so much fun. For the real hardcore athletes there is a 24km option which comprises 2 laps with a transition area.
I did the 12km as I did Tough Guy last week and I have a long drive tomorrow. Having done the 10km a few times before I knew that 12km would be a beefy challenge and indeed it was.
Registration was nice and smooth as usual. The Winter Warmer is usually the quietest Muscle Acre event but there was a good buzz in the event village. I love that they have diverged from the standard 'tech T shirt' format and tried to provide runners with thoughtful and useful items. Today, as it was a cold winter race we got a free neck tube to keep us warm out on the course.
Bags dropped it was off to the warm up. As usual the personal trainers led a nice brisk warm up and without delay we were off onto the course. It's a Muscle Acre standard to start with a smash up the hill over some tyre obstacles and on to the skips. Today I have to say my coordination wasn't great and I flipped a tyre into my knee. I hobbled a bit and then got back underway. I thought I had got away with that one but it hurts like hell right now.
It was ok though as soon we were at the skips, lovely skips. The Winter Warmer is a winter race and in winter races one of the obstacles is the cold, so water plays a big part in that. The trademark skips take on a new meaning when it's single digit air temperatures. There was also a fairly biting wind today which added an extra tough dimension to the cold.
Early on we hit the ditches which gave an opportunity to get some proper full immersion water in play. I'm going to say this again, as I see a lot of comments about whether it is 'responsible' for race directors to include full immersion water obstacles in winter races. If you can't deal with water, don't do winter races, it's part of it. You can skip obstacles if it bothers you that badly but don't moan about them being there. There were a number of obstacles that required crawling or wading for long periods of time, from the ditches, through cammo nets and into the famed swamp, without exception I loved them all.
As expected the usual Muscle Acre favourites were in place. The rig, though small, is nice and tough (no, I have not done it yet) and does not interupt the smooth quick pace of the race. More has been done with cargo nets this time to create some interesting opportunities for climbing and there was a pretty cool large triangular wooden climbing frame. Best of all though was a new wall with foot and hand holds that had to be scaled, on the other side there was a pole to slide down, not vertical though, oh no, a diagonal slide. It was super fun. For me, OCR at its best is essentially an adventure playground for people old enough to know better and that's what Muscle Acre delivers in spades.
It wouldn't be right to mention all the obstacles without talking about the running sections of the event. As I'm a runner I enjoy events where there's a chance to get a good rhythm going between obstacles. I would not have thought that a horse farm would really lend itself to great trail running sections but there are some tucked between obstacles including of course, the legendary swamp.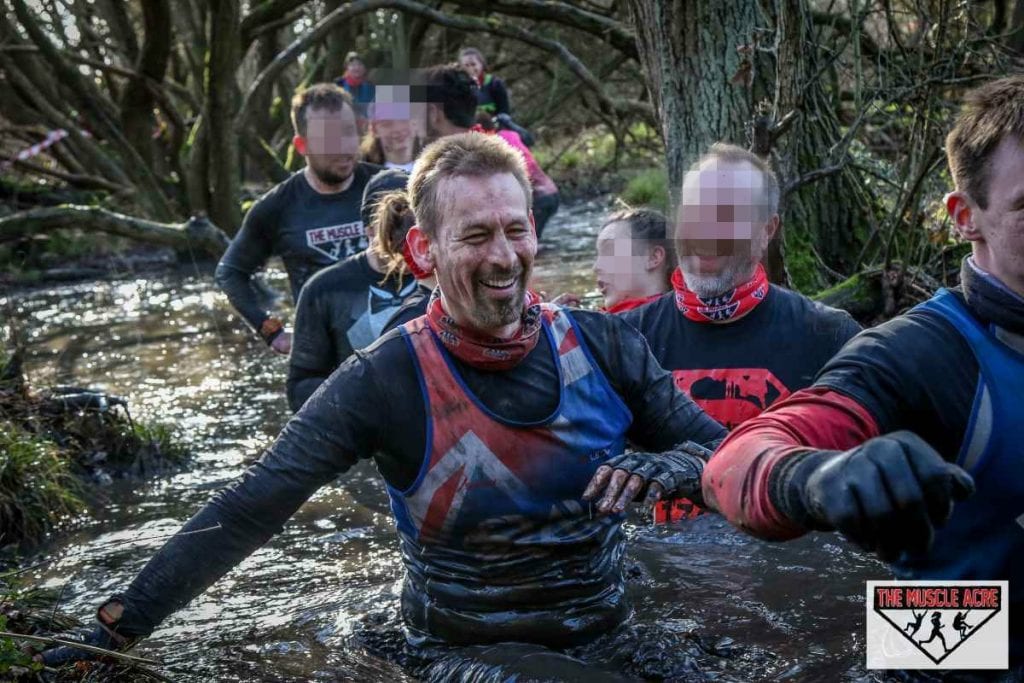 The swamp is a swamp, waist deep mud which seems to want to suck you into the bowels of the earth, I'm not going to say it doesn't give me the creeps, it definitely does. In a change to previous years the swamp formed part of the 6km race as well as the 12 and 24km distances. It was nice that it was open to everybody but I did find that it made an already tight section really congested. I am not sure how it would work in the summer when there will be a ton more people on the course. It is always nice to see people less experienced in OCR racing out on the course as they're generally having a good laugh and there's nice potential for chatting to people.
I was really surprised when we came on to the final hill and started heading up towards the pig pens, this is in no small consequence to me setting my GPS to read in miles, not kilometres. On the way up, myself and teammate Scotty picked up a chap who was having a bit of a hard time so we decided to hang around with him to make sure he finished ok.
It was over too quickly, at the finish line I found myself wishing I had signed up for the 24km race. Perhaps it was the continuing and evolving standard of excellence in terms of the race, perhaps it was running with 3 really great team mates all the way round, perhaps it was the abundance of cold water obstacles but today was my favourite Muscle Acre so far. I often describe this as a really brilliant local race but I'm not sure it's so small and local anymore. No, it's not Spartan or Nuclear race in size, but it's not a small race anymore either and I'm glad to have seen that process happen. If you haven't yet done a Muscle Acre then make sure to get over in July. I'll be there, in RAW blue, say hi if you see me.