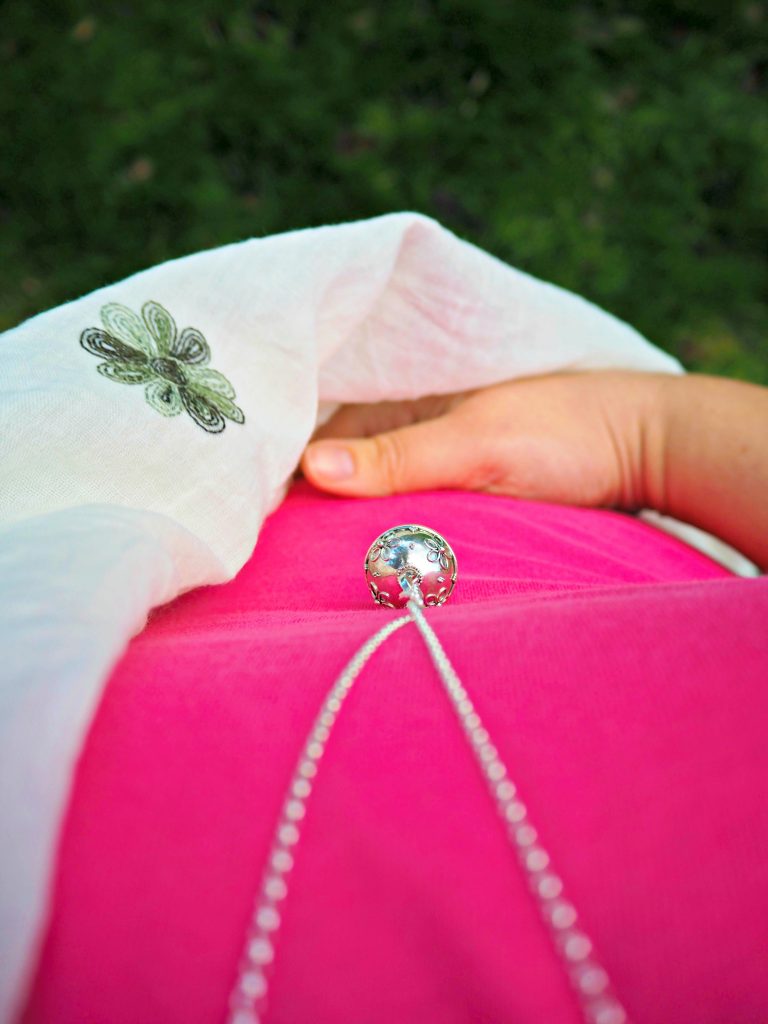 My Pregnancy So Far – 18 Weeks
I can't believe I am nearly half way through my pregnancy, I'm 18 weeks – I'll be 19 weeks on Saturday. I also realised that I haven't updated you all on my pregnancy since the beginning. I'm really excited about seeing the baby again soon at the 20 week scan, it's always a nice to see and check baby is developing ok. I hope we can find out if it's a boy or a girl too. Watch this space!
Growing Bump
I'm already really showing, in fact, I feel huge. I think I am the size of some women at 9 months and I'm only half way through, which I have to admit I feel quite self conscious about. I have always carried large whenever I am pregnant – having a 10lb and 11lb baby already, I kind of expected this pregnancy to go the same way. But of course, the reality is that from this week I've started to feel uncomfortable and can feel the extra weight when I walk now particularly on the school run.
I really don't want to gain a lot of weight during this pregnancy if I can help it. I am trying to be mindful of what I am eating, and I want to remain as active and keep walking all the way through.
Morning Sickness Improved, but Hate Brushing My Teeth
Morning sickness and tiredness was an issue at the beginning of my pregnancy. I've only actually thrown up once, but it's like a growing nausea is the best way I can describe it that does improve when I eat – although not too much. Over the last few weeks, this has definitely improved, unless I am over tired. After a bad night and then a lot of walking in the day with the children I actually had to come in and lie down on the sofa just this week as I felt so nauseous. So it's not gone entirely.
Teeth brushing since the beginning and has been the bane of my life! It's the worst in the evenings and for the most part I have been able to give them a good brush in the mornings. But even now it's rare for me to make it to the two minutes timer without gagging.
16 Week Scare & Bronchitis
If you read my Christmas update, you will know what we had a bit of an up and down Christmas. Including a horrible scare and my 16 week check up with the midwife where the midwife tried on and off for half an hour and she couldn't find my baby's heartbeat. I can't explain what a horrid couple of hours it was as the midwife referred me to the hospital for an emergency scan. I was seen really quickly at the hospital and the doctor and midwife who looked after me were lovely. Thankfully they found the baby and the baby's heartbeat really quickly. And I have to admit I completely sobbed as soon as the heartbeat was fine. It was such a relief.
I also developed Bronchitis over Christmas which still does not want to go away. I've had antibiotics and I'm on inhalers to help with my breathing. It's taking me a while to get over it and I've been told this is because I am pregnant and I just need to take it easy. Which I have to admit I'm not very good at! But I have felt an improvement the last couple of days which is positive.
So overall, the pregnancy is going well I've had a scare, but it was just that a scare and I am very much looking forward to my 20 week scan.
I am linking this post up to Let's Talk Mommy's Bumps and Babies Linky.