Milestone Myths with Baby Annabell Learns to Walk
Milestone Myths
Today I am working with Baby Annabell who has asked me to talk about Milestone Myths. Milestones, they are something as parents we cannot help but worry about or if you're like me feel sad when some of the big ones have passed. From the first day at school to the very first steps. There is always the worry that your child might not be hitting one of them on time and there is always someone, usually meant in a kind way, there to offer advice or opinions on your child's development.
Both of my children were early talkers, my son in particular mastered long words and concepts very early. One of his first words was blueberries because they were his favourite fruit. At his two year check, I remember the health visitor being taken aback by his vocabulary and the fact that he already understood under and over. His sister equally had good speech which I think was aided by the baby sign classes we joined.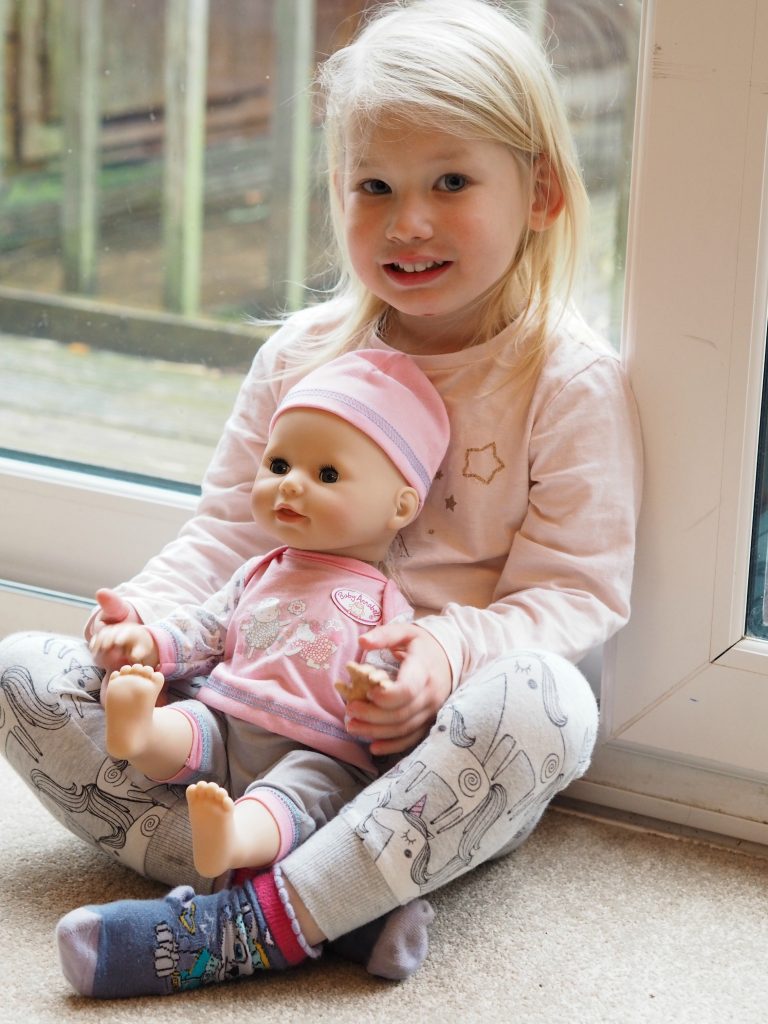 By contrast, however, my children weren't the quickest walkers. My son I would say was about average at 14 months. I remember the day so clearly, I had been so poorly and couldn't make my work's Christmas party, I was feeling rather sorry for myself and then up he got an did a couple of steps so pleased with himself, I ended up being glad I was poorly as I wouldn't have wanted to miss it.
But by 14 months, my daughter just wasn't ready to walk at all. During an appointment with the health visitor, she expressed concern that my daughter just wasn't looking ready to walk. That if she hadn't made signs to walk by 18 months she was going to give her a pediatric referral. It's a funny thing, maybe because she was my second child but I just wasn't concerned at all and thought that the health visitor was being over cautious. She was standing and I felt confident that she would start walking when she was ready. And of course, she did. By 16 months she was walking and it really does just go to show that children really do things at their own pace.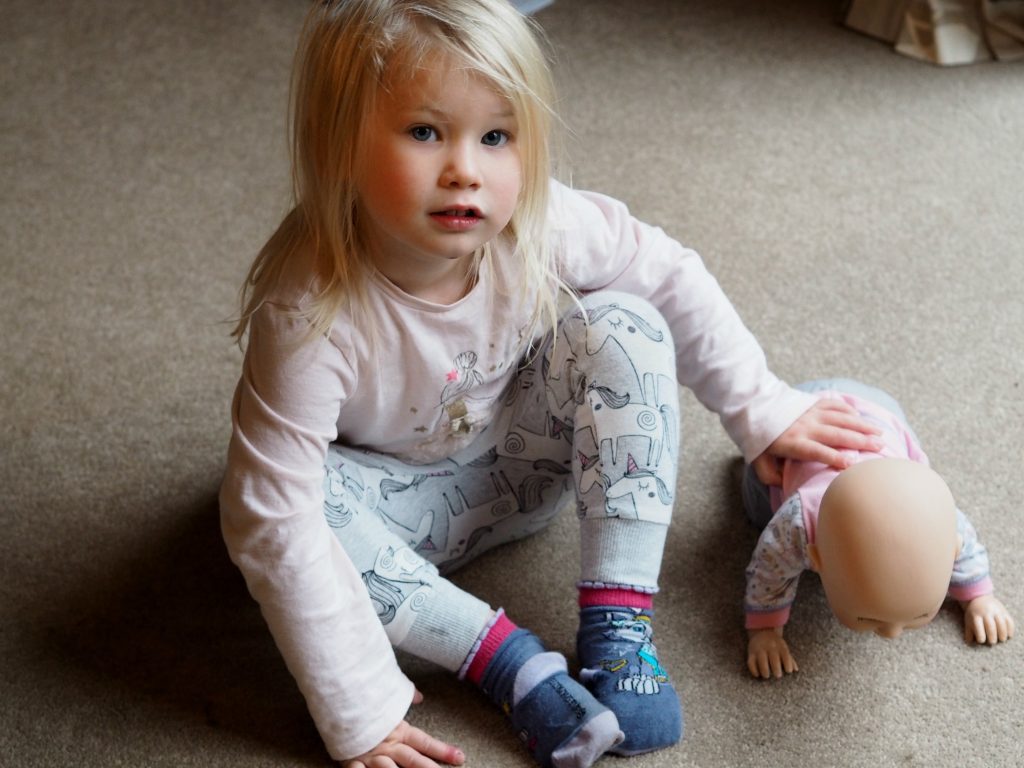 I have found this will all milestones with my children that they completely do things at their own pace. My son was potty trained at 3, but at 6 still needs pull-ups at night. My daughter was ready at 2 and was dry overnight by 2.5 years. My son slept through the night at 12 weeks, my daughter didn't until she was 2. I would say to any parent that every child is unique, they do things when they're ready. I think it's so important to trust your own instincts, you know when your child is just taking their time or if there's need to be concerned.
Baby Annabell Learns to Walk
When you're talking about milestones, I think learning to walk is probably one of the bigger ones. Baby Annabell have sent us their new Learns to Walk doll. It's a doll that can sit, crawl, learn to walk and even have a tantrum.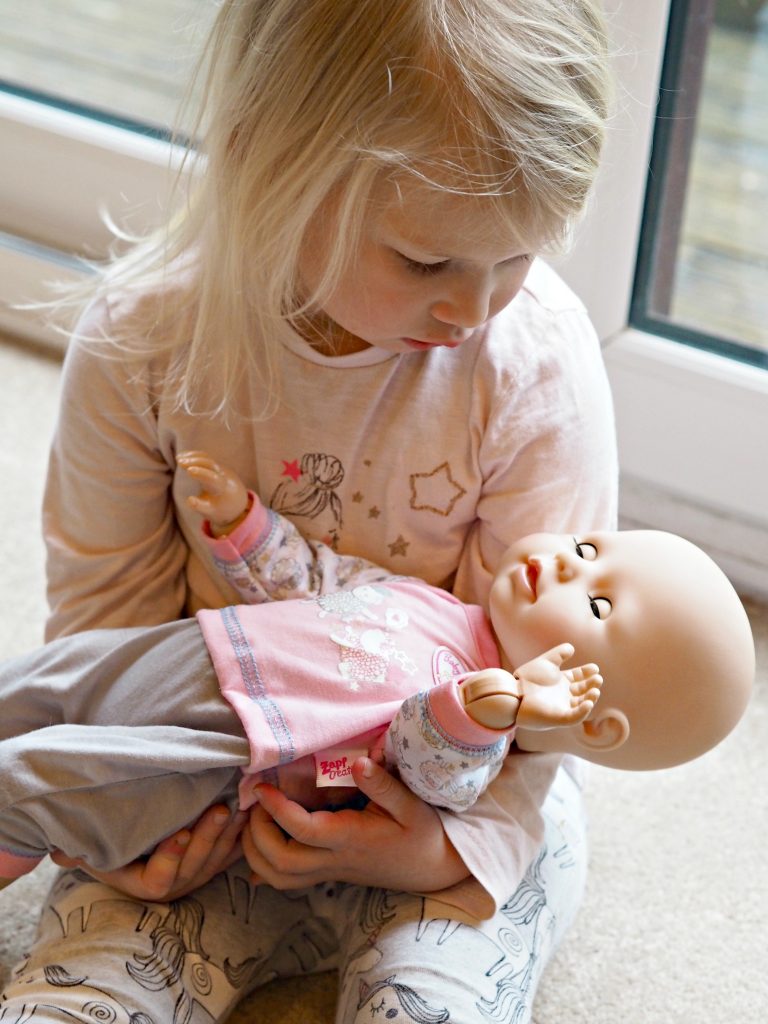 The doll has bendable joints and you can put it into three different positions to enable her to do the three different things. Sit her down with her arms raised and she will have a tantrum. Put her on her hands and knees with her head raised and she will crawl. Straighten her legs and hold her arms and she will walk to you. The doll also chatters, cooes and when she's not in the right position in order to do the task she wants to do, she cries.
My daughter was delighted with the walking doll, she loved the fact she could teach the doll to walk and I think her face in the picture above says it all. It does definitely takes some adult supervision to get the doll into the correct positions, particularly to crawl, you also have to hold the dolls arms to get her to walk otherwise her legs just kind of collapse under her. So don't expect the doll to start walking off on its own. But, never the less it's a fun toy that my daughter has very much enjoyed playing with.
Baby Annabell Learns to Walk has an RRP of £49.99, but is currently on offer at Argos
*Disclosure: We were sent a Baby Annabell Learns to Walk doll for the purpose of this post, however, all opinions are my own.