*This is a collaborative post
Basingstoke at Christmas & a Trip to Nandos
This is the second year that we have been invited to visit Basingstoke during the Christmas period. Last year we went along and also reviewed their Sleeping Beauty Panto which was great fun. We also had a fab meal at Pizza Express. Plus, if you've never been to Milestones museum there we'd definitely recommend it as my children really love it.
This year we went along to see their Santa parade and also to visit the big man himself at the Santa's Grotto. Basingstoke is about a 45 minutes drive from us, so although my husband works there, it is not somewhere that I personally visit that often. I am always surprised when we do visit just how big it is and how much there is to do there. At Christmas time they have a Christmas market on outside which has lots of goodies for you to eat, as well as great places to get some fantastic gifts for your friends and family. You can find out more on their website www.christmasinbasingstoke.co.uk.
Visiting Santa's Grotto
The Santa's grotto itself is located in the centre of the main shopping centre – Festival Place. It is really good value at £4.50 per child too and adults go free. When we first queued for the grotto, we were a little disappointed to discover that it was being closed for the Santa Parade without any notice or warning notice up to let people know. However, the manager came to see us and apologised and said if we came back after the parade was finished she would let us in past the rest on the queue. And, very true to her word when we went to see her she immediately recognised us and did.
When you enter the Grotto, there is a small pathway that you take on the way to see Santa, with a singing Christmas tree, penguins and different snow scenes. Then the ultimate test the have you been naughty or nice meter where you press a button and see where you are on Santa's list.
Each family gets to go in and see Santa on their own, and the man who played Santa was really lovely. We always tell our children that at Grottos sometimes it's one of Santa's helpers and sometimes it's the real Santa as he can't be everywhere at once. My son always likes to guess which one it was when we visit and he declared this was the real Santa as he has a real beard and was very kind. The children get their photo taken with Santa which you can then purchase for an additional fee at the end. We ended up buying a snowglobe for £11 which the children are really charmed with.
As you would expect, each of the children also got a gift from Santa. Given that the cost of the ticket was only £4.50 I thought the gift was pretty good. My daughter got a dog teddy and my son got six little block puzzles which they were both over the moon with. Great value and the children really enjoyed themselves.
Santa's Parade
Sunday 3rd December was also the date of the town's Santa parade. At 12pm a large parade of characters, including people from the town's panto as well as of course Santa paraded through the town centre. The parade went on for half an hour, and was filled when some super characters and costumes which were really charming.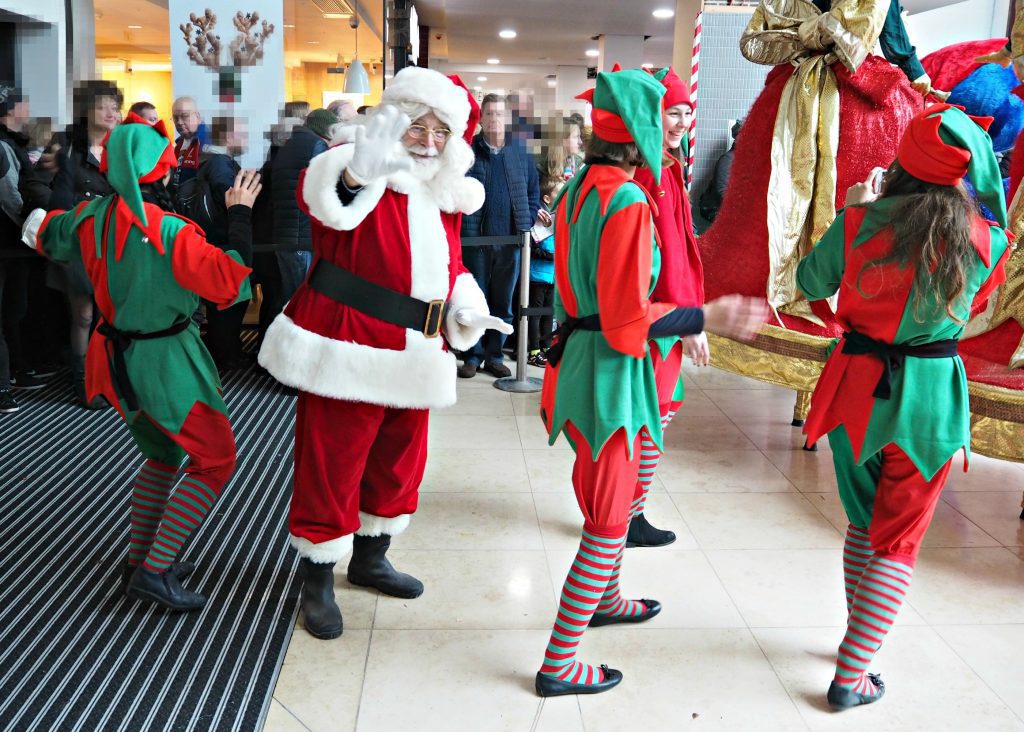 Lunch at Nandos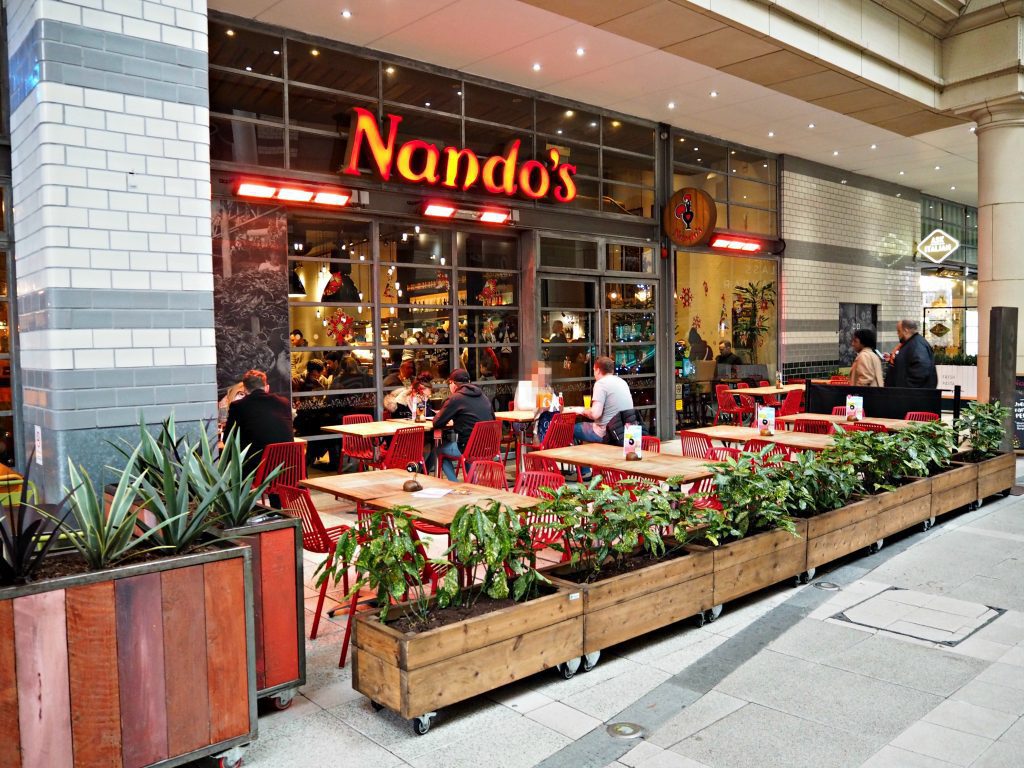 I have a big confession to make here. I've never really got the Nandos thing before, where people seem to go crazy for it. I always used to look at my husband baffled and say, but it's just chicken. So, before Sunday I don't think I have stepped inside a Nandos for about 15 years. So there was perhaps a little bit of trepidation before we walked into the restaurant on Sunday.
When we first arrived at Nandos Basingstoke, it was quite clear that the restaurant was super busy, which let's face it, is always a good thing. As it shows it's a place that makes good food. We actually had to come back as there wasn't table free straight away, but the manager called me on my mobile as soon as there was one available and it was less than a ten-minute wait.
When we sat down, we were made to feel very welcome. Having not been to a Nandos for years it was kindly explained to us how the restaurant worked. It's kind of a self-serve / waited tables hybrid is the best way I can explain it. You order your food at the tills, but the food is delivered to your table and if you want any subsequent food or drink you can order it via your waiter. There is also an area where you can get cutlery and condiments and drinks dispensers if you choose to get a bottomless soft drink.
The menu does pretty much consist of chicken and vegetarian options, but there is a steak dish if you're a desperate red meat lover. All of the chicken dishes come with an option of different sauces. I'm not really into hot food, but if you are the sauces go as hot as you can take them. My husband opted for the medium sauce, whereas I went for the lemon and herb and my children plain.
When you choose your main course, there is a large range of side dishes you can choose to accompany it. From the standard chips and coleslaw (which I chose) to the spicy rice and wholegrain salad my husband chose. It was great to have an alternative to chips for the children's menu as my son is an oddball and doesn't really like them, but was thrilled with the garlic bread.
Now yes, Nandos does only do chicken, but there is something to be said about a restaurant the focuses on a speciality. There is a saying that goes 'jack of all trades, master of none' and I think in the case of Nandos that saying applies here. The chicken was delicious, succulent and I really enjoyed the marinade on mine. My husband is really into his whole grains and quinoa loved his wholegrain salad and kept enthusing about it. We went from a family who probably would never have booked a table at Nandos, to being complete converts.
Nothing was too much trouble from the waiting staff, they were helpful and courteous. The restaurant itself was buzzing and had a non-stop steady stream of patrons showed just how popular it was.
We finished off our meal with a dessert – my husband and I chose the white chocolate raspberry swirl and the children a choc-a-lot cake. Again all yummy. A really delicious lunch to add to our fun Christmassy day.