*Please note this post contains affiliate links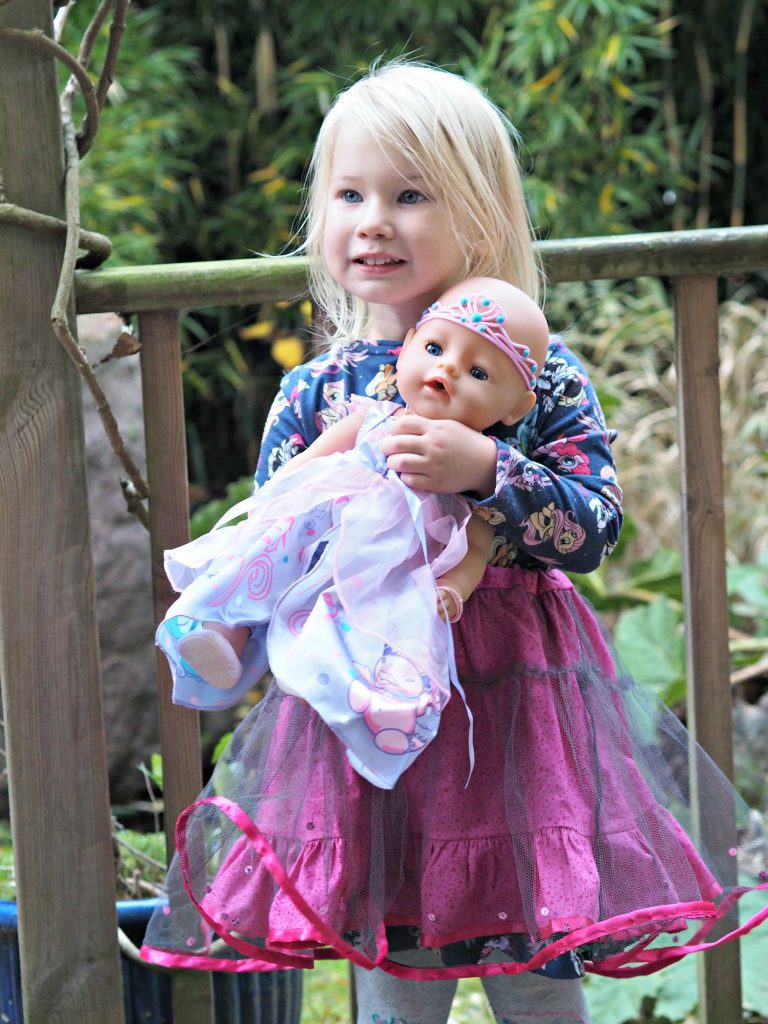 Baby Born Interactive Wonderland Fairy Doll Review
It's no secret, that my daughter absolutely loves dolls. I think along with dressing up they are probably her very favourite thing to play with. She also loves fairies and has informed me that when she grows up she would like to be Tinkerbell. So a doll that is also a fairy was bound to be a huge hit in this house. I think the doll's outfit alone would have made it a winner in Aria's eyes, but the Baby Born Interactive Wonderland Fairy Doll does a lot more than just look pretty.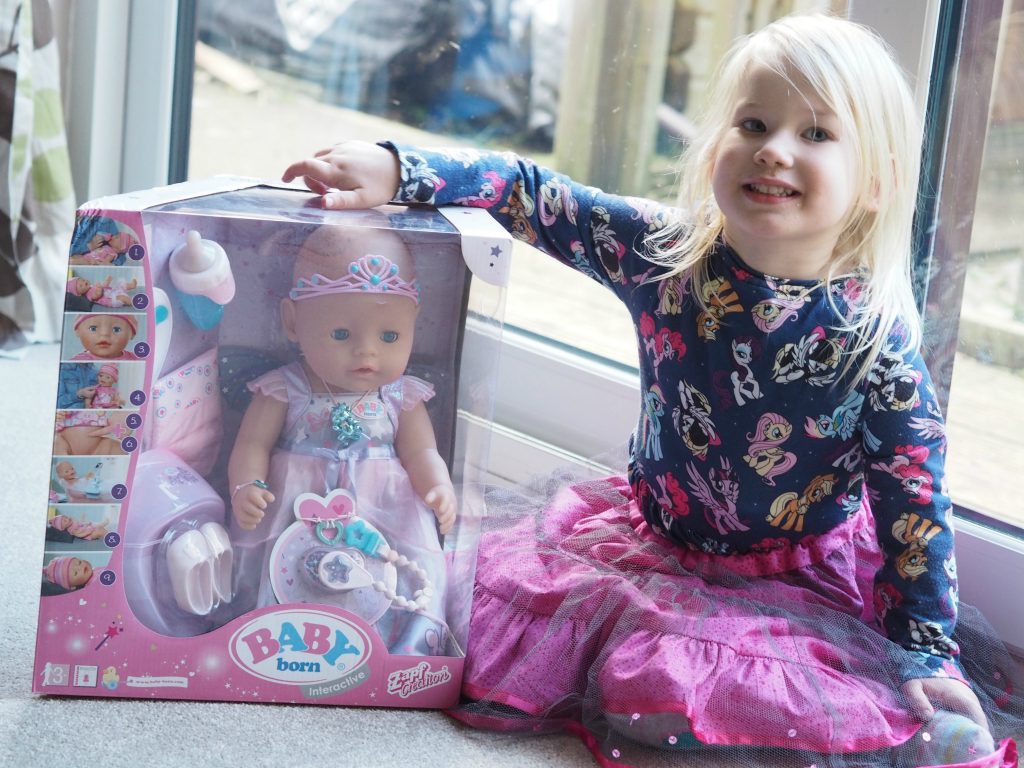 Accessories, Accessories
First off, she comes with lots of lovely accessories. With a tiara, a necklace and two bracelets, shoes, a dummy and clip, a bowl and spoon, a nappy, a potty, a bottle and a sachet of porridge. She also has fully moveable hands and arms, as well as arms that can open and close. It is also perfectly safe to put her in the bath to play with her.
I do have a bit of a confession to make here, the doll does actually come with wings, but because they were made from cardboard, I just thought they were part of the packaging and chucked them with the packaging into the recycling. By the time I realised it was too late. So if I could make one improvement to the lovely accessories the doll comes with, I would suggest that they are made out of plastic instead, which would make them more durable too.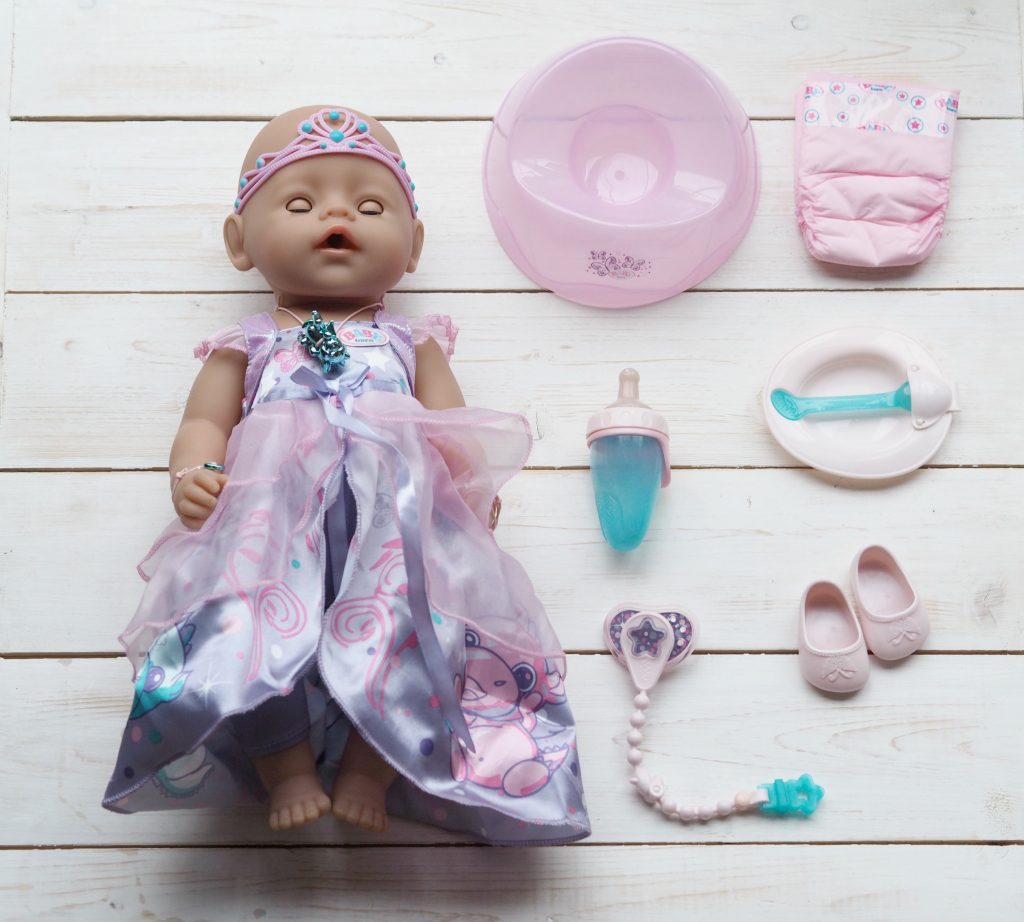 She Drinks, Pees and Cries
So what can you do with this clever little doll? First off, you can fill her bottle with water and she will drink it. You do have to help with a little squeezing on the bottle to make the water go in, but that was something my 3-year-old daughter could do easily enough herself.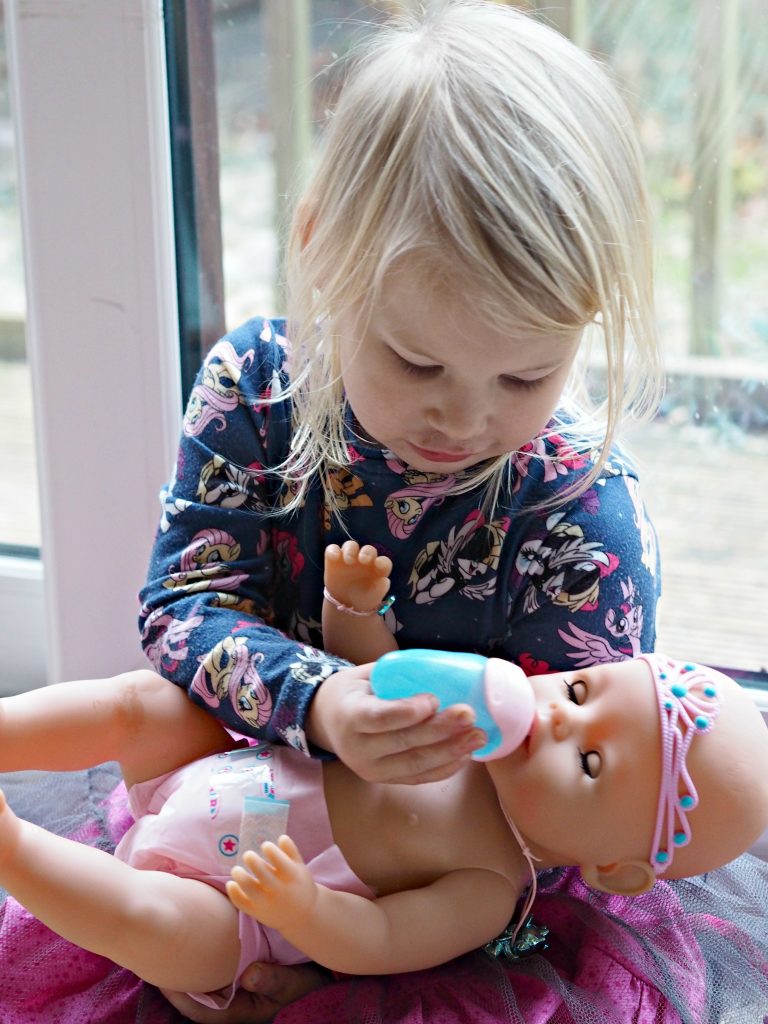 Then you can either sit her on her potty or pop her nappy on her, lay her down or if she's on the potty press the button on her belly button and she will pee.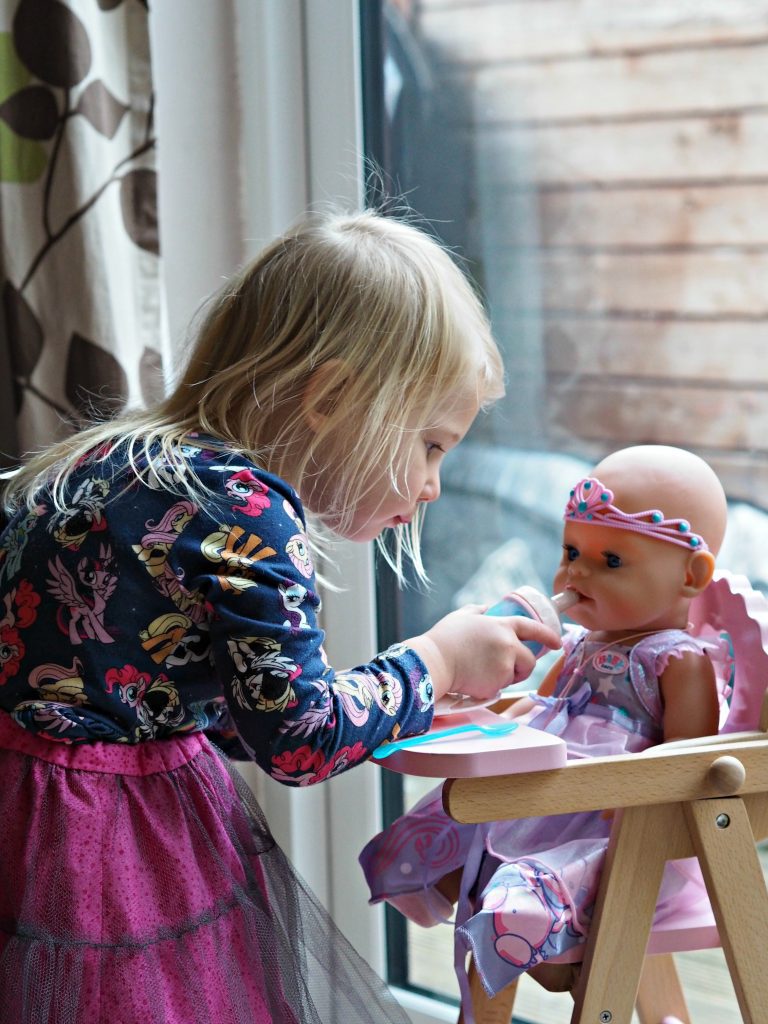 If your baby is feeling a bit sad, you can feed her her water and instead of making her go to the toilet, if you squeeze her right arm she will cry real tears.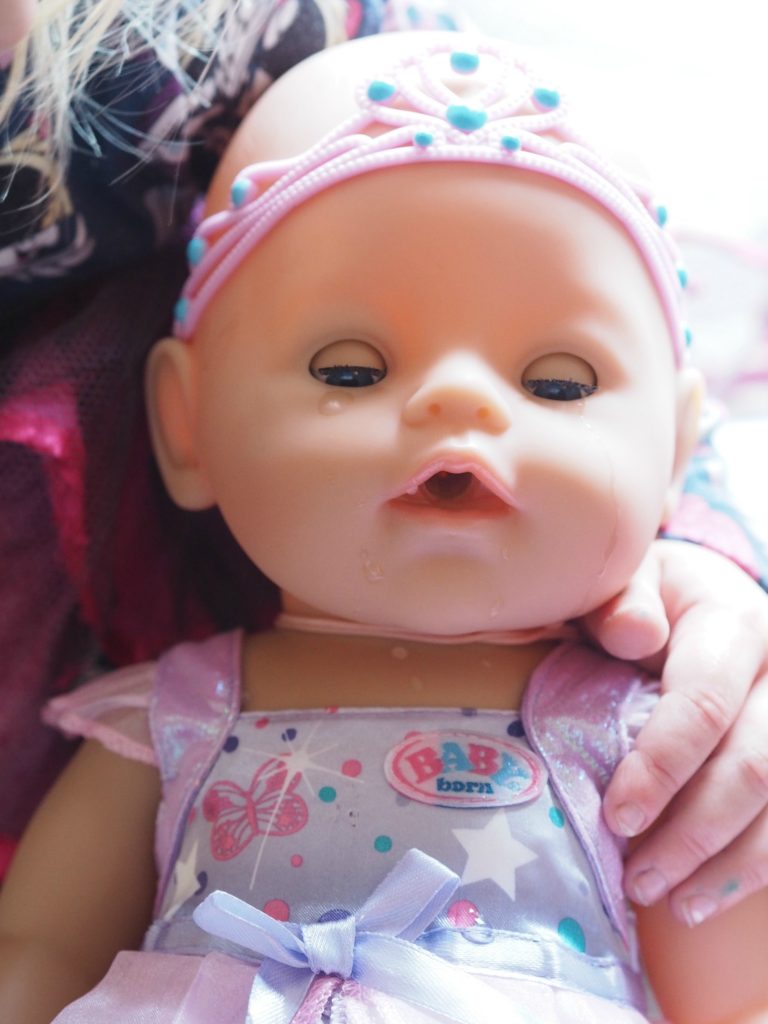 The second part of this process did need a bit of help and supervision from me at first. The arm was a bit tough for my daughter to squeeze on her own, although she soon got the hang of getting the doll to go to the toilet by herself.
She Eats and Poops (yes really)
So the lovely Wonderland fairy dolls has two holes in her *ahem* bottom. As you would expect one for peeing and one for pooping. You can feed her some porridge, which is provided in a sachet and you just have to mix it with water. Then sit her on the potty and click the button on her belly twice to get her to poop. Although it thankfully (in my opinion) does not look or smell like poop!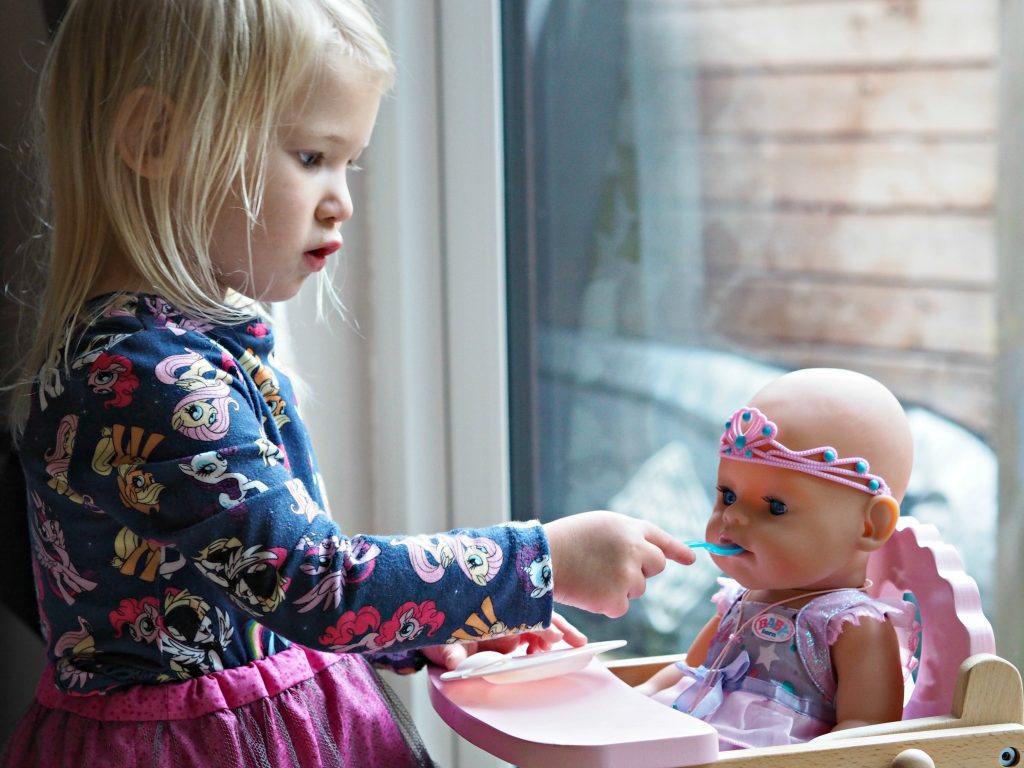 The doll does only, unfortunately, come with one sachet of porridge, so if you're getting this as a present for Christmas, I would recommend that you perhaps get some extras in preparation. You can currently buy a 12 pack on Amazon for £6.99, not the cheapest but if it was me I would ration them out a bit.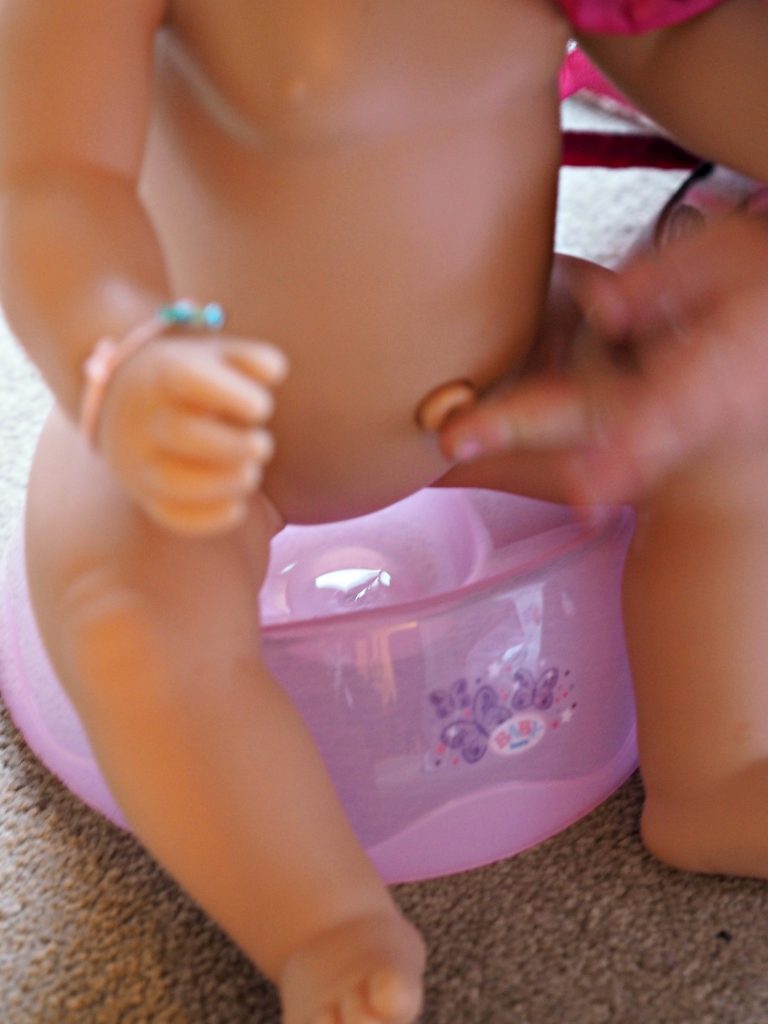 The doll needs no batteries, as although it is very interactive, it doesn't talk or gurgle. But it is a lovely doll and my daughter very much enjoyed playing with her. I think perhaps as she knows that Mummy is having a baby too she has really enjoyed getting involved in all of the things a baby does. The feeding, the potty, the nappy changes she has found the whole process exciting and fascinating. But the big win with this doll is without a doubt her fairy outfit. For my fairy loving daughter, that really did make her fall instantly in love.
*Disclosure: We went sent this doll for the purpose of this review, however, all opinions are my own.