*Please note this feature contains affiliate links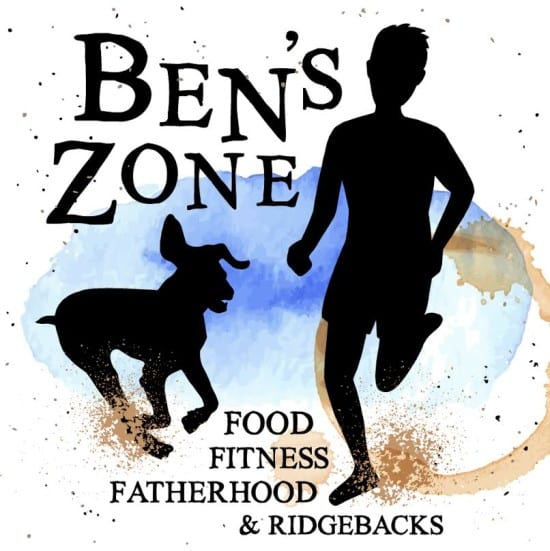 Welcome to a weekly feature on my blog – Ben's Zone. Written by husband… Ben. A foodie, coffee obsessed, ex-smoking, ex-drinking and Ridgeback loving Dad. Who is also seriously into his fitness.  You can find him on the blog (most) Sundays. Enjoy 🙂
---
Jamie Oliver Chicken Kiev Recipe
I love Jamie Oliver's cooking. I'm not a chef and I get tired of trying recipes that call for a chef level of skill. Jamie Oliver recipes are the direct opposite of that, he makes complex and impressive dishes achievable at home. Often, when I'm looking for something nice to cook at the weekend, I turn to Jamie's Comfort Food. The dishes are unashamedly indulgent but for a weekend dinner, I don't think that's too bad.
His Chicken Kiev recipe is perhaps my favourite though, what I would say is don't eat this if you're expecting company within the next few days. Garlic is a key ingredient of chicken kiev and this recipe does not disappoint. What I like about this is that the rich and sumptuous chicken is paired with a nice simple mash and baby spinach with a lovely sharp dressing. If I was doing this I'd probably overload the dish with rich potatoes and sauce and it would end up too rich and overpowering. Jamie's menu is the opposite, the chicken is a perfect centrepiece and with these accompaniments, it really shines while keeping the meal filling but not overpowering.
Oven Bake Don't Fry
Jamie's recipe calls for frying the chicken before baking it, you can do that but I don't bother, it's plenty crispy enough oven baked, so that's what I have done here. It is important to get decent sized chicken breasts for this or stuffing them is a nightmare.
Ingredients – serves 2
2 chicken breasts
Panko breadcrumbs
Flour
Cornflour
2 eggs
3 cloves garlic
Flat leaf parsley
50g butter
2 rashers bacon
Cayenne pepper
1/2 Bag of baby spinach
Lemon
Nice oil (olive or rapeseed)
2 – 3 potatoes (depends on your appetite)
Half head of broccoli
I find it convenient to split the cooking down in this instance, into a prep stage, a cook stage and a finish stage.
Baked Chicken Kiev Recipe
Prep Stage
Here we make the filling for the Kiev and then make it up. Take the butter and either bring to room temp or microwave for 10 seconds on high to soften.
Chop the parsley very finely.
Cook the bacon until crisp, I find it easiest to do this in the often at around 200C for 10 or so minutes. When cooked, crumble the bacon.
Jamie's recipe calls for chopping the garlic but I found that I didn't really like the chunks of garlic in the chicken, so I suggest crushing in a press.
Mix the parsley, butter and garlic together, with a pinch of cayenne and bacon. Once evenly mixed split into 2 and shape these into little cigar shapes. I find this makes it easier to insert into the breast. Once done, put into the fridge for an hour to cool down (it's easier to insert when firmed up).
Take the chicken and set down on a plate, move the false fillet to the side so that the breast sits evenly. Cut down the length of the breast in the opposite direction to the false fillet and at a slight angle. The aim here is to cut a pocket into the breast. Once this is done you can widen it slightly.
Insert the filling into the breast. Don't be tempted to overstuff the chicken, you need to be able to close up the breast. Excess butter can always be frozen for future use.
At this point, put everything back into the fridge until ready to cook.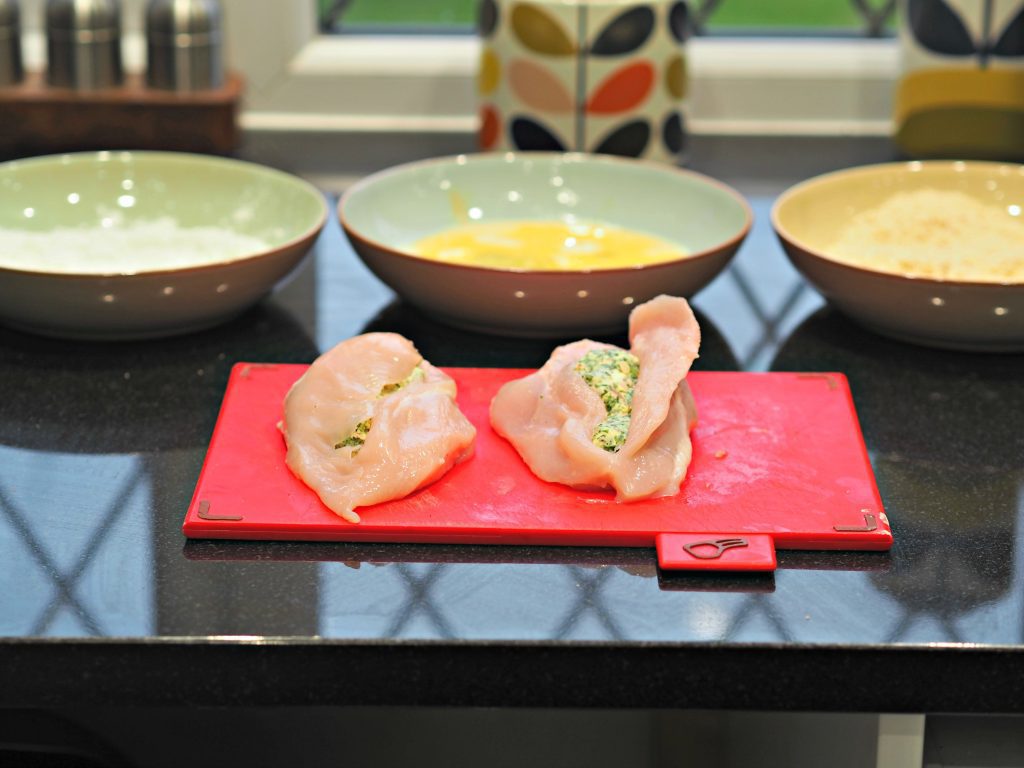 Cook Stage
Preheat oven to 180C / Gas 4
Peel potatoes and chop down into small cubes. Place on the stove in cold salted water.
Take 3 large shallow dishes, I like to use pasta bowls. In the first, place flour and cornflour (1:2 ratio) a little salt and pepper, in the second, crack and beat 2 eggs, in the third pour in your breadcrumbs, again, season a little if you like (be gentle)
Take the chicken out of the fridge and do the following, one breast at a time.
1. Roll in flour, shaking off the excess.
2. Dredge through egg making sure the whole outside is coated
3. Roll in breadcrumbs until totally coated.
Start potatoes boiling
When both breasts are covered, place on a baking parchment lined baking tray and put in the oven. Spray with a little spray oil first. Put into the oven and back for around 30 mins.
Chop broccoli into florets
Add the broccoli to the potatoes after about 5 minutes.
Finish Stage
When the potatoes are tender, mash with broccoli, personally I like a really smooth mash so I put it all through a ricer.
Mix juice of lemon with a dash of salt and some oil. Pour over baby spinach in a bowl.
Assemble the dish by plating the mash, adding the dressed spinach in an aesthetically pleasing manner and then placing the cooked breast on top.
The effect you're going for is that when sliced the breast gives up unctuous garlic and parsley butter onto the potato and the sharpness of the spinach cuts through any potential greasiness.
Eat, enjoy and re-commit to your exercise regime the next morning.