AD – Gifted and this post contains affiliate links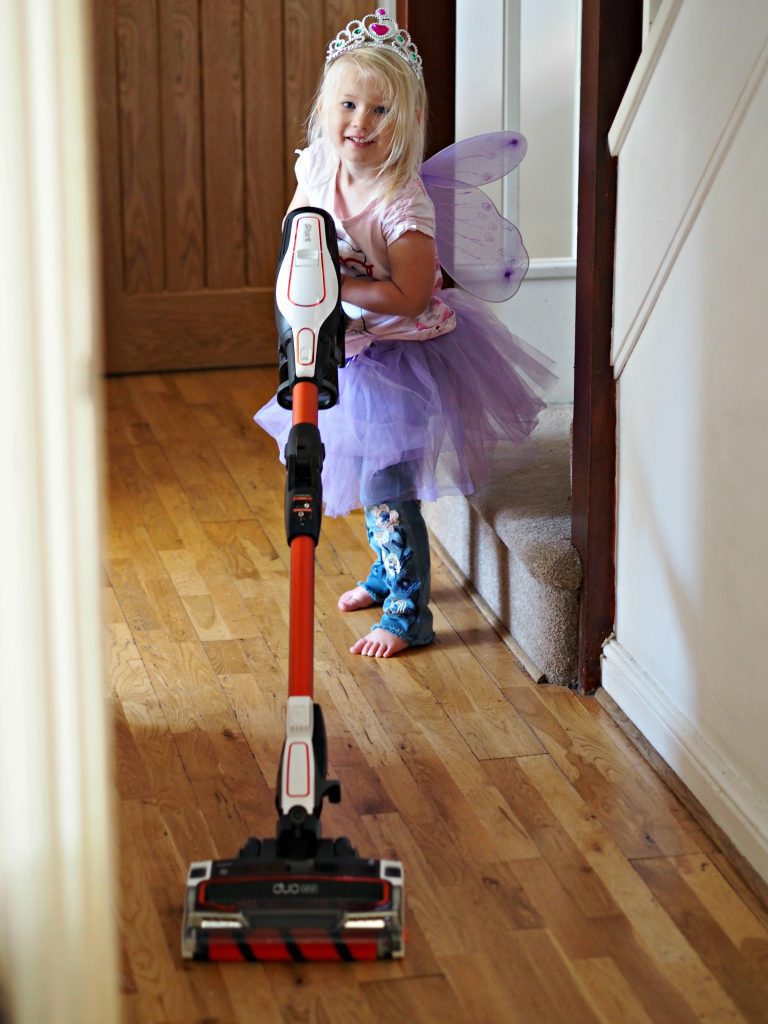 Shark Duo Clean IF250UK Review
I was converted to cordless vacuum cleaners when I purchased the Dyson V8. After lots of raving reviews and people telling me how much they loved it I was not disappointed in the least and quickly became a very big fan myself.
So when Shark asked me to review their latest edition to the cordless market the Duo Clean IF250UK, I was looking forward to trying it out. I was curious to see how it compared, but sceptical that it would live up to the standard of my beloved V8.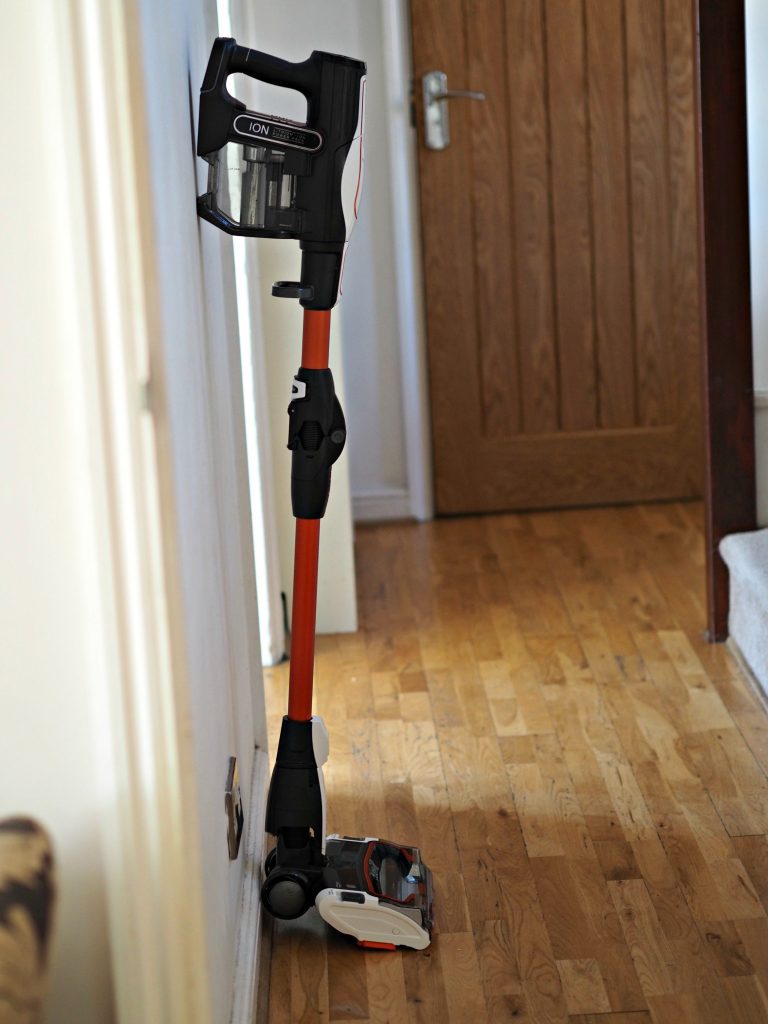 Why You Need a Cordless Vacuum Cleaner
First off, though let me start at the beginning. If you have yet to venture into the cordless world of vacuuming, seriously why not? It has completely changed my way of cleaning and is quite frankly pretty much making the dreaded dustpan and brush redundant. Hate cleaning the stairs? Fed up of hefting the vacuum up and down them, so you would sometimes leave it weeks before cleaning them? Then you need a cordless in your life. Got children who spill things on the floor all the time, cats that like to kick litter out of their tray? A mix of both hard floors and carpets? Again cordless all the way. They are just so easy to grab and go.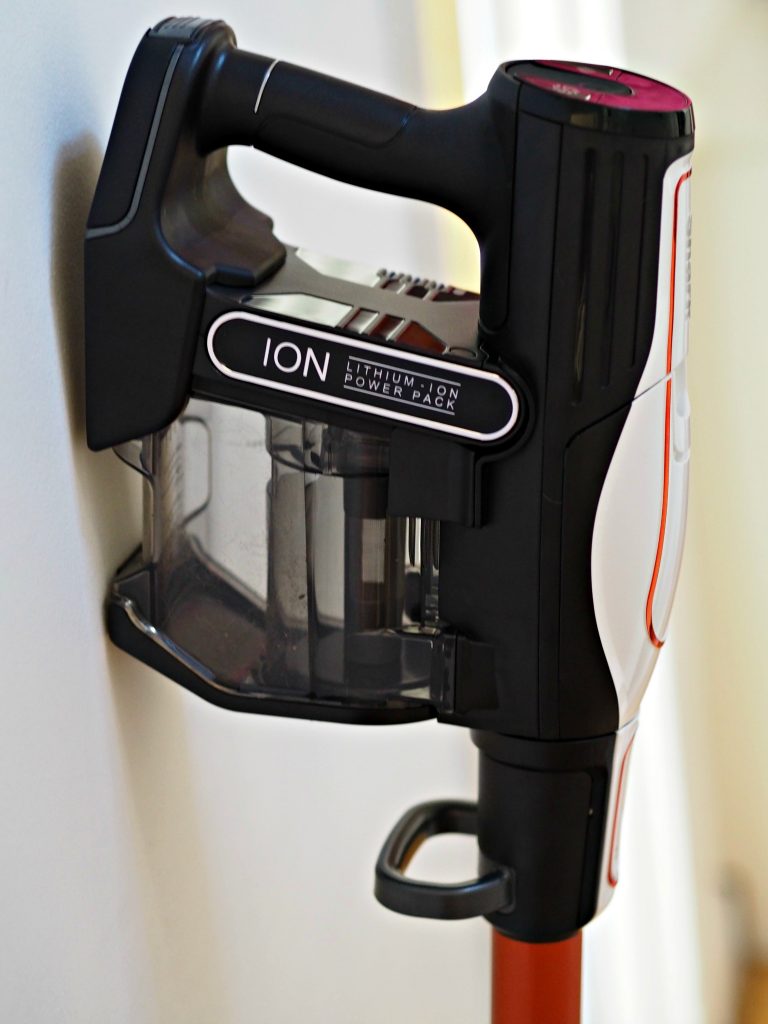 Shark Duo Clean vs Dyson V8
I'll be really honest here. When I agreed to review the Shark Duo Clean I did not expect it to be as good as a Dyson. I've had Dyson in some form or other for years and particularly with pets, they have always cleaned to a high standard. But…. onto the Shark Duo Clean. I absolutely lovely this vacuum cleaner. I would go as far to say it takes a lot of my frustrations with Dyson V8 and solves them.
The Shark Duo Clean is a cordless vacuum cleaner. It comes with not one, but two batteries, which means you can charge one while you use the other. The maximum run time for each battery is 22 mins each. So both batteries will give you a maximum of 44 minutes. Which I found to be a pretty true claim. The two batteries are really great as cordless vacuums can run through them quite quickly.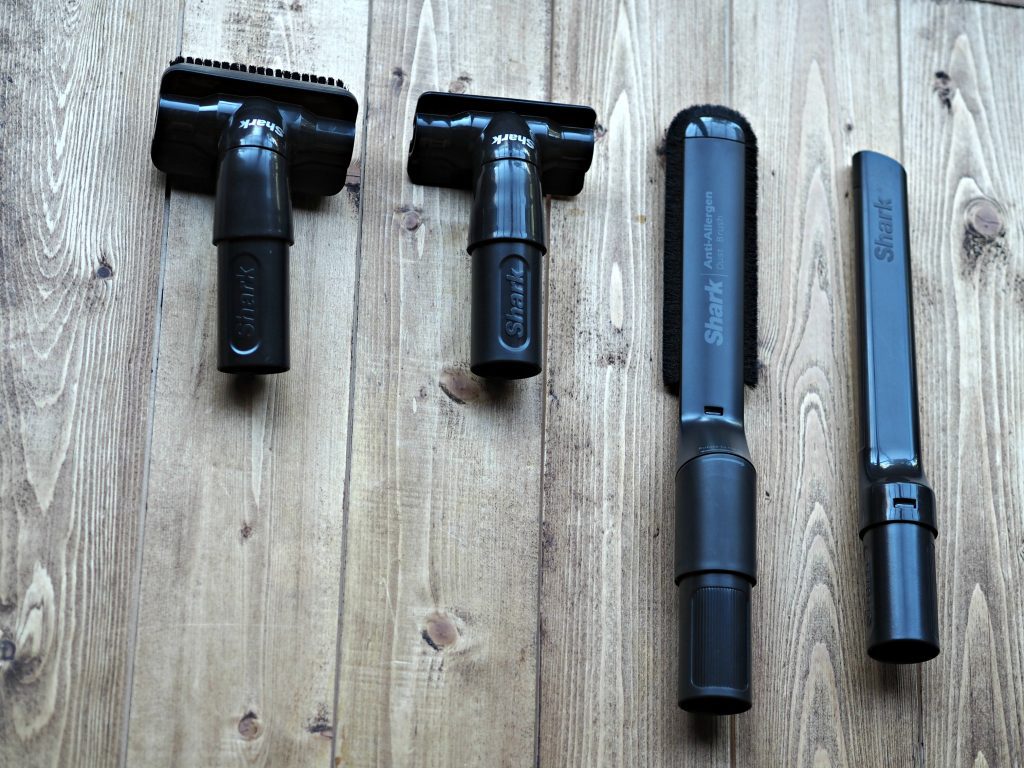 It comes with four different accessories, which can all be stored in a handy bag provided. The accessory that was new to me was the duster one, which allows you to use it to dust those pesky cobwebs from the ceiling. I did like that one, better than a feather duster any day.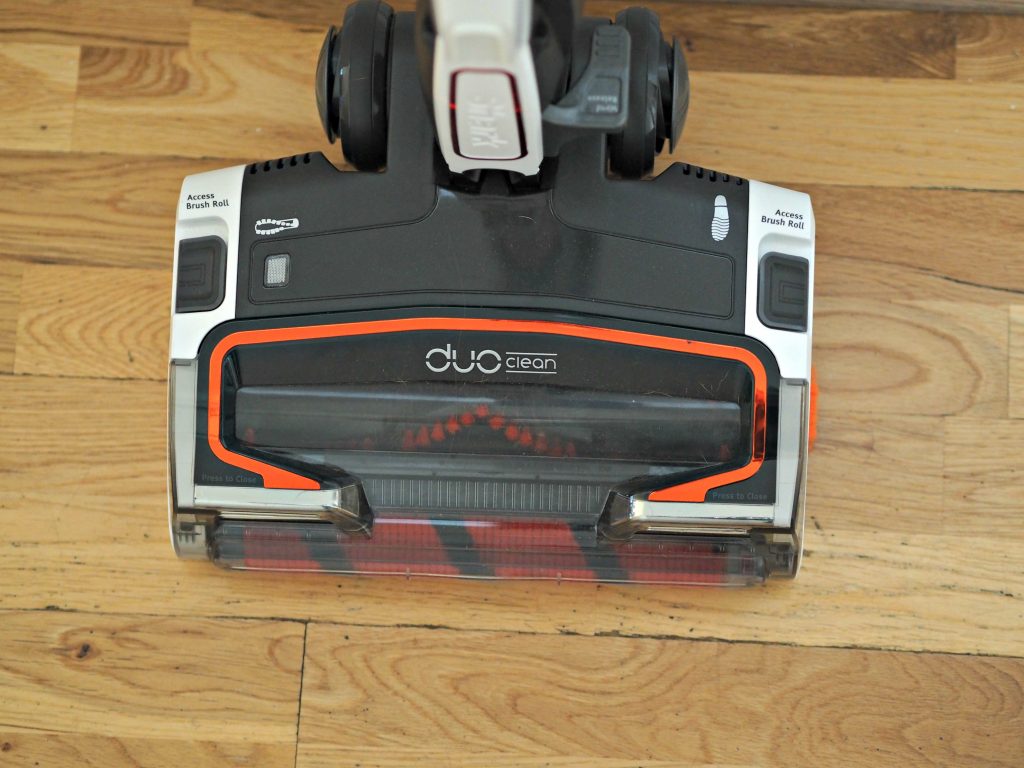 One of the big bonuses of this vacuum cleaner is that for everyday cleaning you do not have to change the heads for the floor. For the Dyson V8 is comes with a hardwood head and a carpet head. Which is a bit of a faff, and you are bound to need the hard floor one when you're upstairs and have to run down and get it. My house is about half and half hardfloor to carpet, so I am always having to swap it. With the Shark Duo Clean you can change it at the touch of a button. The controls are on the top handle too, so you do not have to hold a trigger all the time to get the vacuum to start like you do with the Dyson which can make your hand ache after a while. You just switch the Shark Duo Clean on with a button on the handle. There are 4 additional buttons on the handle too, where you can select hardwood or carpets floors and normal suction or faster suction – which I should note drains the battery faster. No switching heads between floor types, simply press a button instead. Marvellous.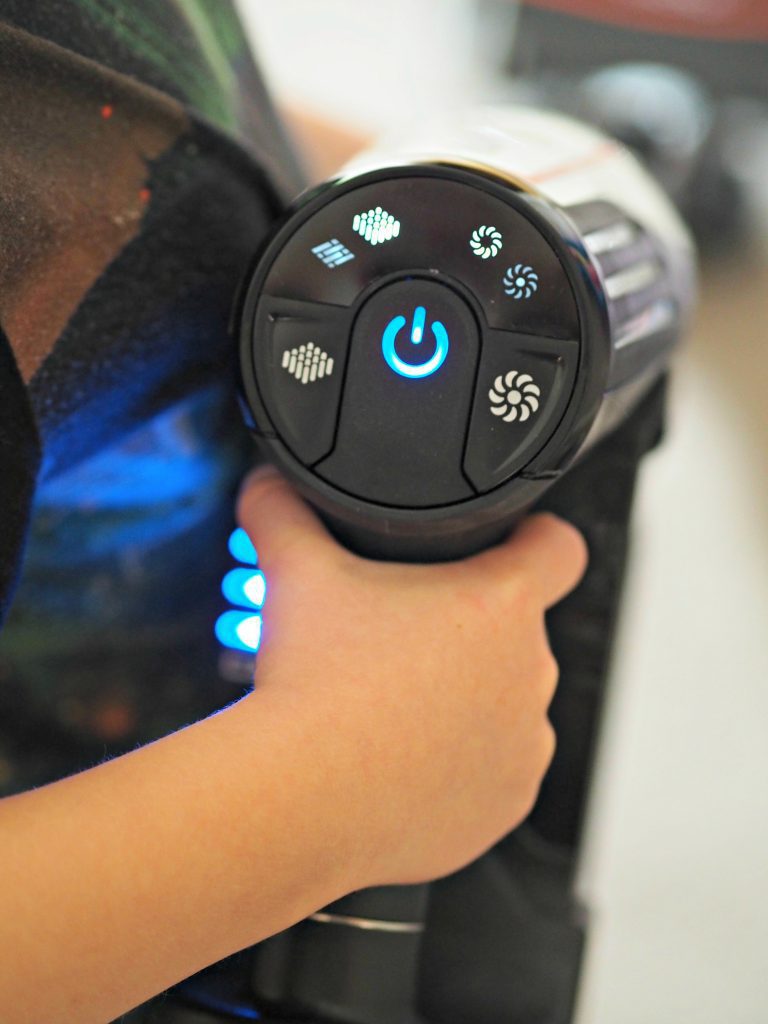 One of the super cool features I really loved was the light at the front of the vacuum. Which my son noted made it look a bit like a robot. It helps you see what's on the floor and helps you to get any of the bits you may have normally missed.
Another great thing about the Shark Duo Clean is how good the suction is. I have a cat that uses wooden pellet cat litter. The Dyson V8 really is not that great at sucking it up. I have to take the head off and suck it up on maximum power, pellet by pellet. But, with the Shark I can just run the hoover with the head on with normal suction and it gets them up every time. I have actually yet to find very little it can suck up and it's particularly great for after dinner messes, per hair and dried mud. All regulars in my house!
For easier storage the Shark Duo Clean literally folds in half, making it much easier to fit in a cupboard, but also to bend it to clean under your sofas and beds without having to move them around. My advice though, check for cats first!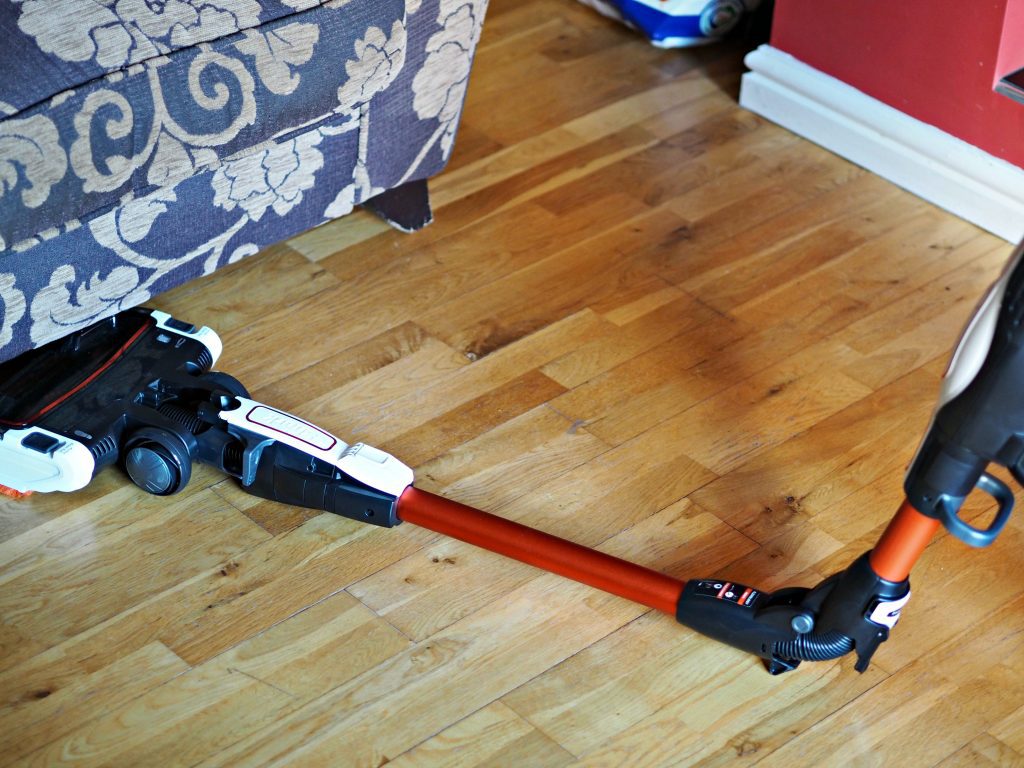 There are a couple of downsides of the Shark Duo Clean in comparison to the Dyson V8. The big one being it is heavier. For day to day cleaning, you don't notice this at all. Particularly when you are on the carpet, the Shark has a bit of a pull to it that propels it forwards, so that you don't have to do all of the work pushing the vacuum across the floor in order to get it clean. But, you do notice it when you are using the dusting extension and holding the vacuum up high.
You do also notice this weight on the stairs. I also have the Dyson animal which comes with a special animal head for cleaning the stairs and furniture. I did miss this on the Shark. As it is easier to handle on the stairs too. So it leaves you with two options, to use the main head which does clean them really well or an accessory. I have seen there is an animal model too, which if I was buying this myself I would probably go for, which probably solves this problem.
Shark Duo Clean vs Dyson V8 Which is Better?
If I haven't expressed it clearly in this review, I loved this vacuum cleaner. It cleans better and addresses things that annoyed me about the Dyson – such as having to switch heads, the not so great suction at times, having to hold the trigger all the time to switch the vacuum on, and the option of two batteries on the Shark is fab.
While the Shark Duo Clean has a couple of downsides, it is an awesome vacuum and in my opinion, far surpasses the Dyson V8. It would get my money every time. Cordless vacuums really are great as you can just grab them and clean whenever you need them. No wires, no yucky dustpans, it also makes cleaning less time consuming and I think, at a cleaner level day to day. As I just grab it and clean messes as they happen, dirt doesn't accumulate as much throughout the week.
Buy the Shark Duo Clean on Amazon