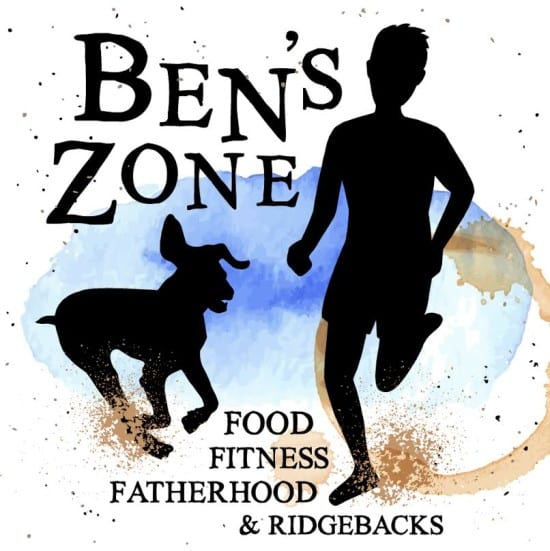 Welcome to a weekly feature on my blog – Ben's Zone. Written by husband… Ben. A foodie, coffee obsessed, ex-smoking, ex-drinking and Ridgeback loving Dad. Who is also seriously into his fitness.  You can find him on the blog (most) Sundays. Enjoy 🙂
---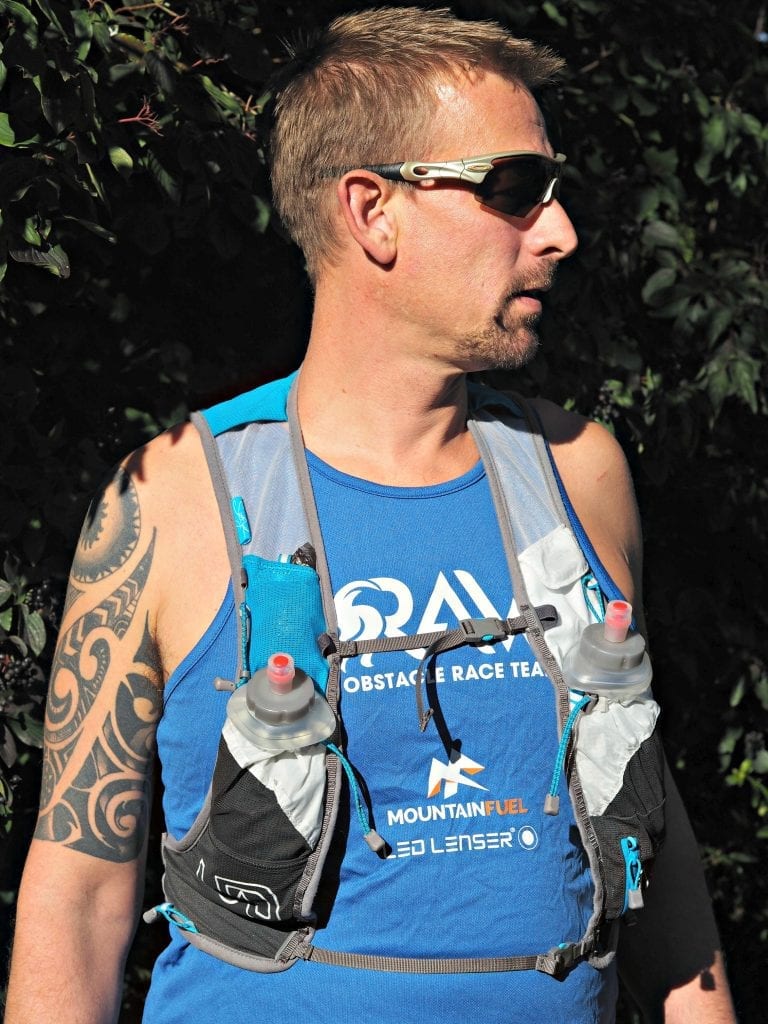 Ultimate Direction SJ Ultra Race 3.0 Running Vest
The SJ 3.0 is the latest incarnation of Ultimate Direction's signature series Race Ultra vest named for the mighty Scott Jurek, the man who conquered the Appalachian trail in 46 days. As you would expect from a vest that bears the name of such a mighty runner, the SJ 3.0 is a pretty nice piece of kit.
For a seasoned ultra runner, the purpose of the vest is to carry hydration, nutrition and any other bits and bobs one might need when running for a super long time. I hope that I do an ultra one day, maybe even next year but I didn't buy it for that. I bought this vest for 2 reasons, firstly, I have to carry a load of bits with me when I run and secondly my motivation was fading about 600 miles into my 1000 mile challenge (which Scott Jurek probably does to work up an appetite for breakfast) and I wanted some new shiny.
So I'm not reviewing this as a hardcore ultra* runner, I'm reviewing it for what I use it for which is carrying all my bobbins when I run with the dog in the mornings.
Basics then, the vest is a lightweight fabric construction. It consists of a large pocket on the back area with a small zip pocket near the bottom. The two arm straps contain two smaller pockets near the shoulder (designed to hold nutrition tabs I would imagine), two large pockets with an elastic tie and a zip pocket on the bottom left-hand side. The zip pocket is mirrored by a stretch pocket in the same location on the right. The material is nice and stretchy so you can cram a lot in each pocket. The elastic tie pockets are intended for use with soft water bottles and come with UD branded bottles that look to be about 250 – 300ml. The vest secures with two quick release clips across the chest.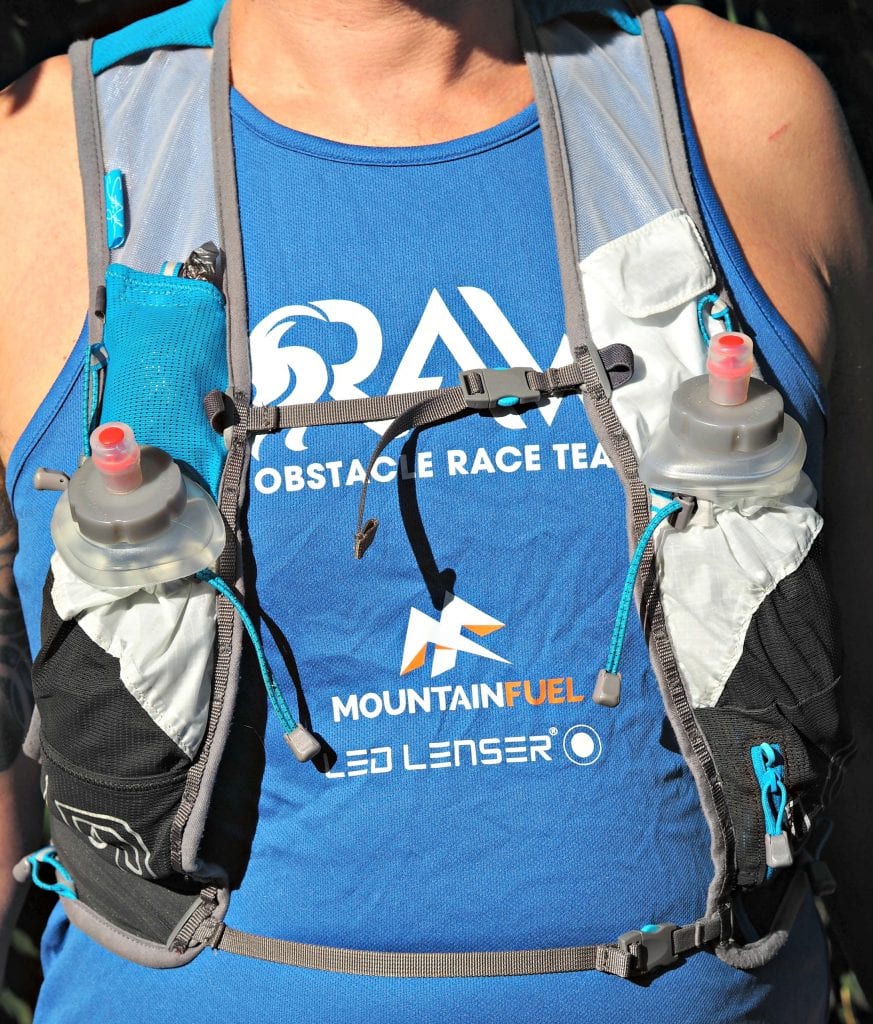 My loadout is as follows, I quite like a drink on the run so I keep both bottles full and in the zip pockets. I like my tunes on as I run and these are on my phone so that goes in the zip pocket with my keys. The shoulder pockets, though small looking, are more than capable of taking my inhaler and I put the dog lead in the main back pocket. Any other bits and bobs like spare batteries for my head torch I put in the rear zip pocket. You can't really access these pockets while running so they are strictly for stuff I would stop for anyway.
In terms of running experience, the pack is great, I'm never going back to a rucksack for running. The reason is not weight, though the vest is substantially lighter, it's about security. There's nothing that ticks me off more than things swinging around as I run. Even nice Camelbak style rucksacks have an annoying sway to them and this brings along a host of irritating tinkling noises which makes me feel like a camper, circa 1950. Once I got the vest on and adjusted it was going absolutely nowhere. that's pretty good considering that I'm carrying 600g of water on the front and a heavy Canicross lead in the back. I've no idea how the pockets manage to be so stretchy and yet solid when running, but they are. I can honestly say that once the vest is on, I stop feeling like it's there. Weight is also super at under 300g with bottles (empty).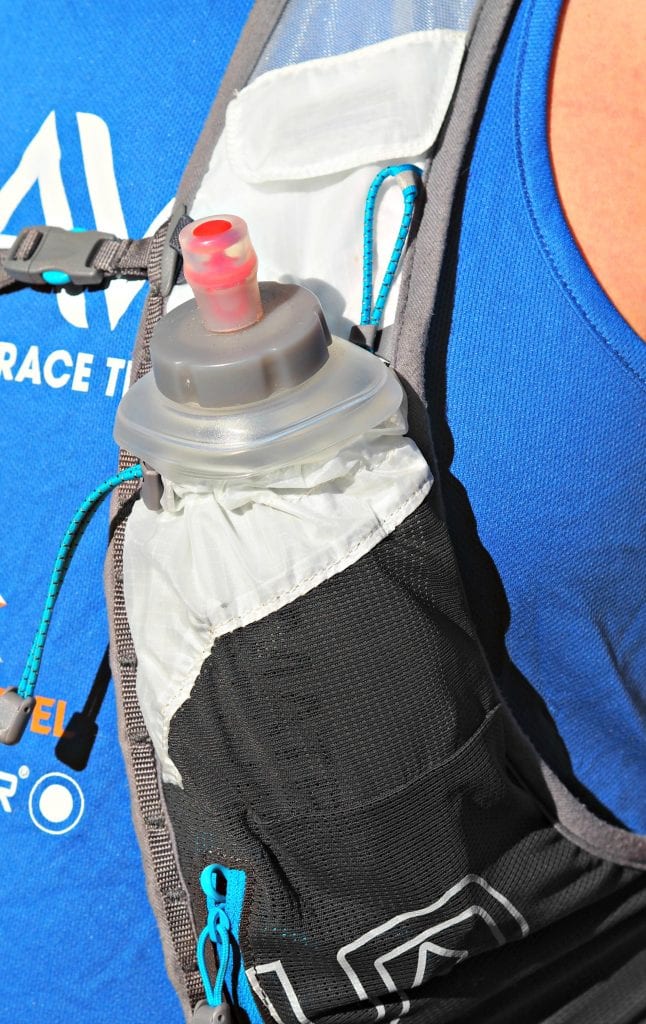 I was slightly concerned that the material might chafe a bit but I have not found this to happen at all in the 200 miles I've spent with this vest. As winter comes I will probably stop taking the water out and put my phone into the front pocket. The pockets being unbalanced will not upset the balance of the vest in my experience. Next summer when I do the ultra I haven't told the wife about I'll probably put a hydration bladder into the main back pocket, I've done a little bit of testing and a 2 litre bladder will go in quite easily with a lightweight waterproof.
I've only had the vest for 200 miles so it's not really feasible to say whether or not it's got proper build quality. So far it looks very good but it really comes down to how well things like plastic quick release clips (what UD call 'T hooks') cope with repeated heating/cooling cycles and zips stand up to irresponsible pocket stuffing. Early signs are that it looks good. The fabric etc is pretty much as it was when I got the vest.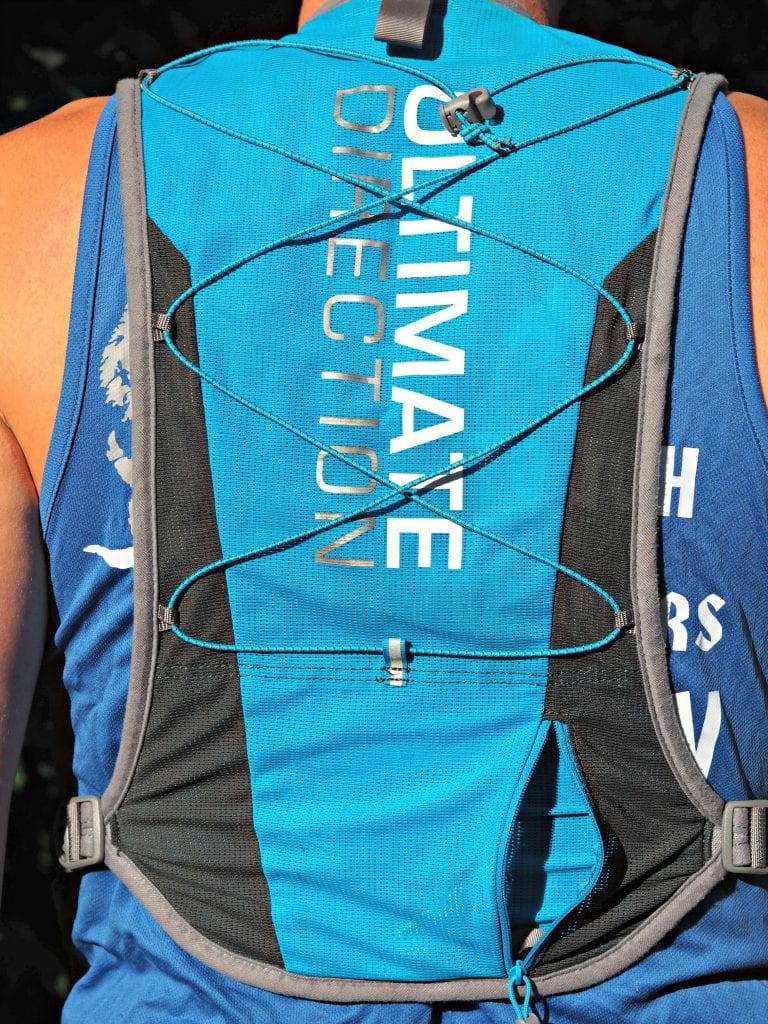 So the first question, do I recommend vests in general. Yes, for sure, for running (and probably short bike rides) it's far superior to a rucksack. Loads more comfortable to run in and very stable once on. In terms of pockets, both overall and accessible during the run, you've got as much as you need. Next question, why this one? I looked at a number of the 'big names' such as Nathan and Salomon. What I liked about this vest was the looks itself, the price (I got this for £85 and a Salomon is over £100 with bottles) and the fact that a proven athlete had been involved in the design. I have been really pleased with this so far and would definitely recommend it for people who have to carry gubbins when they run and may or may not need to tell their wife they plan to run an ultra next year.
* An ultra marathon or ultra is any race longer than the IAAF mandated distance of 26.219 miles.