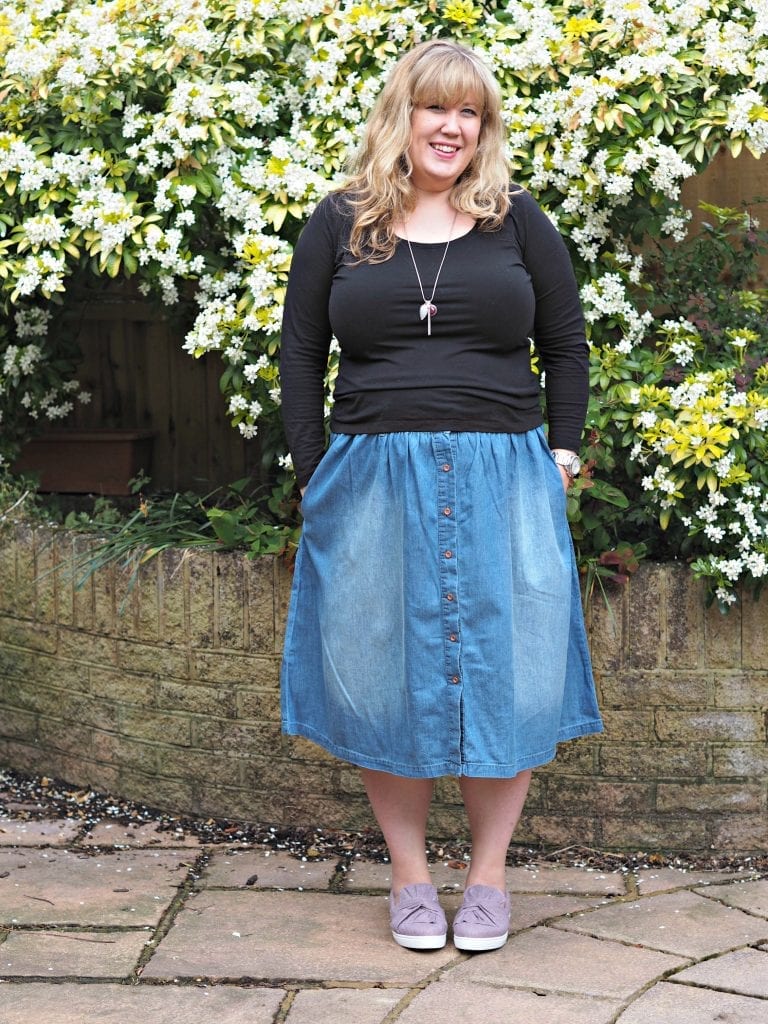 Getting Ready for Summer with Simply Be
Clothes are a bit of passion of mine, along with handbags. I always like to have nice clothes and my wardrobe is pretty much bursting at the seams. Currently classed as 'plus-size' as I wear a UK18, I always feel nervous about sharing photos of me in them on the blog. But I shared the above image on social media earlier in the week and was overwhelmed by the messages of support. I think it really goes to show that normal people want to see clothes on normal people, or at least I hope it does!
Simply Be has for many years been one of my favourite go-to shops for new outfits. I only wished they had a store near me. Which meant I was honestly thrilled to be asked to work with them. I have reviewed 3 difference pieces below which would all be great for different reasons over the summer.
Simply Be Vintage Denim Midi Skirt
Summer in the UK can be a little changeable. You can go from blistering, glorious sunshine, to freezing cold wind and rain in the space of a few days. A denim skirt is one of my wardrobe staples. They always catch my eye whenever I see them in the shops, and I never think that you can have too many. This one I am modelling here (above) is very lightweight, so perfect for summer, more of a denim cotton than a full heavy weight denim. It has an elasticated waist and buttons up the front. It sits quite high on the waist, which for me was a real bonus. A lot of the weight I hold is on my stomach, and the skirt fastens and the small of my waist and flares over the part I want to hide, also at £25 I think it's a pretty great price too. Quite frankly I can see myself wearing this time and time again over the summer. I think it may well be the favourite item I received of all three.
Button front denim midi skirt £25
Simply Be Sole Diva Knot Detail Slip on Pumps
I have seen a couple of people with pumps like this recently and have liked them. I am really loving the big bow at the front. Most of the summer, wherever possible, I tend to live in sandals, but I do I like casual shoe to wear with skirts and jeans when it's just not warm or dry enough.
I ordered the size 7 shoe in a wide fitting. I tend to sit between the 7 and the 8, but often because my feet are quite wide. These are a great width on me, but after wearing them my toes just very slightly graze the ends, so I think in hindsight I should have gone with the bigger size. These pumps are made of canvas with a PU lining. This is actually the one thing I would change about these shoes as I would prefer a canvas lining which is more breathable, I have found I need to wear a shoe liner with them to make them more comfortable. Still, a fun summer shoe.
Sole Diva Knot Detail Pumps £22
Simply Be Scarlett and Jo Asymmetric Dress
The third item I was sent to review was this asymmetric dress by Scarlett and Jo. This is the second dress by Scarlett and Jo, I first discovered them earlier this year via Facebook and bought a dress for a wedding from them. They have really great dresses particularly for occasions and of the two dresses I own they are really well cut for women with curves. The dress is made from jersey and the top half is navy with the second half having the asymmetric skirt detailing. Again as with the denim skirt I reviewed above I found this quite flattering for my 'apple' body shape. The navy section ends at the slimmer part of my waist and then the skirts flows over my stomach. I think it also might look quite nice styled with a belt. I have a wedding coming up this summer and this dress is definitely a contender!
Scarlett and Jo Asymmetric Dress £55
*Disclosure: I was sent the above items from Simply Be for the purpose of this review, however, all opinions are my own.