Today I would like to welcome to the blog Hannah from Han Plans.  She is guesting in my series where different people share their five favourite books in a chosen genre. Hannah has shared with us her favourite five books that she got for Christmas. I haven't read any of the books Hannah has shared, although my son did get The Christmasaurus for Christmas and I am looking forward to reading it with him, I rate Buffy the Vampire Slayer as one of my faovurite shows and read The Hitchhikers Guide to the Galaxy with my Dad.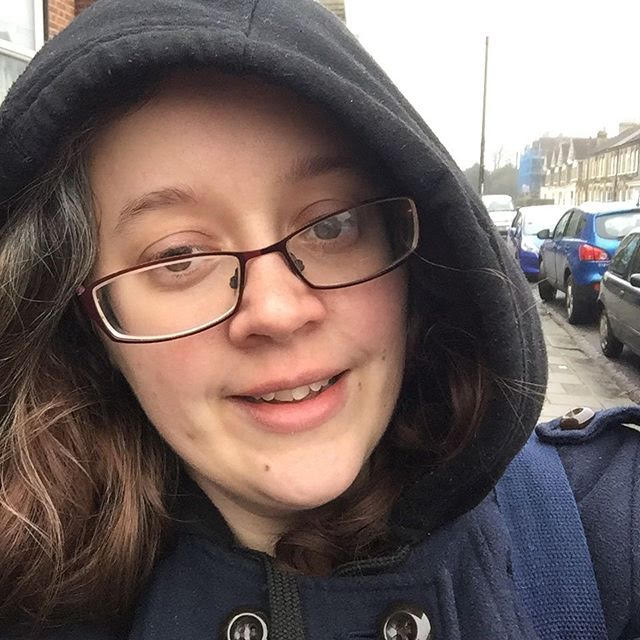 My Favourite Five Books I Got For Christmas by Hannah – Han Plans
Hey I'm Hannah, amongst other things, I am most definitely a bookworm! There were years when I'd read heaps of books but now that I'm a Mum and I'm self employed some weeks I don't read at all and other weeks I swallow whole books! Currently I'm reading The Princess Diarist by Carrie Fisher
This Christmas I received quite a few knitting/crochet books but also some reading books and thought I'd share them.
1. The Christmasaurus by Tom Fletcher
Forget everything you thought you knew about the North Pole, and set off on a Christmas Eve adventure with boy named William Trundle, an elf named Snozzletrump, Santa Claus (yes! The real Santa Claus!), a nasty piece of work called the Hunter, and a most unusual dinosaur . . .
I subscribe to Tom's YouTube Channel so after hearing so much about The Christmasaurus, I then wanted to read it – so it then was added to my wish list. Jaxon has a lot of the "Dinosaur That Pooped…." Series on his wish list. Knowing about how boys can be when it comes to bodily functions I'm sure Jaxon will love the stories!
2. On the Other Side by Carrie Hope Fletcher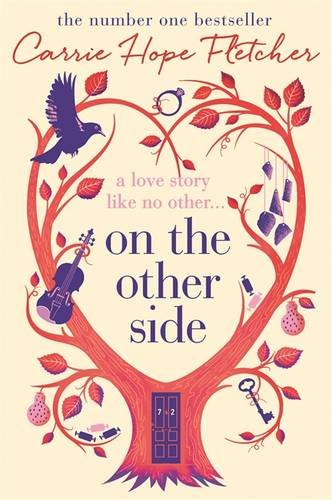 Evie Snow is eighty-two when she quietly passes away in her sleep, surrounded by her children and grandchildren. It's the way most people wish to leave the world but when Evie reaches the door of her own private heaven, she finds that she's become her twenty seven- year-old self and the door won't open. Evie's soul must be light enough to pass through so she needs to get rid of whatever is making her soul heavy. For Evie, this means unburdening herself of the three secrets that have weighed her down for over fifty years, so she must find a way to reveal them before it's too late. As Evie begins the journey of a lifetime, she learns more about life and love than she ever thought possible, and somehow, some way, she may also find her way back to her long lost love…
This is another one that I have been hearing about on YouTube and Twitter. From the blurb, it definitely sounds like my kind of thing.
3.Joss Whedon: Geek King of the Universe by Amy Pascale and Nathan Fillion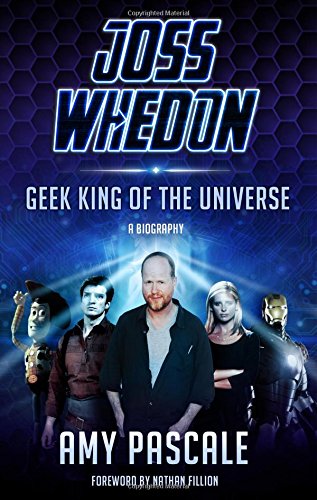 Joss Whedon is a male writer whose most famous creation is a girl-power icon; a geek who deals in classic themes of love, betrayal and redemption; and one of the first people in the entertainment industry to have harnessed the power of the internet to engage directly with his fans.
Amy Pascale became one of those fans when Buffy Summers enrolled at Sunnydale High in 1997. She has followed Whedon's career ever since, marvelling at his ability to reimagine seemingly hackneyed genres as heartfelt human drama.
In this revealing biography she seeks out the source of that imagination, exploring his artistic liberal upbringing in New York and teenage years at an elite English public school, before tracing his journey from a bruising start in television to his status today as a blockbuster writer and director whose every new project is pored over online by millions of loyal geeks.
Using extensive original interviews with many of Whedon's key collaborators – as well as Joss himself – Amy presents candid behind-the-scenes accounts of the making of ground-breaking shows Buffy the Vampire Slayer, Angel and Firefly, and considers Whedon's distinctive contribution to cinema through movies such as Toy Story, Serenity and superhero epic The Avengers Assemble. The result is an intimate portrait of the man who re-wrote popular culture and gave it a heart.
This book and the next book all came from my brother and his wife – we are both massive Joss Whedon fans so Firefly and the Joss Whedon Biography are right up my street. We both started to like Joss Whedon became fans around the time that Buffy The Vampire Slayer was being shown on BBC2 when we were teens – I'm not entirely sure my Mum liked us watching TV programmes about vampires but it did open the door into the Whedon-universe.
4. Firefly: The Gorramn Shiniest Dictionary and Phrasebook in the 'Verse by Monica Valentinelli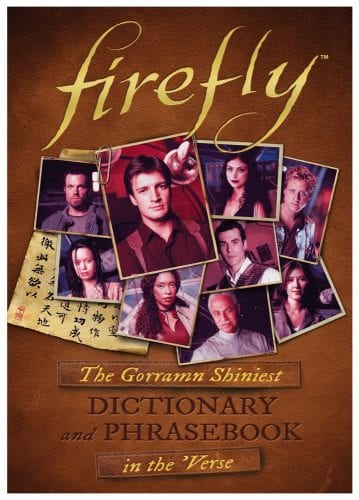 Insult your enemies in magnificent style and learn brand new declarations of love! This comprehensive Firefly dictionary and phrasebook takes in both the history of language in the 'Verse and modern usage. Explore all the terminology used in the show, be it spacefaring-speak, medical jargon or frontier phrases. Plus, get the inside scoop from the show's language consultant. A must-have for all Browncoats.
Firefly was a TV show that first aired in 2002 but after 11 of the 14 produced episodes had aired Fox decided to pull it and it was cancelled. Even though it received cult status no more episodes were made – following that a film called Serenity was made which used all the same characters and continued the story
5. The Frood: The Authorised and Very Official History of Douglas Adams & The Hitchhiker's Guide to the Galaxy by Jem Roberts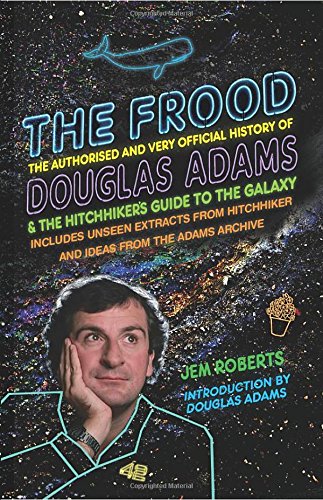 As a wise ape once observed, space is big – vastly, hugely, mind-bogglingly so. However, if you look too closely at space, it becomes nothing but lumps of rock and sundry gases. Sometimes it's necessary to take a step back, and let a few billion years go by, before any of the true wonder and scope of the cosmos becomes apparent.
Similarly, the late 20th century author, humorist and thinker Douglas Adams was big – vastly, hugely and thoroughly mind-bogglingly so, both in physical terms, and as a writer who has touched millions of readers, firing up millions of cerebellums all over planet Earth, for over 35 years – and for nearly half of that time, he hasn't even been alive.
It would be ridiculous to pretend that Douglas Adams's life and work has gone unexamined since his dismayingly early death at 49 but throughout the decade since the last book to tackle the subject, the universes Adams created have continued to develop, to beguile and expand minds, and will undoubtedly do so for generations to come.
An all-new approach to the most celebrated creation of Douglas Adams is therefore most welcome, and The Frood tells the story of Adams's explosive but agonisingly constructed fictional universe, from his initial inspirations to the posthumous sequel(s) and adaptations, bringing together a thousand tales of life as part of the British Comedy movements of the late 70s and 80s along the way. With the benefit of hindsight and much time passed, friends and colleagues have been interviewed for a fresh take on the man and his works.
This is more my Dad's influence on us, I remember watching the TV adaptation before attempting to read the book of The Hitchhiker's Guide to the Galaxy. The adaptation came out in 1981 – which is a whole five years before I was born and yet when my Dad showed it to me I was glued. I loved it – even with the lack of special effects (or the special effects that were contemporary at the time). Reading about Douglas Adams and how he came up with the ideas around the stories is going to be really interesting once I get reading.
---
About Hannah
Hannah blogs at Han Plans and lives in Bedford with her three boys (husband, son and foster son). She's self employed along side being a full time Mum to Jaxon her little boy. When she's not doing all of that, she loves crocheting and knitting. She watches too much TV and would secretly like to be a Crime Drama Girl Tech Geek (think Abby from NCIS, Garcia from Criminal Minds or Patterson from Blindspot).
You can find Hannah on social media:
Twitter | Facebook | Instagram
---
My Favourite Five Books Will Be Back Soon
My favourite five books will be back regularly on a Tuesday with another guest. If you would like to take part in the series, please drop me an email lovelylaurasblog@gmail.com.