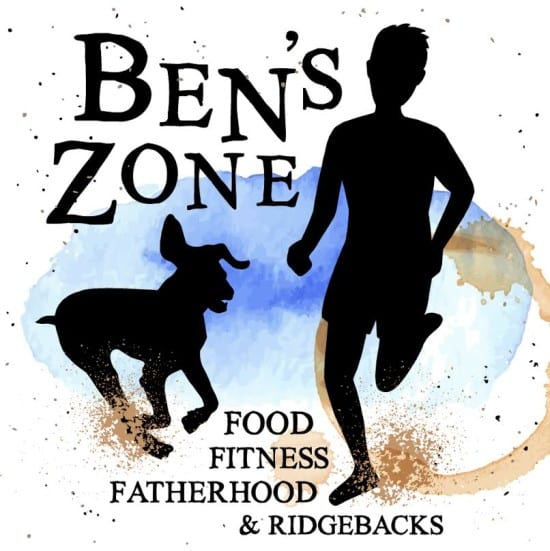 Welcome to a weekly feature on my blog – Ben's Zone. Written by husband… Ben. A foodie, coffee obsessed, ex-smoking, ex-drinking and Ridgeback loving Dad. Who is also seriously into his fitness.  You can find him on the blog (most) Sundays. Enjoy 🙂
---
Muscle Acre Winter Warmer 2017 Review
As obstacle racing grows and develops as a sport it faces a challenge. As people become more proficient they want more of a competitive edge and more challenge. But, at the same time people enjoy doing OCR for pure fun, maybe as an outing with work mates or for charity. How can be ends be achieved without compromising either the fun or the challenge aspects? As Muscle Acre has grown this is a question that seems to have been at the forefront of race director Kev and his team's thinking. It's an event known for two things, being a tough physical challenge, but also one characterised by a sense of friendship and camaraderie. To grow and develop the event in size, changes have been made such that it has been awarded qualifier status in the UK Obstacle Racing Championship, so what are those changes, and how does it change the Muscle Acre experience?
For championship qualification 4 qualifying obstacles are defined, monkey bars, rope climb, a sternum checker and a rig. People wishing to qualify must complete all 4 of these obstacles in 2 tries to get a wristband. If they get all 3 wristbands they have qualified for the UK championships. To be up for this qualification competitors must indicate their intentions by wearing a qualifier wristband, then the marshals know they are aiming for qualification. Only the 20km wave (2 laps of the 10k course) and first 2 x 10k waves are eligible to be qualifiers. This is good organisation as it means people running for fun do not get in the way of qualifiers and people running to qualify are not annoying fun runners by slicing through them being all serious. As I usually do I ran in the first 10k wave but I am not bothered about qualification so I decided not to take the band. So what was it like?
In a word, cold. Once again Muscle Acre managed to out cold Winter Tough Guy, this time by some margin. The frost was hard on the ground and there was a lot of ice about. So much ice in fact that the famed 'swamp' area of the course (which gives truth to the name of November's Mud Slog) was closed off as the ice could not be broken. Initially I was disappointed as this is one of my favourite sections of the course, but it is good to know that above all else, the MA team prioritise safety. The rest of the course, including the famous skips, were open for business and what fun it was. Pretty much every water obstacle had inch thick slabs of ice floating. This made traversing the obstacles super hard as it was much like walking through water with paving slabs floating around. Even at low speed my legs took a good pasting. The temperature also kept the ground very hard making the running sections of the course very tough on feet and joints. It wasn't a very long time before I found myself at the first of the qualifying obstacles, the monkey bars. I'd chosen to wear neoprene gloves to keep my hands warm and grip strength high and this was a big mistake. I slid off the bars as though they were greased and barely made it half way across. I gave it my customary two tries but it was not happening. I was a bit gutted about that as I had been very pleased at being able to get across them in the last two MA races.
Other than the tough ground conditions, the running aspects of the course were great enough to get into a good stride but not so much that it got boring and it seemed all too soon. I was staring at qualifying obstacle number 2, the rope climb. Straight up I can't climb ropes, I know it's technique but I have all the technique and coordination of a spider with one slightly rubbish leg. I had a crack but it went nowhere, I did manage to pull a shoulder muscle though so I came away with a sense of achievement!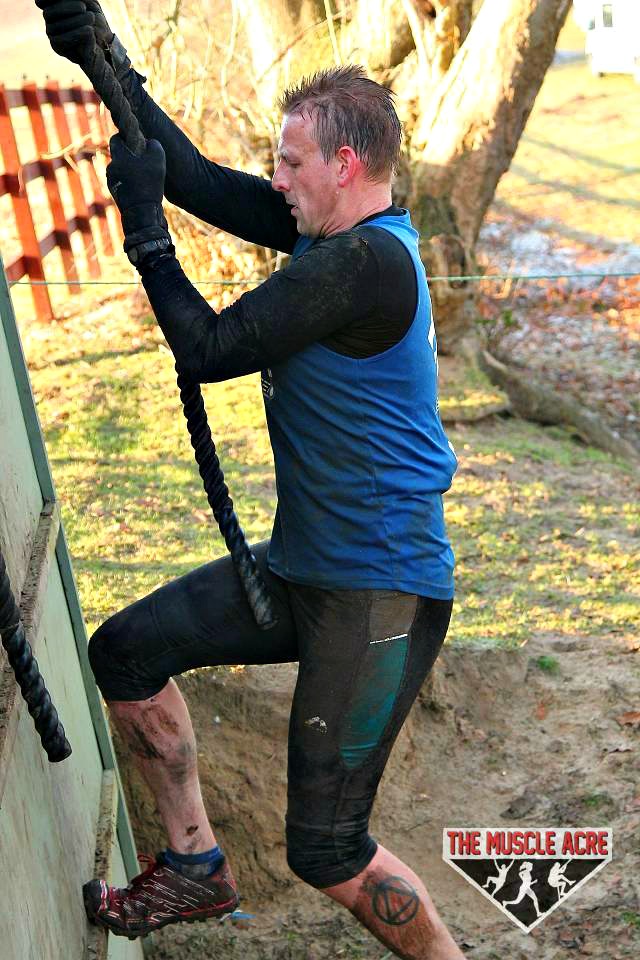 All the familiar Muscle Acre obstacles were in place from barbed wire crawls through tyre barriers, up to a nice tall scramble net and all staffed by the nicest marshalling team I have ever met. I had no idea what a sternum checker was until I came across it, basically it's a horizontal piece of wood you have to get over without touching the side frame. Again my lack of coordination let me down here, I made it up alright but was flailing my legs around when I should have been hooking them over the bar. I said to the marshal not to worry as I was not trying to qualify. His response was not 'Off you go' but instead 'How about if I give you a hand?'. Taking tips and more than a little help from the marshal I finally managed to get a leg over and get across the sternum checker. This is really the special sauce of the Muscle Acre, whereas at other races the marshals are there to check you complete the obstacles, at MA they are there to make sure that you do. There's no pressure or shouting (take note Spartan race) and if they see you need it, they offer help. The result was that I got past the obstacle and felt great that I had and knew that I would be determined to try to do it solo next time around. This is what I love in OCR and what I find at Muscle Acre in massive quantities, they want you to succeed.
It really did not seem like a very long time at all until I was at the rig. This is a long metal cage with a variety of hand holds, the aim is to traverse the rig without touching the ground. I did not complete the rig. It was not down to coordination or grip, simply not enough calisthenics and so not enough core and upper body strength. Harsh but if I want results I have to be prepared to train for them.
It was all over too quickly. 10 kilometres came round in a flash and I was sprinting for the finish. I was cold and tired and lots of bits of me hurt but at this point I wished I had signed up for the 20Km 2 lap course. Once again I had had the time of my life on the Muscle Acre. Some of my RAW team mates qualified via Muscle Acre and had a great time, I had simply run my own race ( and for reference I completed all but the obstacles I mentioned) and had a great time. The Muscle Acre is now a very serious obstacle race in the UK champs and at the same time a place where you want to bring your non-OCR friends to show them the very best obstacle racing has to offer. Little things, like offering a nice warm hat rather than a finisher shirt really show how in tune with people the Muscle Acre team are.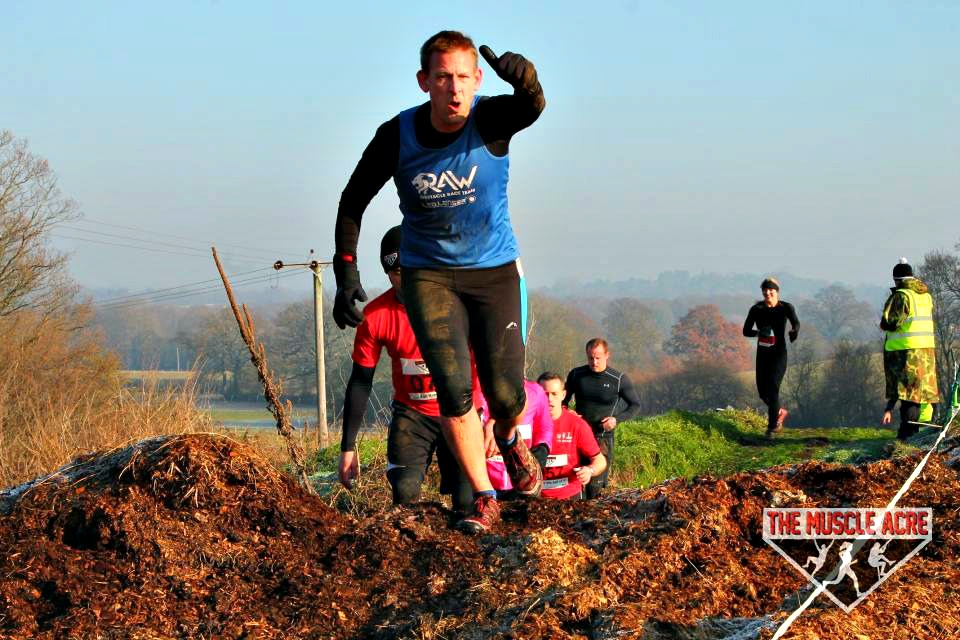 It's Tough Guy this weekend and I've not got anything booked for a long while after that, I should probably focus on my running and get some more of this 1000 miles knocked down. What I do know is that there is no way in the world I am missing the Summer Madness. In the interim I'll probably do some other races but whether I do or not the following 3 things need to happen:
1. Get down to the Lions Den in Hastings for some RAW OCR training (i.e. learn to climb a rope)
2. Get back on with the calisthenics and get my shoulder and core strength back up to par.
3. Get back to the Muscle Acre and smash those qualifying obstacles.
Muscle Acre, the best OCR in the UK, bar none.