JCB Kids December – Books, Activities and My Mega Digger Toolbox
I mentioned last month that we were delighted to be chosen as ambassadors for JCB Kids. My son who has loved diggers for a long time was very excited. This month we have been sent some new items from JCB to review and share with you.
This month's parcel contained items all about activities which with the Christmas holidays was perfect timing. Unboxing is probably my children's favourite activity, they both couldn't wait to see what was in the box.
The box was made up of a reading book, a sticker activity book and a JCB Mega Toolbox which also contained a book.
JCB Digger At Work Book
RRP £7.99
This is a fantastic and interactive book, it's something that you can sit down and read, but also engage with your child. It's all about diggers and vehicles, but each page also has a question and something your child needs to work out. Whether it's a puzzle, counting or exercise involving colours – it's all delivered in a really fun, but also educational way.
There are flaps to lift, circles to turn, and section to pull out and reveal answers to questions or hidden surprises. When we turned a page my son couldn't wait to get to the next interactive part and see what he had to do. Fab book and it would make a great present too.
JCB Mega Digger Tool Box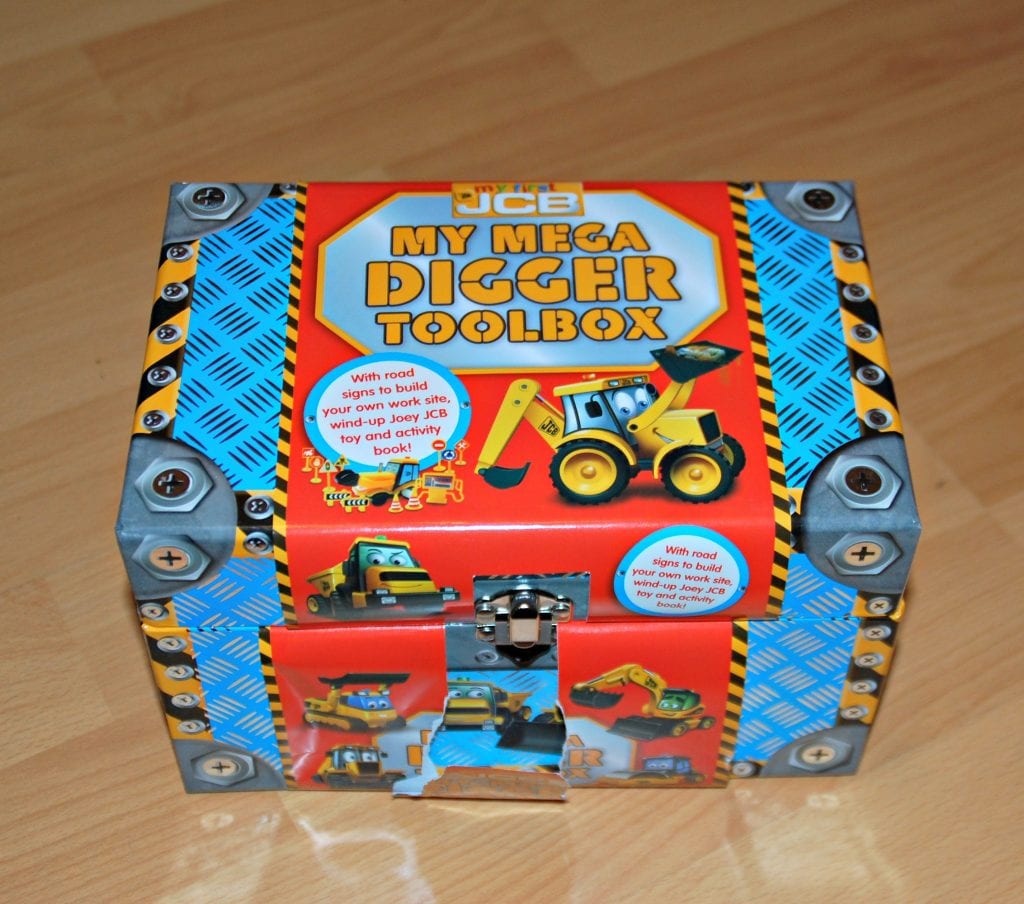 RRP £14.99
I have to confess that I wasn't hugely overwhelmed by this item when I got it out of the box and it probably isn't something I would have bought myself. Boy was I wrong! My children have played with this everyday since it had arrived. It is a little box and inside it it has miniature digger items – road signs and a little miniature digger – along with a small book.
I think as a parent you can underestimate the lure of a box with diggers printed on it. The little items in it are great to play with, but also dig up with his big diggers. The book inside the box is an activity book. With activities such as spot the difference, copy Joey on a grid drawing, a maze and dot to dot. I think this box would make a really handy activity if you were travelling long distance somewhere, such as on an aeroplane. My son needed assistance with the activities, so it's not something he could do on his own, but fun to do together.
JCB Machine Match Up Sticker and Activity Book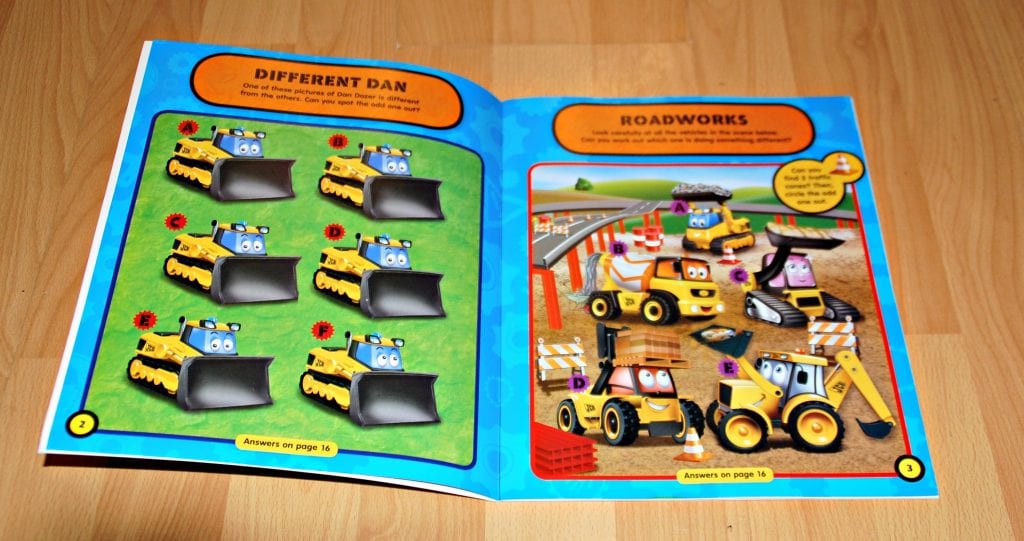 RRP £4.99
Sticker books always go down well in my house. If we ever go out to dinner somewhere I always try and get one for my children to entertain them in the restaurant, or just to keep in for a rainy day and boredom has set in. This also isn't the first JCB sticker book we have owned! As with the activity book in the Mega Digger Toolbox this book contains lots of activities too. As before, my son needed help with the activities, but with lots of stickers included in the book (300) there was plenty in it to keep him entertained too.
Summary
I would say the contents of this month's items were definitely more suitable for my son (5), than my daughter (2.5). Aria really loved the large diggers we received last month, but while she has enjoyed playing with some of these items, a lot of them were too old for her to engage with fully. My son however, really enjoyed them and the toolbox was a winner.
*Disclosure: We were sent the above items for the purpose of this review. However, all opinions are my own.