Welcome to a weekly feature on my blog – Ben's Zone. Written by husband… Ben. A foodie, coffee obsessed, ex-smoking, ex-drinking and Ridgeback loving Dad. Who is also seriously into his fitness.  You can find him on the blog (most) Sundays. Enjoy 🙂
---
Lions, Tigers and Bears, Oh My!
Bannerghatta Biological Park
This is the second (and final, I promise) post centred around my trip to India. I've talked about general impressions of India in my post last week, but I wanted to make a short post talking about a trip I made on the middle Saturday of my visit. My trip, overall, was to work with my colleagues in our Bangalore office but as it spanned two weeks it seemed only right to see some more of this wonderful country. I'm a huge animal fan and so when I heard there was a massive safari park only 22km outside Bangalore, it was obvious I needed to pay a visit. Off I went to Bannerghatta Biological Park.
For reasons of not being insane enough to drive around here we got a taxi from the hotel to the safari park. My advice here is to pay for a taxi that is prepared to wait as the park is way outside town and does not have a ready supply of local taxis. There are tuk tuks but these are going to charge a bomb to get back into Bangalore proper, if they will take the fare. We paid for 4 hours up front which was adequate time to get there and back with time to do the Safari tour and take a quick tour of the butterfly house. Another piece of advice is to get there early. We left Bangalore at 8.45 and got there in about 1 hour. We were able to book a jeep pretty much straight away but within about 10 minutes coach parties had started to arrive and people were waiting a long time to get their tour. Tour buses are also available and for obvious reasons have many more seats but I would advise going for a jeep. It comes to about £9 per person which is pretty good and it wins over the bus as the jeep driver often went off the road right into clearings to get us very close to the various animals. Another reason to get there early is heat. Even in an air conditioned jeep the heat during the trip was pretty intense, I would not have wanted to be doing this in the mid day heat.
So what is there to see? Bannerghatta Biological Park is divided into sections cordoned off by airlock type gates, this stops the carnivorous residents snacking on the residents more inclined towards vegetarianism. A side effect of this is that is breaks up the roughly hour long journey into nice discrete stages.
The start was gentle with lots of views of the beautiful wide open country. We saw a range of animals from amazing Termite hills right through to elephants at the other end of the scale. A particular treat was seeing an elephant calf being told off by it's mum, they are perhaps not the gentle giants they appear to be from a distance.
The trip livened up quickly as we moved into the carnivorous section. The first thing we encountered were sloth bears, mooching around an area obviously built for them to have shelter. I was initially disappointed as these appeared to be some distance away, this was until I looked out of the other window and saw that one had approached quietly out of the bushes and was patiently contemplating the jeep. Sloth bears are native to India and though they eat insects as a primary diet, their teeth and claws were not to be sniffed at. It was great to see the jeep driver roll down the window and play with the bear (though he did not get out) it's clear the staff have a great relationship with the animals.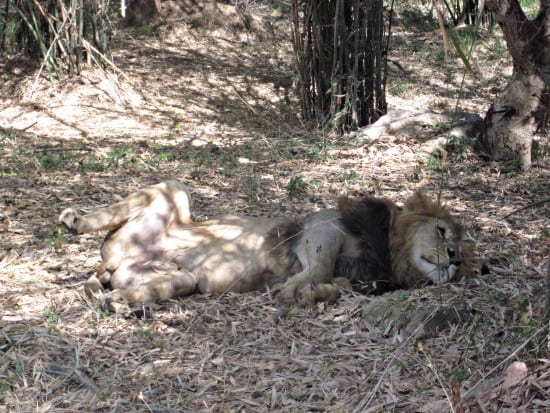 Next up was something I have never seen up close before, lions. I was super stoked as we entered the lion enclosure and it did not disappoint. Sometimes when you have wanted to see something for a very long time, the reality is a let down, not so here. We encountered a lion basking in the half shade rolling on his back (there's something innate in male cats that makes them want to show off their undercarriage when guests are in the vicinity). If the males were impressive, the females were even more so, a particular treat was the reaction of a large lioness to a male who forgot for a moment just exactly who was in charge!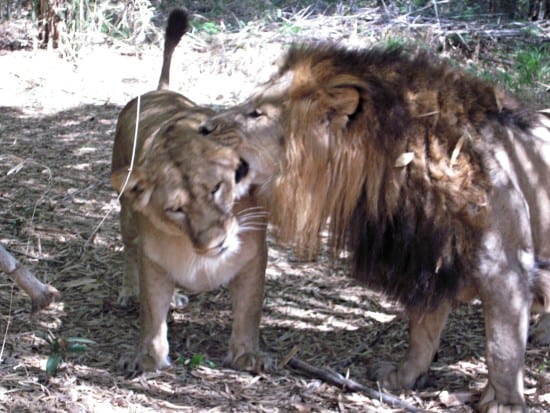 The final stage of our visit was the tiger enclosure. Where the lions were powerful yet languid and ever so slightly playful, the tigers were quite different. The first Bengal tiger we saw radiated a palpable sense of coiled menace. The driver did not roll down his window to pet the tiger. The tigers we saw seemed to be the only residents of the park that were aware that they were contained, pacing the boundaries of their enclosure with aggression almost boiling off them. In addition to Bengal tigers, the park houses white tigers as well. I am not sure why you would have white markings in a jungle environment like India but I did not get the chance to sit down with one of the tigers to discuss this in detail. Again, the jeep safari really came into it's own here as the driver was able to get us really close to the animals. The animals were obviously used to it so did not freak out.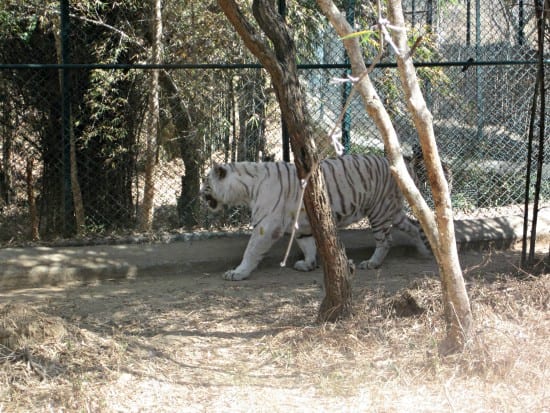 I've done some pretty awesome things on this trip in addition to the amount I've seen and learned by just being part of the environment but this was a high point by a long way. I got to see some amazing wildlife in a sympathetic environment. I'd much rather see a real tiger from 2 metres in a jeep than sit right next to some semi-conscious drugged animal in some of the other so called sanctuaries. The Biological Park was clear in its promotion of natural and realistic environments and was all the better for it. If you have the chance, visit.