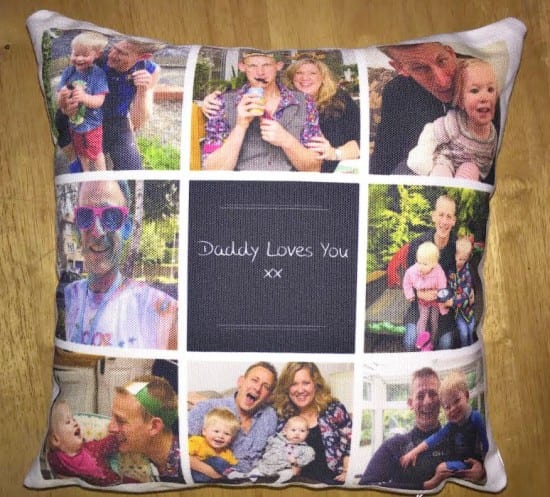 When Daddy Travels With Work – Part Two
I'm nearing the end of my husband's second stint of being away for two weeks. Then he will be back for a week before he is off again. I spoke last time of how my son struggled with it, this time I was determined things were going to be better.
I wrote a list last time of what I wanted to do differently. I have to confess I haven't completely stuck to it. But, overall my plan really was to keep us in as normal a routine as possible. I wanted my children to understand that Daddy might be away, but life continues as normal. It's a learning curve for all of us.
Before he went away, we got the children Daddy cushions. This is a little cushion they each keep in their beds with them that has photos of them with their Daddy. They both absolutely loved their cushion and have taken them to bed every night since he has been away. There have been a couple of nights where both of them separately discarded their normal pillow and used their 'daddy cushion' instead.
We have tried to Facetime everyday wherever possible, my daughter has delighted in squealing hello Daddy at the camera. There is such a difference in awareness in her since the last time my husband travelled. It's just 3 months, but this time she is really aware of her Daddy being away, where as last time it was almost like she didn't really notice that much. She was just too little to understand. A couple of days into his time away she was convinced he was behind a door, and kept saying 'Daddy door' and looking behind the bedroom door to see if he was hiding there.
However, there have been days when my son has been reluctant. We made the decision not to push it. If some days he just wanted to say hello, but nothing else then that is fine. But there have been other days when he has happily chattered to his Dad about his day and showed him the drawings that he done at pre-school. 
Our period on our own has been filled with highs and lows. We have had some lovely days out, and the time to bond and cuddle with my children and reassure them at times has selfishly been wonderful. Nothing beats a morning snuggle in bed together and it's something I am really looking forward to in half term next week. But there have also been the trickier days. I think the decision to be no nonsense about getting on with our life while Daddy is away was the right one.  But, I also think my son is doing some testing as to what he can get away with when his Daddy isn't here too. I've had some really out of character behaviour once more. I've been hit again and screamed at. I actually went back and read the blog post I wrote last time he went away back in November, and I can see that things are better this time around. Less intense and the periods of bad behaviour less frequent. This is when a mini blogging diary has actually helped me get some perspective! He's still pushing and I guess he's still cross that his Dad had the audacity to go away. I can understand that.
Typically last time we all had a stomach bug and this time we have all had a cold. Which has made my daughter's sleep regress once more – it doesn't take much. I've had a few 4/5 hour nights, which combined with my cold haven't been fun. But as I write this we have spent the afternoon with a friend and I am feeling upbeat and positive about it all. I have hope that my husband's next trip away will be even easier still. That being said, I am still looking forward to him coming home this Saturday!