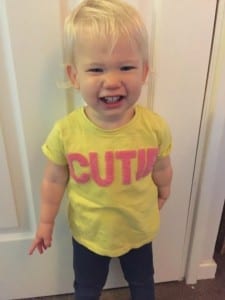 As I lie here and start to write this piece, it's 4am and I am on my phone. I have been awake about at least an hour. I'm tired, I have been up and down several times and I am waiting for my daughter to finally settle.
I've written before about how she doesn't like to sleep, and now even at 17 months it is rare for her to sleep through the night. Although it has been known to happen. Once 5 days in a row – it was amazing.
Some days I wake up, give her a beaker of milk and fall back into an exhausted coma. But of late this seems to be getting harder. This is compounded by the fact, my daughter doesn't always want to go back sleep. While most of the time she goes straight back down (which is one of the reason I have kept on with the milk feed), there are some days she likes to have a good play afterwards.
So far tonight, she has shouted a bit in displeasure at being put back in her cot, cooed, played with her toys & made silly sounds with her mouth. I put her back an hour and 15 minutes ago.
I have always ascertained that as she is a slim baby who has struggled to gain weight that I believe she needs this night feed still. But also the nights where I have tried to settle her without milk she has screamed the place down, waking the whole house with her. But in all fairness I haven't tried for a while. I have tried watering down her formula, but she just drinks it regardless, but if I give her just water she cries and cries and well, cries.
Now as she doesn't seem to be always falling back into a slumber after her milk, I wonder if it's habit that causes her to wake rather than need?
Aria doesn't do hunger very well, if she's screaming or very upset during the day it's usually because she's hungry. I am fast learning to always have an emergency snack in my bag for her. So I wonder if settling her without milk is a good idea, if she is waking and hungry from my experience of her in the day, it's unlikely I'll settle her and I also do not believe in leaving children hungry.
But by contrast, if she's waking out of habit, then not settling back down & playing in the night which in turn makes her irritable and tired in the day is it time to do something about it?
There's also the selfish argument. I am so tired of not sleeping. Literally.
In so many ways, my daughter has taught me how children are completely individual. My son slept through from 3 months and we didn't look back, except for teething or poorly days. So as a second time Mum I have no experience of this what so ever.
Some days I feel quite emotional about it. Because I don't know in the long run what is the right thing to do for Aria. Not for me, not what a parenting 'expert' says I should do. But what is right for the individual that is my daughter.
So far I have waited and tended to her hoping that she will stop waking in the night when she is ready. But I am beginning to wonder if I am doing the right thing. If she has less milk in the night, will she eat more in the day for example? She is a very slim baby as I have mentioned before.
My husband is away for the next two weeks on business, so it would be a good time for me to try and tackle this. I wouldn't have to worry about waking him a lot in the night when he has a big day at work for example, and as it's half term we can take a couple of cosy DVD days at home if we need to.
Please tell me, as I am at a loss. What would you do or even have you done in my situation? I just cannot work out what the right thing to do is. Advice would be gratefully received.
---