Welcome to a weekly feature on my blog – Ben's Zone. Written by husband… Ben. A foodie, coffee obsessed, ex-smoking, ex-drinking and Ridgeback loving Dad. Who is also seriously into his fitness.  You can find him on the blog (most) Sundays. Enjoy 🙂
---
Smooth Operator
It's impossible to have an interest in health and nutrition and not have noted the meteoric rise of the smoothie over recent years. It seems like every cafe offers a variety of types and the supermarket shelves are equally packed. There is a downside of course. Pre-made smoothies come with a veneer of health but can contain more sugar than you might imagine. The solution, of course, is to make your own.
The ubiquitous NutriBullet is the undisputed king of the smoothie makers but let's be clear, they're just quite powerful blenders. The only real innovation I can see is that the blending vessel doubles as a cup. We got one anyway of course, not least because I'm a sucker for gadgets. Other advantages involve them being very easy to clean (super important for busy mornings) and having a small counter footprint meaning they can stay out all the time even in a small kitchen like mine. We've had one for about a month and I thought it was time to get my thoughts down, have I stuck with it? In short, yes, I'm a fan. I have a smoothie every morning after my run / dog walk and find that it is a great way to start the day.
The basic recipe is half leafy greens (kale or spinach for me) and then half fruit. NutriBullet suggest you then add certain ingredients to make this into a 'Nutriblast' and some were supplied with the unit itself. I would often add Spirulina after a run as it is very high in protein and without fail I add flax or linseed. Linseed seems to be nutritionally very similar to chia but is much much cheaper if bought from discount supermarkets such as Aldi. Linseed must be milled for your body to make use of its benefits.
In terms of fruit I go for whatever is cheap and frozen. My favourite so far has been Aldi Black Forest, mix although Tesco also do a nice mixed fruit mix as well. If I have time to drink the smoothie in the morning (weekend) I put the frozen fruit in just before blending, then the smoothie is nice and thick and cool. On weekdays I have less time and so I make the smoothie up the night before and put it in the fridge. It's still relatively cool as it's been in the fridge but not so much that you get an ice cream headache. I like to stick with berries for fruit where possible as they tend to be high in antioxidants, the downside is that they can be quite tart. I'd stick with normal curly kale rather than Red Russian or Redbor as they tend to be bitter and have more fibrous stems which can make the whole smoothie bitter.
Pre-Blitz smoothie
The advantages of a smoothie for me are that it gives me a good start to the day food wise. The fibre stays intact and the texture is heavy so I feel nice and full. Unlike a juicer where the fibre is broken down, the free sugars in a smoothie are low. I enjoy the taste, I like fruit and I like kale and it's an opportunity to get loads more in my diet.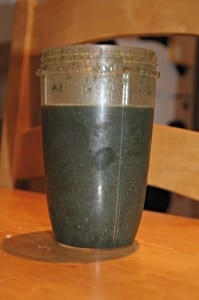 Post blitz blue green in colour due to the Spirulina which is a blue green algae
The disadvantage for me is cost. The smoothie maker itself is quite pricey and so are the ingredients if you start adding in extra bits like chia or wheatgerm and spirulina. Fruit and kale costs can also start adding up as well. If you're looking to put weight on (I'm not) as part of a weight training regime you could also add in protein powders and such to the mix further increasing cost. I'd also state that this is not a magic bullet (pun intended) for veg haters looking to get all their green intake done in one fell swoop. I use this in addition to the fruit and veg I have with my meals as normal, for me it's not a meal replacement and I would not wish it to be.
The key thing for me is that I like thick drinks with lots of fruit taste. Making smoothies means I can have drinks like these every day and I find they really hit the spot after a workout. Do I think this is going to convert people to smoothies if they're not already a fan? Is this a must have workout tool? No. Do I consider it money well spent? Yes. On balance my fruit and veg intake has increased and I'm using the kit regularly, so to me that means it's worth the money.