Should I Send Christmas Cards This Year?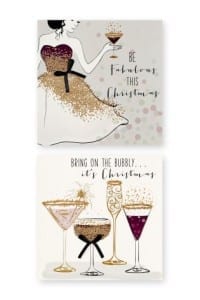 Cards from Next
Let me let you into a little secret. I love stationery, I love cards and I love pens and pretty envelopes, ok that's not so much of a secret……But, writing cards, not so much. I would actually make the world's worst pen pal.
Let's take our summer holiday as an example. Every year my husband buys at least ten postcards, takes a list of addresses away with him and dutifully writes them. By contrast a few years ago as I hurried to write mine on the last couple of days of holiday, after putting them off and putting them off, I wondered to myself why am I doing this? I hate writing postcards, so why do it on my holiday? I haven't written one since.
Now there's Christmas cards. What comes with Christmas cards seems to be a sense of duty. If someone sends you one it is after all only polite to return the gesture. Last year at pre-school my son received loads, I refused to write them for a 3 year old as well as myself, so I didn't write any in return . Then I felt guilty and somewhat Scrooge like for not doing so.
Each year I seem to have a few friends who send out an email or update their Facebook status to say they will not be sending any cards and will instead ad be donating the money to charity and I read it with envy and think oooh no card writing how lovely.
However, I love receiving them up and putting them around the house with all of the Christmas decorations. So it is kind of selfish of me to not write them is it not?
For the past few years we have compromised. Sending them to people we won't see, grandparents and older family members who would expect them and to our neighbours. Kind of a halfway house I guess. I imagine I will do the same this year as I just feel too guilty not to send them at all.
What do you do?
---
This blog post is part of The Reading Residence's monthly Linky Papery Peep