Ji Ji Kiki Dinosaur Necklace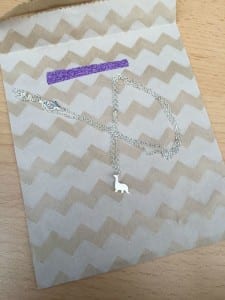 Before I was contacted about reviewing for them, I have to confess I had never heard of Ji Ji Kiki. But if you are looking for quirky and unusual accessories I would definitely recommend you check them out. From jewellery and animal themed handbags, to homeware they have a fun selection on their website.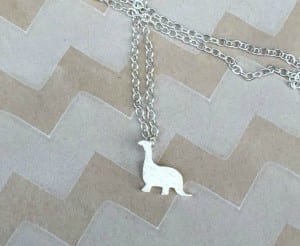 They gave me a choice of items to review and I chose this rather fun dinosaur necklace. My choice was based slightly around the fact my son is going through a big dino phase at the moment, but also because I thought it was really unusual too.
The necklace arrived in this little packet, wrapped in a really nice paper bag. Reminding of something you would get when you buy a piece of jewellery abroad on holiday. The necklace is silver plated on an 18 inch long. The dino itself is less than 2cm tall. It is worth mentioning that I have a nickel allergy and I haven't reacted to this piece at all.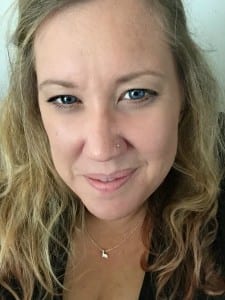 I love the design and I think it is really fresh and quirky, but I do think the chain could do with being a bit longer and the dinosaur slightly bigger too. Perhaps this is more about my own personal style as this necklace is more on the dainty side than I would normally wear. For me, I would just love it more if it was a bit bigger. But I still do love it and will continue to wear it. I actually think you could wear it with a delicate dress you could pair it with this necklace, for slightly tongue-in-cheek, but elegant styling. They do do a rather cool Wooden Triceratops necklace which would make a great statement piece, so perhaps I need to purchase that one to add to my collection 😉 ?
What do you think?
*Disclaimer: Ji Ji Kiki sent me this necklace in exchange for an honest review.