Welcome to a weekly feature on my blog – Ben's Zone. Written by husband… Ben. A foodie, coffee obsessed, ex-smoking, ex-drinking and Ridgeback loving Dad. Who is also seriously into his fitness.  You can find him on the blog (most) Sundays. Enjoy 🙂
---
---
Recipes I love – Val Warner's Pan Fried Duck with Lentils
This week I am sharing a recipe with you which is one of my all time favourites, Val Warner's 'Pan Fried Duck with Lentils'. I developed a food crush on Val Warner as soon as I encountered his marvellous 'What to eat now' show. The notion of eating what was good and in season right now rather than the weird, supermarket imposed season-less produce seemed impossibly right. I had to get his books and they did not disappoint one iota. His bold flavours challenged me and led me to new experiences and more than one has made it into my regular repertoire.
This duck recipe has everything I like, simplicity, bold flavours and supreme balance. I adore the robustness of duck, I'm heavy handed with seasoning and you can just pound salt into this and just being the flavours out without that awful alkali tang you get when you over season a milder flavour like chicken.
The acid tones in the lentils and the sweetness of the shallots just add more sumptuous layers to the flavour. Without any more ado, here's the recipe.
Ingredients
(for 2 generous portions)
2 x duck breast
3 x shallots
2 x carrots
2 sticks celery
1 x pack ready cooked puy lentils (sorry Val, I've got two kids and my time is limited)
3 rashers smoked streaky bacon
4 cloves garlic
Recipe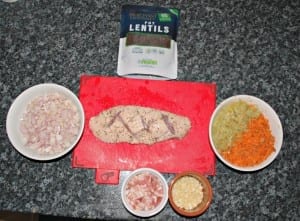 First chop all the veg really finely and put into a bowl
Slice up the bacon, again, very finely.
Score the fatty side of the duck breasts, season generously with salt and pepper, sprinkle on some dried thyme, rub across with a little olive oil.
Heat a heavy bottomed frying pan and a large frying pan or wok.
As soon as the wok is at temperature sprinkle with oil and put the bacon to fry
Once this is browning, put the veg in the pan too, keep this moving, it has to soften, not burn.
When the heavy bottomed pan is up to temperature, put the duck breasts in fat down. Keep turning these every few minutes. Cook to your liking (I like mine bloody)
When the vegetables are nice and soft, put the lentils in.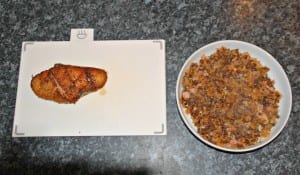 Once the duck is out and resting and the lentils are warmed take the heat off the wok and stir through a sprinkle of nice vinegar (Val suggests red wine vinegar, sherry vinegar works just as well)
Serve the lentils, slice the duck and serve on top, make sure any duck juice gets to the lentils.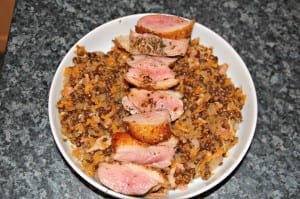 Sit down and enjoy.
---