What's In My Bag? My Day to Day Essentials..
Handbags… lovely, lovely handbags. One of my all time favourite possessions – after jewelry and books of course. I have far too many to count (shhh), and I have found the essentials that I keep in them now varies drastically from before I had children and also since I had my first child.
When I had my son and actually when my daughter was born, I used to cart a massive change bag around. With everything but the kitchen sink in it. I still do get my giant bag out for days out, but now day to day I have streamlined my essentials because I was so fed up of carrying it all around.
Day to day I carry two bags – a cross the body handbag for me, and a small changing bag with the bare minimum in for the children.
So what's in them? This is a very honest account, I have quite literally emptied my bags and photographed them as they are. Here goes…
My Mini Change Bag
My mini change bag is a recent addition, my husband bought me for Easter. It is a Pink Lining Mini Yummy Mummy Hydrangea . It's compact, but it is amazing what you can fit in it and oh so pretty too of course.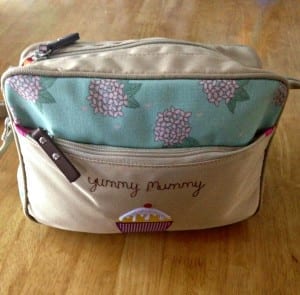 So what do I keep in it?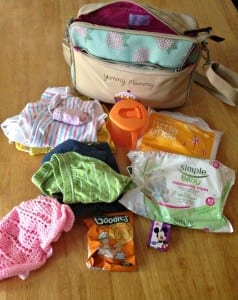 So, left to right (top to bottom) – a full change of clothes for my daughter (one), a spare pair of pants and shorts for my son (three), a sun hat for my daughter, a beaker of water for my daughter, some snacks – Organix mini ginger bread men and a packet of raisins (I never leave home without snacks it is always asking for trouble), nappy sacks (essential for so much more than nappies), and baby wipes.
In the outside pockets I have two spare nappies for my daughter. While I usually use reusable nappies for her, I normally just keep disposable nappies in my change bag because it's easier.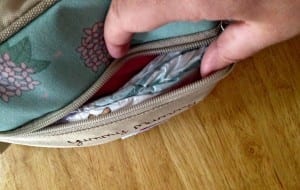 And a change mat.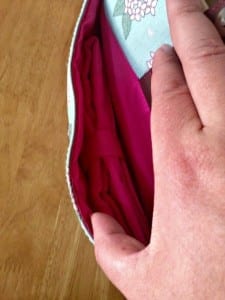 As you can see, I travel pretty light and as my son is a pre-school most mornings, I have more in there for my daughter than for him.
My Handbag
I have become such a convert to cross body bags since having children. I've got roughly about 7 or 8 at a guess now in my collection. The reason being is that you can leave your changing bag attached to your pram or discarded on a chair somewhere at soft play, but I never feel comfortable about leaving my purse etc. unattended. So, the cross body bag is the perfect solution for me to keep things like my purse, phone and keys with me and keep them safe.
The current cross body bag I am using is a Radley one (love their bags), that my parents got me for Christmas.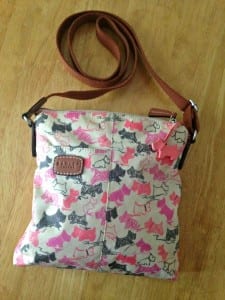 Here you go, what I keep in it, the uncensored edition!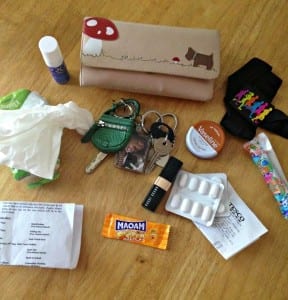 Again left to right and top to bottom. A breath freshener spray, tissues (used and new), the latest newsletter from my son's pre-school which I need to put on the fridge, my purse, front door and car keys, a sweet my son got given for someone's birthday at pre-school that I meant to give him after lunch about a week ago and forgot (bad mum), a vaseline lip balm (I never go anywhere without one of those), a Bobbi Brown lipstick, paracetamol (x2), an old receipt, a medal my son took in for show and tell which I forgot take out and put away and a tampon. Exciting stuff… no? 😉
I would also have my phone in there, but I was using it to photograph my bag's contents. In days gone by I would have also had my kindle and reading glasses where ever I went, but there is little point now unless I go out without the children.
Anyway, that's what I keep in my bags and carry about day to day – how does that compare to your everyday essentials?
This blog post is my entry to the Pink Lining Brand Ambassador search, you can read more about it here.  Which is super exciting and I adore their collections. Wish me luck 🙂 .