Today I have a great guest post which I can relate to after struggling to conceive myself, and also being a fellow PCOS suffererer, please welcome Stacey from Nobody Said it was Easy. Stacey blogs about PCOS, infertility, pregnancy, parenting, depression and miscarriage. Today she shares her journey about falling pregnant a second time after having had fertility treatment to conceive her first child. 
---
Conceiving Naturally After Fertility Treatment
Ever since I was a little girl I dreamed of being a Mummy. Like lots of other children, I would play with my dolls, play house, and play being a parent. At that age you just think it will happen, one day, you will have this baby to call yours. Just like that. Of course it doesn't happen just like that, but never did I imagine – even through my teenage years – just how hard it would be for me.
I had always had problems with my menstrual cycles but the doctor, and I, just thought it was one of 'those things'. At that time, in my early teenage years I obviously wasn't planning for a baby and they just gave me medication to sort it and just get on with it, no other investigations were carried out. Then when I married in 2008, my husband and I decided we would start trying for a baby the year after so I came off my contraception and we started trying to conceive at the beginning of 2009. I was still having the same menstrual issues but I had no idea what was really wrong with my body. We were still trying to conceive at the same time the year after and my cycles were getting no better, if anything becoming worse and I succumbed to depression. I decided it was time to go to GP.
The first GP I saw wasn't really interested, and just sent me away and told me to keep trying. The second one basically told me I was too fat – I knew that anyway, and I was already losing weight at the time. It took me going to see a third one and breaking down in tears for anything to be done. She decided that something wasn't right and even though we hadn't been TTC (trying to conceive) for the recommended amount of time before referral in our area, she discussed with her colleagues and decided to refer us for investigations which we started in October 2010. I was diagnosed with PCOS and it took us just over six months from this time to be started on fertility treatment. The consultant decided that we would try Clomid before anything else and I started on a low dose which unfortunately didn't work the first time; but the second time was successful and I discovered I was pregnant in June 2011 – 3.5 years after we had started TTC. We welcomed our gorgeous baby boy, J, in March 2012.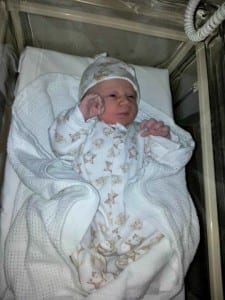 After our history, though my periods had fallen into a more regular cycle than before, we were expecting a struggle to conceive again so we had planned to start trying for another baby when J turned one year old. After a bit of a traumatic birth we didn't do the deed again until six months after when we finally got a bit carried away and used no protection – as I thought it was impossible for me to fall pregnant completely naturally. A few weeks later, I realised my period hadn't arrived so I did a test – by some miracle, I was pregnant! I had fallen pregnant naturally, straight away. I immediately went through so many emotions – panic, shock, excitement. Even though baby wasn't planned, they were very much wanted; but it just wasn't meant to be and I devastatingly had a miscarriage at 10 weeks pregnant.
Obviously I knew now that I could fall pregnant naturally, and although angel baby wasn't planned as we weren't ready at that time, we felt that there was now something missing from our lives so after much thought & discussion we decided that we would start trying to conceive again straight away. My cycles took a couple of months after my miscarriage to become regular again but once they did we were very proactive in TTC. Obviously every month that I didn't fall pregnant I was heartbroken, I thought we were going to go through the same thing again, of taking years to conceive. But six months after my miscarriage, I fell pregnant, naturally, for the second time. We were so lucky that this was a successful, if not worrying pregnancy, but we welcomed our second baby boy in March 2014.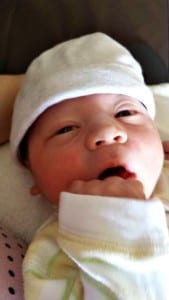 I have learned so, so much from my experiences. Fertility doesn't just come like that to everybody; it is such a precious thing to hold and is totally devastating for those that aren't blessed with it. But sometimes – not every time, I know that – it can come back, and for that I feel so very lucky.
You can find Stacey online:
Blog | Twitter | Instagram | Facebook
---
Thanks so much for your post Stacey. I am so sorry to hear about your miscarriage, and cannot imagine what that must be like. But what a lovely ending and congratulations on the birth of Baby N last year. How amazing to conceive naturally after having been through fertility treatment xoxo.