Safa Skincare Review
The lovely people are Safa Skincare kindly offered me two products from their range to test and review. Safa skincare is relatively unique in that it is a Vegan product, made of 100% natural ingredients. It is Vegan, Halal and organic and also wheat and gluten free. Made in Manchester in the UK.  Having recently decided that I really, really needed to improve my skincare routine I jumped at the chance and chose the following two products.
Safa Skincare facial toner
(currently priced at £5.99)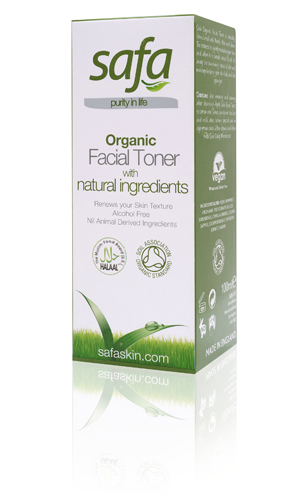 Introducing a toner to my skincare routine is a relatively new development. I have been just using Simple cleansing wipes to remove my make up at night and that's it. But I have been sampling different products and routines because my skin has definitely needed some TLC.
I am a convert to toners because I have been how much dirt comes off of yourself when using them even after I have used a cleansing wipe. But I also find them quite drying. My skin is very prone to breakouts, but it is also quite dry and I often find products that address breakouts also really dry out the skin.
I should state that Safa's toner is not made with people who have breakouts in mind. It is simply a natural and organic facial toner. It left my skin feeling clean without feeling too tight. My skin can also be quite sensitive and it didn't react at all.
As I've mentioned, I am prone to breakouts. Well, at the beginning of my Safa Skincare trial I had also have a breakout across one of my cheeks and perhaps I was expecting a bit too much from it, but I kind of hoped the toner would soothe and help clear it up. It didn't. In fact, it didn't really help it at all. It didn't make it worse, it just didn't seem to speed it in clearing up either. So I have to admit I was a little disappointed by that.
My view of the Safa Skincare toner is that is a lovely gentle toner and would be great for people with very sensitive skin and allergies, but I'm not sure it was a great match for my skin type, but perhaps I was expecting too much from it.
Safa Therapy Oil
(currently priced at £11.99)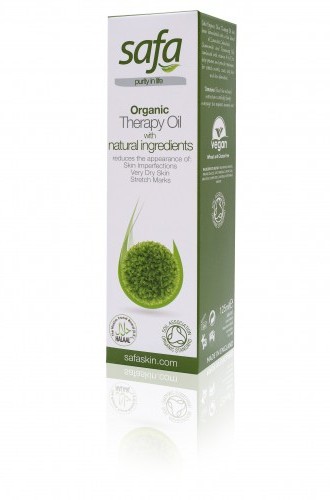 The Therapy oil is advertised as an oil to prevent and provide treatments for stretch marks, very dry skin and blemishes. I actually asked for this with my husband – not for my stretchmarks – although I have plenty of them.
My husband suffers from very, very dry skin on his face. So dry sometimes it looks like it has been burnt. If you read his Ben's Zone posts you will know that he also exercises a lot. He often comes in straight from a run or a cycle ride and walks straight to the bathroom, because his face is so sore that his sweat make it sting and he has to wash it immediately. So anything that can help with this would be very gratefully received!
In terms of treatment he has been using to date – he normally uses Aveeno, which is an oat based moisturiser, which he uses morning and night and before and after he exercises and he puts a barrier cream on his skin before a workout. At the start for reviewing purposes, my husband stopped using his usual moisturiser and switched over to Safa's Therapy Oil instead. And, if we're being honest he said it wasn't as good for his skin as his usual moisturiser was, so then I suggested a different tactic – what if he combined the two? Which he did.
This is when my husband began to be quite pleased with the oil. He found that his usual moisturiser was better for soothing his skin when it was sore. But the Safa oil really came into its own as a preventative measure. He would come back from a run and his skin wouldn't be stinging like it usually does and wouldn't have flared up and look angry, red or irritated. He uses the oil and then his moisturiser morning and night and amazingly has found that he no longer needs to use a barrier cream before a workout anymore. It's made a fab difference.  So much so that he is going to continue to use it and will purchase his own when his review bottle has run out.
Safa Skincare is available to buy at Holland and Barrett
*Disclaimer: Safa Skincare kindly sent me these two products in exchange for an honest review.*