Gadgets and Gizmos is a new feature I'm running on the blog discussing, well, gadgets and gizmos, that make my life easier. It might be technology, something that helps me organise things, maybe an app. Just handy little things that I want to share and/or review.
---
My Lakeland Heated Airer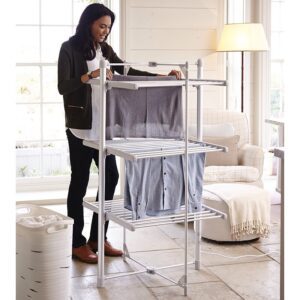 I'm really not a fan of tumble driers. I love clothes you see, and I think tumble driers shrink clothes or make them bobbly. I don't own one for obvious reasons, but if I did I would only use it for bedding and towels.
However, after I had my son, who was a winter baby, it soon became apparent that I could not keep up with my washing on my little clothes horse alone. While I hang out my clothes whenever I can, this is not really feasible in an British winter, so my house was fast beginning to resemble some sort of laundry.
So with my dislike of tumble driers in mind, I decided to invest in a heater airer. I purchased the Lakeland 3 Tier heated airer and quite frankly I love it!
It is big. I hadn't quite comprehended how big until it had arrived and I had it up in my house. But this also has its plus points as if can fit a lot of washing on it. I have a large washing machine with an 11kg drum, and the airer will fit a whole load on it. If you have a smaller machine I would think you could easily fit two.
Heat rises of course and I found out quite quickly that the washing on the top dried better than that on the bottom. I actually find underwear and small baby clothes best on the bottom, larger items do not dry so well on the bottom rack. Here's a picture of mine set up.
However, the airer will drive a whole load easily overnight even thicker items, the only items that sometimes need a bit longer are the hoods on hoodies or occasionally the thick elasticated waists on my son's trousers.
Maths…
Because this is advertised as a chaper option to tumble driers, I decided to do the maths and see how it adds up.
Upfront Costs
Heated Airer (3 tier) £92.99
Tumble Drier (I have taken the cost of a mid range one from the John Lewis website) £249.99
Cost to Dry a Load
Heated Airer – (6p an hour stated on the Lakeland website, a load dries overnight so 12 hours) 72p
Tumble Drier – 50p per cycle approx.
What was interesting when I started to do the maths for this article, I expected the heated airer to be cheaper to dry a load. But, it is also worth stating that the airer can take 15kg of wet washing, where as an average tumble drier can only take 8kg.
I then decided to look at the price per kg.
Heated Airer – 0.05p per kg
Tumble Drier – o.06p per kg
So cost per kilo is overall cheaper, but it may not necessarily be as economical if you don't fill the airer up to its capacity.
Summary
The big pro of the heated airer and why I would choose it ever time is simply that is much kinder on your clothes. I really had expected it to be cheaper than to run than a tumble drier and it is as long as you fill it up, but for just drying small loads or little bits and pieces it isn't.
If you're not a fan of tumble driers or don't have the space for one, it's great. You can dry a load overnight without having clothes draped over every available radiator. It also folds away neatly when you're not using it. After owning one for three years, I wouldn't be without mine.